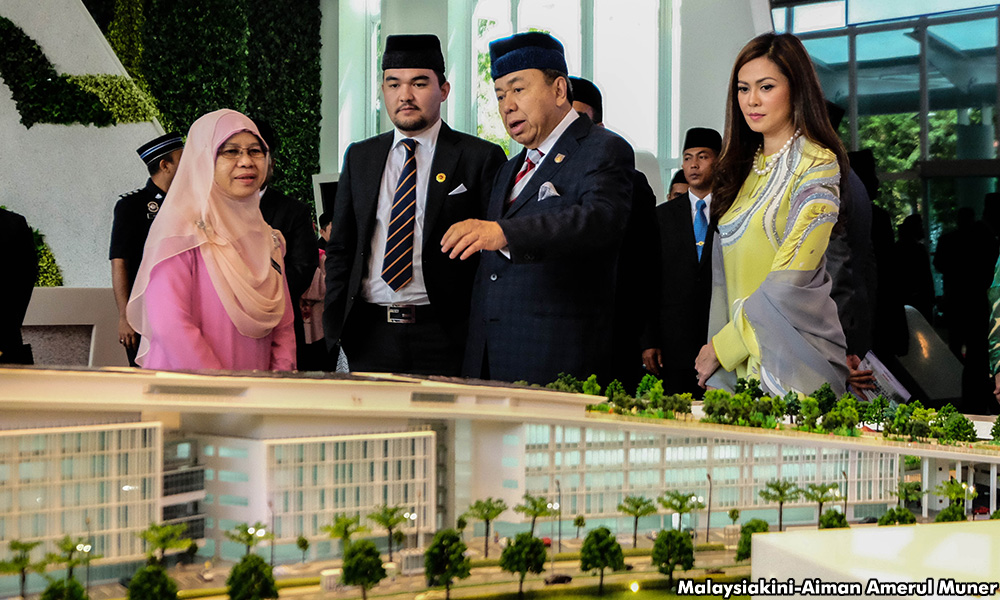 Selangor Sultan Sharafuddin Idris Shah said he would not agree if the Selangor State Development Corporation (PKNS) board of directors is dominated by politicians.
"The PKNS board should be balanced and appointed from amongst professionals who can provide views and advice on development," he said in a speech during the launch of the PKNS corporate office in Shah Alam today.
Also present were Raja Muda Selangor Tengku Amir Shah and Selangor Menteri Besar Azmin Ali.
Sultan Sharafuddin also reminded the new generation of PKNS leadership not to forget the corporation's role in helping poor Malays.
"I am disappointed because the new generation in PKNS has forgotten the founding purpose of PKNS, set by (then Selangor menteri besar) Harun Idris, which was to help low-income Malays in Selangor to obtain a comfortable and affordable home," he said.
The sultan also urged those in PKNS to serve sincerely, honestly and with dedication as well as to steer clear of corruption.
Four out of 10 members on the PKNS board of directors are politicians.
Apart from Azmin, the other three are state exco members Iskandar Abdul Samad and Teng Chang Khim, as well as PKR's Bukit Katil MP Shamsul Iskandar Mohd Akin.
Shamsul, who was present at the launch, praised the sultan's speech.
Asked about the sultan's call for the PKNS board not to be dominated by politicians, Shamsul said every member were appointed based on their expertise and background which can benefit the corporation.
"There are not many (politicians) on the board and even those appointed are suited for the position.
"For example, my background as a lawyer, which is of help to the workings of the company. Coincidentally, I am also a politician," he said.
On a separate matter, Azmin said the state government takes note of issues raised by the Auditor-General's Report 2016 which was released yesterday.
"It was generally positive but as usual, there were some criticisms raised by the auditor-general and the state government will take the necessary steps to ensure they do not happen in future," he said.- Mkini