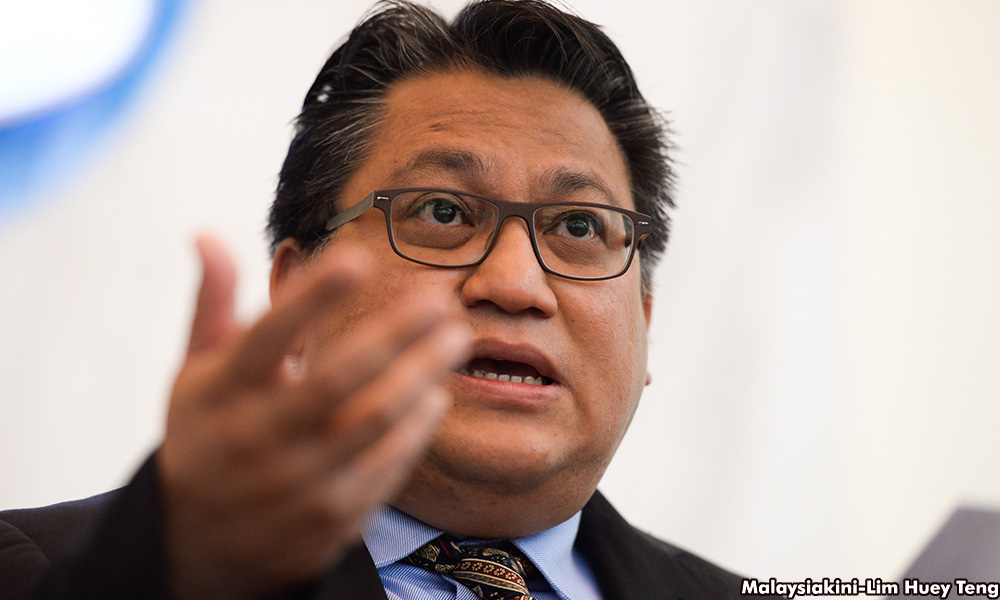 Deputy Home Minister Nur Jazlan Mohamed has confirmed the accuracy of the information about Dr Mahathir Mohamad's ancestry, as revealed by Deputy Prime Minister Ahmad Zahid Hamidi.
"During his university registration, what name did he use? The National Registration Department (NRD) has the details.
"When was Mahathir born? When did the country start to use 'bin'?... He was born before independence, during the British rule," Nur Jazlan was quoted as saying by theSun today.
Zahid claimed at an Umno meeting on Sunday that he had
sighted
Mahathir's identity card, which bore the name as "Mahathir a/l Iskandar Kutty".
The home minister said that he had received a copy of the so-called identity card from the NRD director-general.
However, Zahid came under fire for revealing personal data for political purposes, resulting in police reports being lodged against him.
Nur Jazlan said today that it was not an offence for anyone to divulge information about a person's identity card to the public.
"The details in an identity card are public record. Everyone can see our names and the details (as stated on the IC).
"It is not wrong (to disclose the details)," he added.
He also said that Zahid's intention in disclosing information about Mahathir's so-called identity card had been misunderstood.
"Only that particular part was taken, but people did not look into the context of the speech as a whole," he explained.
image: https://i.malaysiakini.com/954/727362acadd7e988979d1dd7897ee430.jpg
Mahathir has since branded Zahid (
photo
) a "liar" and dared him to produce the so-called identity card.
The former prime minister's supporters had also explained that it was Mahathir's grandfather, Iskandar, who came from Kerala, whereas his father's name was Mohamad.
Meanwhile, Ipoh Barat MP M Kulasegaran called on Zahid to take leave from his post as home minister following the reports lodged against him.
Kulasegaran said he found it shocking and baffling that Zahid could make such an allegation in terms of logic, as to how Mahathir, who had struggled for the Malay agenda, could be accused of using the Malays.
"Since there have been police reports lodged against Zahid, the police should immediately investigate him.
"As the home minister is the political superior of the police, to facilitate investigations, Zahid should take a temporary leave from the post."
image: https://i.malaysiakini.com/772/fea579b98739353cb306f93ea4036512.jpg
Kulasegaran (
photo
), who is also Pakatan Harapan treasurer, said the only reason the deputy prime minister was going to such an extent against Mahathir was obvious that Umno was in a desperate situation, due to the former prime minister's ability in spreading Pakatan Harapan's political message to the Malays, including traditional Umno supporters.
He said that while Umno leaders would not want to publicly admit it, the truth was that Mahathir and his party have been able to garner Malay support for the opposition.
"There are very clear signs that there will be a Malay tsunami in the next general election. And when the tsunami peaks at the general election, Umno and BN will just fall," he said.
"In order to frighten the Malays, Umno leaders have been using the publicity strategy of Chinese versus Malays in its attacks against the DAP. The Malays have been warned to be fearful of DAP."
Kulasegaran said that it was now clear that Umno's allegation of Mahathir's supposed lineage, also embarked on a racist approach in its continued attacks against the former prime minister.
"The racist approach used to attack Mahathir will not work and can even back fire as young Malaysians especially reject racial politics.
"It is clear and simple that there is a racist element in Zahid's allegation and that Umno is getting desperate as the general election approaches," he added. - Mkini