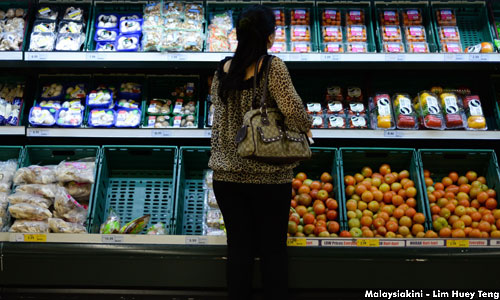 Prime Minister Dr Mahathir Mohamad might believe that people are conditioned to expect "free money" from the government but some experts said this is not a mentality but a matter of survival.
Economist Bajoyai Bardai believed that those who want government handouts were driven to do so by the lacklustre economy.
"When the B40 (lower income) group feel that there is no hope, they will take whatever they can get. It's like a person drowning because they don't know how to swim. They will grab on anything they can.
"If they can find other ways to generate an income, they won't rely on 'free money'. People have self-worth," he told Malaysiakini.
For Bajoyai, the government's focus should be on helping low-income earners make a decent living instead of arguing about handouts.
Mahathir said some are unhappy with his administration for cutting off BN's practice of giving out "
free money
".
The prime minister said it was necessary to wean the public off such policies because the government was facing financial problems and a burgeoning debt.
Universiti Malaya's Azman Awang Pawi believed that the unhappiness with the government wasn't rooted in cutting down on handouts alone as many policy promises to reduce cost of living has yet to be fulfilled.
"It is not that the people are looking for 'free money'. People want highway toll charges abolished and PTPTPN (Higher Education Loan Fund) handled as promised.
"Cost of living is on the rise although GST (Goods and Services Tax) is no longer there. Pakatan Harapan is not living up to its promises," he told Malaysiakini.
He also pointed out that government handouts to the underprivileged was not unique to Malaysia, pointing to countries such as Singapore, Japan and the Netherlands.
"Even Finland provides the unemployed a universal basic income (UBI) for a certain period," he said.
Finland ended its UBI trial, involving 2,000 people, in February and is looking for other models as initial findings suggested that the scheme didn't help most participants to get out of unemployment.
Azman said welfare policies need not necessarily entail handouts as the government can instead rely on subsidies for goods and services. - Mkini