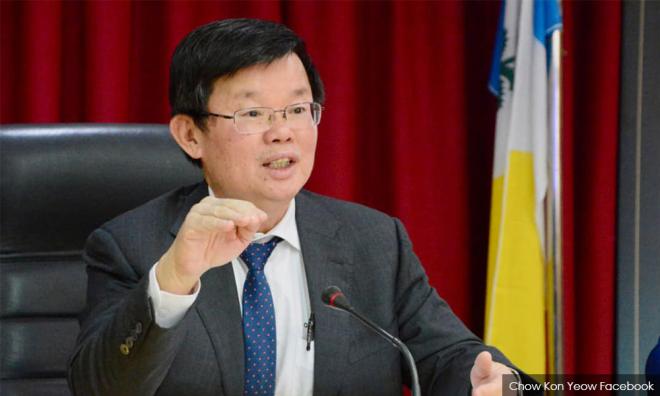 The state government was not informed about a boycott by tow truck operators in Penang yesterday, although the move has been viewed as inconvenient, affecting the festive season which has begun on this touristic island.
At a press conference today, Chief Minister Chow Kon Yeow (above) said he was only aware of the situation after reports of the boycott appeared in the local media.
He said the Ministry of Domestic Trade and Consumer Affairs, Road Transport Department and the tow truck association have been contacted so that his team "could understand the situation better".
"As this is related to insurance claims and vehicle repairs, we would appreciate it if related agencies go back to the negotiation table to come out with a solution so that tow truck services will be available to all consumers," Chow said when asked to comment on the matter.
"A boycott will result in tow truck services being unavailable. If there are accidents on highways, some places need to be cleared for damaged vehicles to be used soonest possible," he added.
"We hope good sense will prevail."
He was responding to tow truck operators in the state going on strike in protest over the alleged monopoly of automakers' franchise workshops.
Yesterday, the New Straits Times reported that the Penang Motor Vehicles Workshop Owners Association, besides suspending tow truck operations, would also be closing car repair workshops.
The association, on Nov 12, had conducted a meeting with all members concerning the difficulties of the maintenance industry.
In a statement after the meeting, the association said they had unanimously agreed to close operations effective from Dec 2 until further notice.
However, the maintenance and technical departments of the workshops would continue as usual, they added.
"All towing cards and vests will be collected by the workshops and handed over to the association for safekeeping, while tow trucks will remain at the same place.
"All workshop owners, call men and employees are not allowed to appear at accident scenes or carry out towing services within this period.
"The towing cards of those found to have violated these conditions would be forfeited," the association warned.
Chow said the state wanted a harmonious society and safe roads, urging all related parties or the tow truck operators association to discuss the matter and find solutions.
"Any boycott, beside shouting out claims and grievances, will not achieve positive results unless negotiations can be conducted again," Chow said.
"We hope the government agencies involved will take note of the protest.
"There is genuine grivences on the matter, and the proper solution needs to be found as soon as possible," he added.
Yesterday, Chow's political secretary Teh Lai Heng adviced the association to postpone its decision to go on strike.
Teh said such a move would only cause "social disorder and inconvenience" to all.
Teh, who is Komtar assemblyperson, urged the operators to resume negotiations with carmakers and insurance companies.
"We would like the Domestic Trade and Consumer Affairs Ministry to intervene and come up with a win-win solution," Teh said in a statement. - Mkini