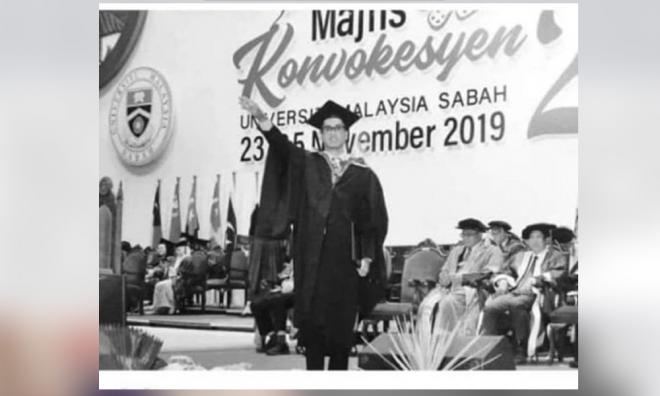 The German embassy in Kuala Lumpur expressed shock that a Universiti Malaysia Sabah (UMS) graduate showed the Nazi salute during a convocation ceremony last weekend.
Condemning the action, the embassy said it expected the Malaysian government and university authorities to do the same.
"Considering the terrible suffering that was brought upon the world during World War II by the Nazi regime of Germany, the German embassy unequivocally condemns any show of support for a regime responsible for genocide and would expect the Malaysian government and university authorities to do the same," it added in a statement.
On Tuesday, UMS vowed to take appropriate steps to such incidents do not recur.
"The graduate took advantage of the moment to stop and make a gesture as if he was waving at the audience.
"UMS regrets that the picture uploaded by the graduate in his Facebook posting is one on the convocation stage," said the varsity's strategic management and corporate communications centre.
This was after the graduate's salute went viral on social media, drawing flak from netizens.
The graduate later explained that the salute was in protest of what he believed was Jewish dominance over the world.
He also expressed support for the Palestinians in Gaza as well as his resentment of Jews.
The graduate also supported the actions of the Nazi regime and the holocaust, which claimed the lives of six million Jews.
In September, Prime Minister Dr Mahathir Mohamad, who is often branded an anti-Semitic for his remarks about the Jews, had also clarified his stand on the holocaust.
During the Columbia University's World Leaders Forum in New York, Mahathir, responding to a student, said he was exercising his right to free speech.
"Why is it that I can't say something against the Jews when a lot of people say nasty things about me, about Malaysia, and I didn't protest, I didn't demonstrate.
"Free speech is about free speech. When you say 'No. You cannot say this. You cannot be anti-Semitic', then there is no more free speech," he added.
Mahathir recounted how a UK journalist was jailed for disputing the number of deaths during the holocaust. Similar sentences were handed down on holocaust deniers in France and Canada.
"Well I have not disputed them, but I have (asked) who determined these numbers? If it is somebody who is in favour you get one figure, and somebody who is against will give another figure.
"So I accept that there was a Holocaust, that there were many Jews killed, and in fact, at one time I was very sympathetic towards them during the war when you were not yet around, but I was around at that time," he added. - Mkini