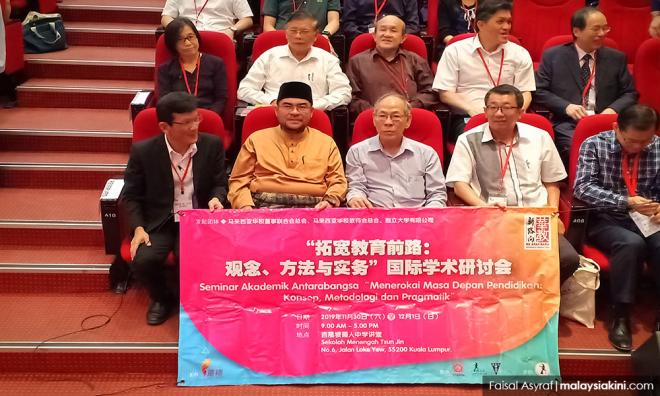 De facto religious affairs minister Mujahid Yusof Rawa said the United Chinese School Committees' Association of Malaysia (Dong Zong) and other parties under any education associations have to adopt a single mindset to achieve the big agenda set by the government.
The big agenda was referring to national unity and development.
Mujahid was invited by Dong Zong this morning to officiate an education seminar titled "Exploring the Future of Education: Concept, Methodology and Pragmatic" at Tsun Jin High School, Kuala Lumpur.
"My presence (today was based on an invitation by Dong Zong to officiate a seminar. I accepted the invitation as I would like to relay the wish by the new government that all parties, including Dong Zong, has a huge role to contribute to the national unity.
"Any schools under the Dong Zong umbrella, as long as they are registered, and they want to contribute to the unity and national development, of course, I hope they contribute to the national interest.
"We want all parties to have one mindset regardless of which education associations they are in, but they must look to one big agenda set by the government, not by them," he told reporters.
Dong Zong has been in the spotlight for opposing the teaching of Jawi script for Year 4 vernacular school pupils next year.
The government decided that the Jawi script lesson would only be implemented with the
agreement
of parent-teacher associations (PIBG) and other parents of pupils.
To date, Dong Jiao Zong and Chinese-based NGOs have demanded that
school boards
to be allowed to decide on Jawi script lessons in Chinese primary schools.
In his speech, Mujahid said to attain the national agenda, all parties must strike a balance on what they want and what they give.
He cited a saying by the Chinese Philosopher Lao Tze: "If you would take, you must first give, this is the beginning of intelligence."
Explaining further, Mujahid said that what creates the value of "give and take" is tolerance, but the word has a negative connotation because the action is influenced by "having to endure".
"The word tolerance is not good. Tolerance means you have to endure. So it's not tolerance, but humility. We give and take because we have humility among us today.
"This is the highest value of sacrifice. It's not about us but how other people can share the happiness with us as long as the goal is to achieve a bigger interest.
"It's impossible to sacrifice if we do not suppress (menundukkan) our ambition for a bigger purpose... nothing is bigger than achieving the people's agenda for the interest of all parties," he said. - Mkini