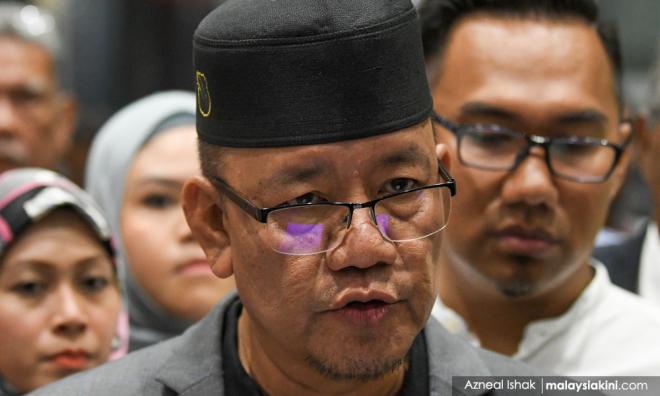 PKR issued Zakaria Abdul Hamid a letter yesterday notifying him of his dismissal from the party.
The former Bera division chief now has two weeks to appeal the decision.
This was announced by party communications chief Fahmi Fadzil at a press conference this morning.
"By the party's constitution, there is a period of 14 days to appeal from receipt of the (letter) of sacking [...]
"The letter was sent yesterday administratively, but the
notice
was given after the central leadership committee (MPP) meeting on Sunday," he said.
Zakaria (photo) said last night that he had yet to receive an official letter about his sacking.
The party stripped him and Pahang PKR member Ismail Dulhadi of their membership over allegations of corruption and bribery.
The allegations stemmed from a letter that the MACC
mistakenly
sent to the party.
The anti-graft body later explained the letter was only intended for ministries and government agencies.
Anti-corruption stance demanded dismissal
Last night, Zakaria had urged PKR to
apologise
for accusing him of corruption seeing that MACC had admitted their blunder and he had not been charged in court.
The former political secretary to Works Minister Baru Bian refuted allegations that he had been involved in bribery.
The party's move to sanction him has received
opposition
from its own members, particularly on grounds that Zakaria was not accorded the opportunity to explain himself before he was sacked.
Today, Fahmi stressed that PKR top leadership had found allegations against both Zakaria and Ismail in the MACC letter to be "
extremely serious
" and thus the need for drastic action.
"I believe this move was a necessary step to emphasise PKR is firmly against corruption especially among its members and leaders," he said during the same press conference.
PKR Youth leader Ahmad Syukri Che Ab Razak previously lodged a MACC report offering supposed audio evidence that Zakaria had offered contracts worth RM20,000 and ministry funding to local party leaders during the PKR's hotly contested polls last year. - Mkini