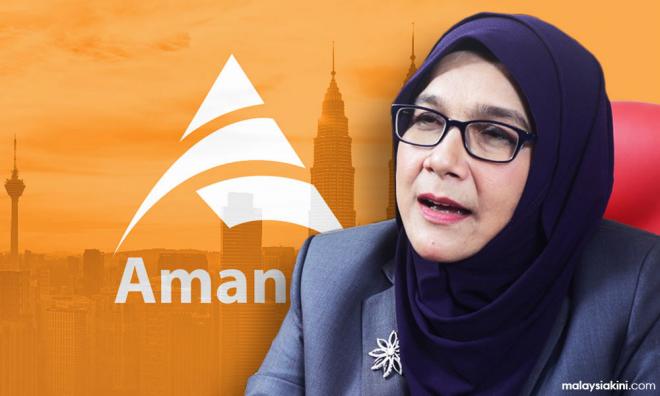 Amanah Wanita chief Dr Siti Mariah Mahmud has decided not to defend her post at the party election in the coming next weekend.
When contacted by Malaysiakini, she named the wing's information chief Aiman Athirah @ Raj Munni Sabu as her successor, saying that she could invigorate the stagnant women's wing.
"Frankly speaking, my post as an exco member and state assemblyperson of Seri Serdang all together take up so much time already. My weekends have been taken up by my official duties," she said.
She said she would spare her weekends or at least once a month to meet the party grassroots before she was appointed as a Selangor exco member.
Now, she said she could hardly set aside time to hold party meetings.
She admitted the wing has been stagnant and needs the leadership of a younger leader, preferably one who is not an elected representative.
"Aiman is the only person with the standing of a YB who has the time to invigorate the wing," she said.
"She has a good grasp of Malaysian politics and she has been in politics since her university days.
"I have openly asked the wing to elect her. I know all our members since (we were in) PAS. I know who can deliver," she said of the senator.
"State assemblypersons can help, but they can't focus on the wing," she added, without naming anyone in particular, but appeared to refer to Amanah women's wing vice-chief Norhayati Bachok.
Norhayati is the state assemblyperson for Maharani, Johor, and is among 45 candidates vying for a seat in the 27 Wanita Amanah central committee posts up for contest next week.
Siti Mariah, however, admitted Aiman may face some obstacles as some disagreed with her choice of candidate.
"Some members have reservations because her standards are high and she is assertive. Perhaps at times, she is a bit impatient with people who don't deliver.
"Some also want a leader who is more motherly or sisterly," she explained.
Amanah election director Zulqarnain Lukman had said he received a total 109 nominations for the Wanita Amanah central committee.
Of the 109 nominations, 45 nominees did not fulfil the criteria to contest, while another 25 nominees rejected the nomination. One nominee did not reply.
The wing's deputy chief Anfaal Saari and vice-chief Aida Yusof Rawa, the latter of whom is the sister of Amanah deputy president Mujahid Yusof Rawa, will contest in the party election.
Another vice-chief, former Jitra state assemblyperson Rohani Abdul Muttalib, chose not to contest in the party election.
The party election on Nov 30 and Dec 1 will me Amanah's first party election.