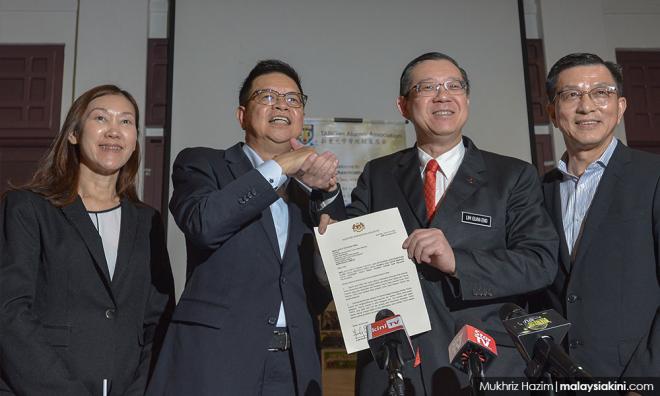 The custodians of the trust for Tunku Abdul Rahman University College (TAR UC) scholarships has received, in writing, the government's commitment to contribute RM30 million annually.
The letter was handed by Finance Minister Lim Guan Eng to TAR UC alumni (TAA) president Yap Kuak Foong at a ceremony in Kuala Lumpur yesterday.
Yap said the pro-tem committee has submitted the necessary paperwork to the companies commission and expect to receive the funds immediately after the trust has been established.
The pro-tem members of the trust board will include himself, former TAR UC president Tan Chik Heok, lawyer Kenny Ng Been Ken and TAR UC alumni association deputy president Chan Wah Kiang.
"TAA never forget its original root and want to contribute. The separation of politics from education will make TAR UC system more healthy.
"We will make sure the trust is legal and gain public confidence," said Yap.
Finance Minister Lim Guan Eng, who accompanied Yap during the press conference, said he was no longer entertaining complaints by MCA - the owner of TAR UC - regarding the funding arrangement.
He reiterated that funds would be channelled to TAR UC instead of the trust once MCA relinquished its hold of the institution since the federal government cannot fund political entities.
"No other politically controlled learning institution receives government funds - only MCA. If there is no separation, then DAP, Bersatu, PKR, Umno or PAS all can seek government funding," he said.
When a reporter pointed out that Yap was a lifelong MCA member, Lim said it was not a problem since he was not part of the party leadership.
"Even civil servants are allowed to be party members and still act independently," he said. - Mkini