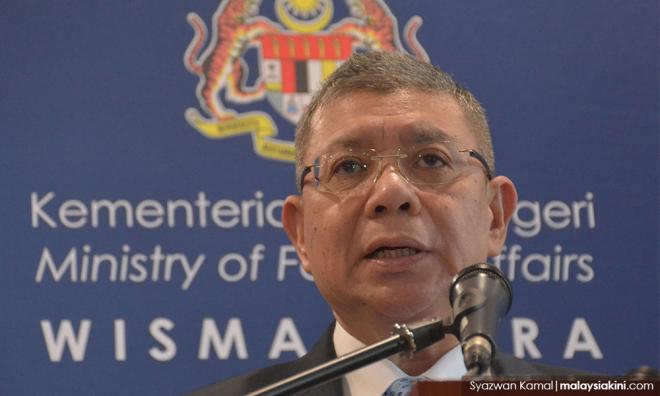 CORONAVIRUS
| China has disallowed the use of Malaysian military aircraft to evacuate Malaysians trapped in China's epidemic-stricken Hubei province and its capital city of Wuhan, Foreign Affairs Minister Saifuddin Abdullah said.
"In fact, the Defence Ministry and Malaysian Armed Forces had offered to use their aircraft earlier but China only allows the use of commercial flights," he told the media at a Chinese New Year event in Kuantan yesterday.
As such, Saifuddin said the National Disaster Management Agency (Nadma) will bring 80 Malaysians home via a commercial flight as soon as possible.
He said Nadma is ready for the mission, and he expected this would be done in two to three days.
"The aircraft will also carry medical personnel. Malaysians who will be brought back will undergo health screening (in China), and they will be examined again once they arrive in Malaysia.
"They may be quarantined for a while before they are free to leave," he said.
Saifuddin said he expected China to cooperate with Malaysia on the evacuation from Hubei as similar cooperation was extended to other countries, including Japan.
Gift of 10 million pairs of rubber gloves for China
As a gesture of solidarity, Saifuddin said, Malaysia would give 10 million pairs of rubber gloves to China for medical use.
However, he said, Putrajaya medical masks would not be given as Malaysia currently faces a shortage of masks.
There are 35,000 Malaysian in China with 25,000 residing in Hong Kong and 2,500 in Beijing while there are only 115 in Hubei.
Noting that some Malaysians have yet to return to Hubei, the foreign minister said it was expected only 80 Malaysians are trapped in the province hit hard by the 2019 novel coronavirus.
Out of the 80 Malaysians identified by the government, nine are students while 11 are the Chinese spouses of Malaysians while another is a South African national married to a Malaysian.
On Jan 29, Prime Minister Dr Mahathir Mohamad said the cabinet made a decision to
bring back
its citizens from Hubei.
The World Health Organization (WHO) said on Thursday it was declaring the coronavirus outbreak that has killed 212 people in China as a
global emergency
, as cases spread to at least 18 countries.
As of yesterday, there were eight positive novel coronavirus cases in Malaysia. - Mkini