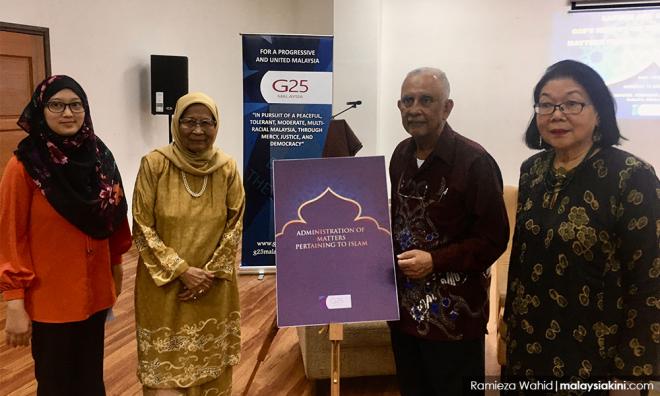 G25, the group comprising former top civil servants, is demanding a public apology from PAS president Abdul Hadi Awang, over the latter's remarks against them.
Hadi, in a statement two weeks ago, had said the G25 were ignorant and had
misguided
views on Islam.
He also said they were more dangerous than the al-Maunah militant group.
His comments were in response to a G25 report entitled "Administration of Matters Pertaining to Islam in Malaysia", which during its presentation, the group had criticised the country's laws which enforced Islamic laws onto Muslims saying such matters should be
left to
the individual and God.
In a response to Hadi penned on Jan 25 and sent to the media today, G25 said it was evident that Hadi had not read the report.
"The purpose of Hadi's tirade is to slander G25. Clearly, his motive is political expediency which he has demonstrated through PAS's current close cooperation with Umno despite them having previously condemned Umno as 'kafir'," it said.
They the PAS president branding them worse than al-Maunah was defamatory and criminal as it could "incite or provoke hatred or discontent towards G25 which are offences under sections 503 and 505(c) of the Penal Code."
The group said if Hadi does not issue a public apology, they reserve the right to take legal action. - Mkini