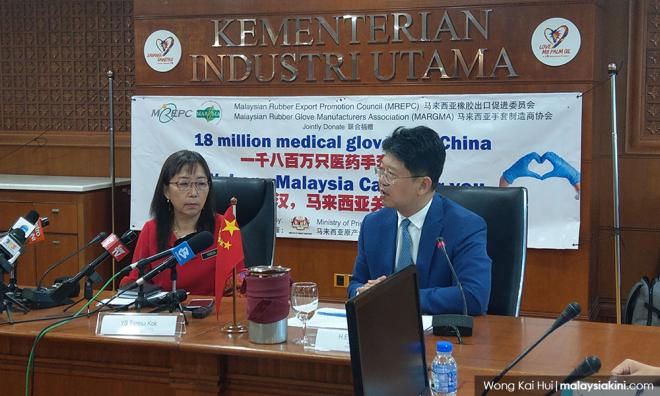 CORONAVIRUS |
China's ambassador to Malaysia Bai Tian has urged the Sabah government to review its decision to bar all flights from China.
Bai Tian told a media conference at the Primary Industries Ministry in Putrajaya today that any measure taken by the government should have a concrete base to support the decision.
"I am sad to hear about this decision by the Sabah government. This decision needs a second thought because any decision made by any government or organisation has to based on a solid foundation," he said.
"In this difficult situation, I hope trade and commercial activities between China and Malaysia, including Sabah, will not be affected."
It was also announced at the press conference that Malaysian companies would donate 18 million pieces of medical gloves to healthcare workers in Wuhan.
Representatives from the Malaysian Rubber Glove Manufacturers Association, the Malaysian Rubber Export Promotion Council and 10 glove manufacturing companies were present at the press conference.
Bai Tian said the donation would greatly contribute to the fight against the epidemic in China and expressed his gratitude.
"On behalf of the China government and the Chinese people, I would like to express our deepest gratitude and appreciation to Malaysia. Terima kasih!"
Sabah deputy chief minister Christina Liew yesterday announced that the state had temporarily suspended all scheduled and chartered flights from China to Sabah with immediate effect.
Knowing that the decision may not be well-received by tourism players, Liew, as reported by Borneo Post, said it was because the state did not want to put Sabahans at risk of contracting the deadly coronavirus.
Meanwhile, Prime Minister Dr Mahathir Mohamad said yesterday the need to
block
all flights from China into the country was being studied by the government.
The World Health Organisation (WHO) today declared the new coronavirus outbreak a "public health emergency of international concern", citing the potential of the virus
spreading
to countries with weaker healthcare systems.
However, WHO officials also warned that drastic restrictions in travel and trade would not be necessary and opposed any move to close borders with China or restrict Chinese traveller's access, according to the South China Morning Post. - Mkini