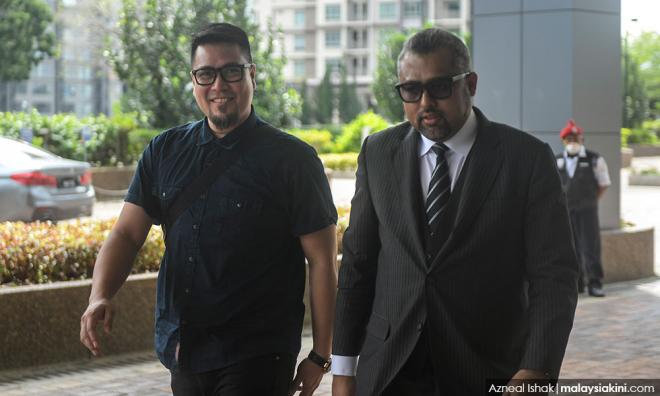 CORONAVIRUS |
Zed Zaidi's controversial social media posting on coronavirus has landed him in hot soup.
The president of the Malaysian Artistes Association (Seniman) spent almost three hours being quizzed by the Malaysian Communications and Multimedia Commission (MCMC) in Cyberjaya today.
Zed, whose real name is Rozaidi Abd Jamil, arrived at the MCMC office around 3.20pm today. He was accompanied by his lawyer Zamri Idrus.
When met after the probe, Zed confirmed that he was quizzed over a posting in which he shared an image of a "breaking news" purportedly from a news channel which says "All Countries Has Banned Chinese Tourists Except Malaysia" on social media.
Zed said he had given good cooperation to the authorities and urged the people to be careful when posting on social media.
"I gave good cooperation to the authorities ... to the people out there, be careful when posting (on social media)," he said.
The image in question was uploaded on Jan 27. The top right of the image showed the URL link "breakyourownnews.com" where users could use the application in the website to create a fake breaking news headline.
Zed had also shared a picture of himself wearing a face mask with a caption: "Duduk malaysia pun tak selamat terpaksa pakai tutup hidung ni 24 jam dari influenza ke conovirus plak lepas ni tak tau apa bala lagi nak turun. Mesti Malaysia ada buat benda2 tak baik ni... hmmm aku rasa rakyat ja yg tau."
(It's not safe to live in Malaysia, forced to wear a mask for 24 hours. From influenza to conovirus (sic), what disaster will descend next? Surely Malaysia had done something bad..the people know better.)
Subsequently, Zed had told
Malaysiakini
that he
knew
the screenshot of the so-called breaking news was fake.
"I was trying to link the 'news' which shows a (background) image of people wearing masks to a picture of me wearing a mask," he had said.
Asked if he had the intention to cause panic when posting the screenshot, Zed's lawyer Zamri Idrus denied so on behalf of his client.
"No, there's no intention for that.. (the posting) was more towards raising a question and it's personal.
"We have our view. Maybe the authorities have a different view (on the matter)," Zamri said.
The spreading of fake news regarding coronavirus had led Health Minister Dr Dzulkefly Ahmad to highlight that such an
irresponsible
act has become critical.
"I would like to stress a message by the Yang di-Pertuan Agong Sultan Abdullah Sultan Ahmad Shah for us all to get verified information from the prime minister and his deputy, myself (as the health minister), and the Health Department director-general," Dzulkefly said.
"The 'more critical' problem is the fake news about coronavirus.
"For instance, (a posting) saying that all countries except Malaysia have closed their doors to Chinese tourists. This is not true.
"No country has done this because they obey the instructions from the World Health Organisation as well as the Public Health Emergency of International Concern." - Mkini