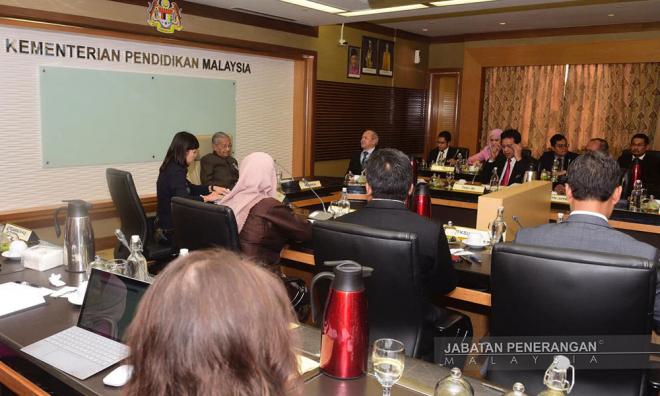 Acting education minister Dr Mahathir Mohamad has again pushed for the teaching of Science and Mathematics in English.
Speaking at a special meeting with the ministry yesterday, Mahathir said mastery of English was a vital element of education.
"Geography and History can come in any language but Science and Mathematics are not indigenous fields of knowledge, it comes from abroad.
"Most of it comes to us in English. Therefore, we are going to use English in the teaching of Science and Mathematics. That means we don't confuse people.
"We find those who study Science in Malay cannot work where English is required," he added.
A video of Mahathir's remarks at the meeting was uploaded on his official Youtube account this afternoon. However, it does not mention how or when the new teaching policy would be implemented.
"My views are not always popular or acceptable to many people, but I feel I need to push certain things to make sure our children grow up and find themselves able to tackle the problems of adult life.
"That is the purpose of education," he said.
The nonagenarian introduced the Teaching and Learning of Science and Mathematics in English (PPSMI) programme in 2003 during his previous tenure as prime minister.
The policy was unpopular, even among then-opposition parties such as
PKR
.
It was scrapped in 2011. The education minister then, Muhyiddin Yassin, said the programme had resulted in less rural students
passing
Science and Mathematics.
This was disputed by some, who said the results had
improved
under PPSMI.
In 2016, the government then introduced the Dual Language Programme, where certain schools had the option of whether to teach Science and Mathematics in Malay or English.
Meanwhile, Mahathir, at the meeting yesterday, said while being a multiracial country posed certain problems, it has contributed much to Malaysia's development. - Mkini