Joraymi Jamaludin was once considered a hero.
But it's not something you would know based on the 55-year-old's current state, struggling to make ends meet day after day.
Once a captain in the Royal Malaysian Airforce (RMAF), Joraymi was perhaps best known for being a DHC-4 Caribou cargo jet pilot.
The plane is capable of taking off and landing quickly and on slopes, making it suitable for operations in the interiors of Borneo.
Joraymi served in the airforce from 1992 until 1998, and among his fondest memories is helping put out forest fires in Kalimantan during Operation Haze in 1997.
He later became a public face after flying a charity flight to transport an infant girl from a remote village in Sabah to the Queen Elizabeth Hospital in Kota Kinabalu for urgent treatment.
His noble act landed him on the front page of the New Sabah Times - one of Sabah's pioneer newspapers which shuttered in 2020.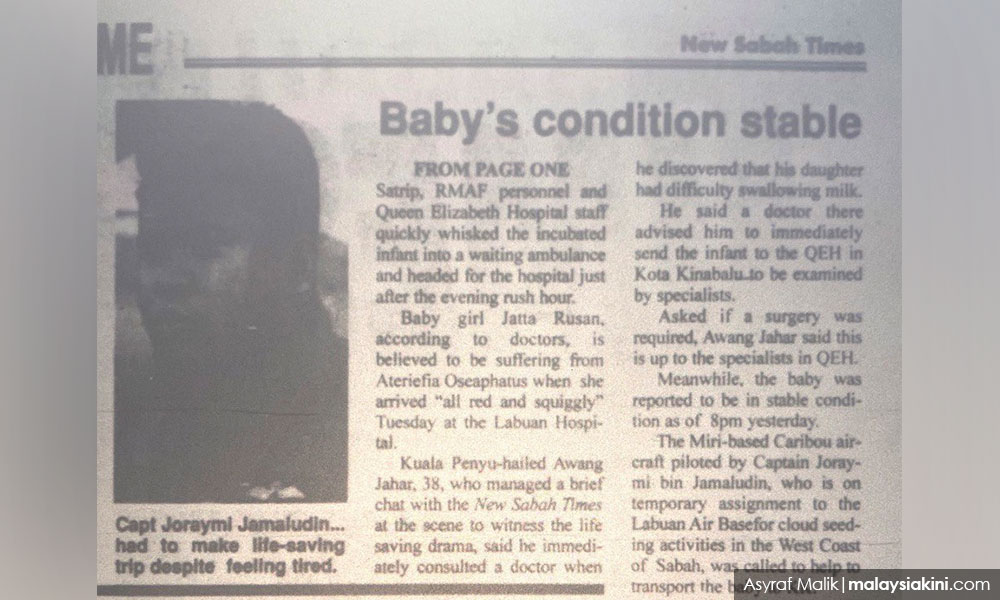 Wasn't without flaws
But despite his acts of service, Joraymi wasn't without flaws, and the latter would end up ruining his life. His career with the RMAF came to an end after he was dismissed with disgrace.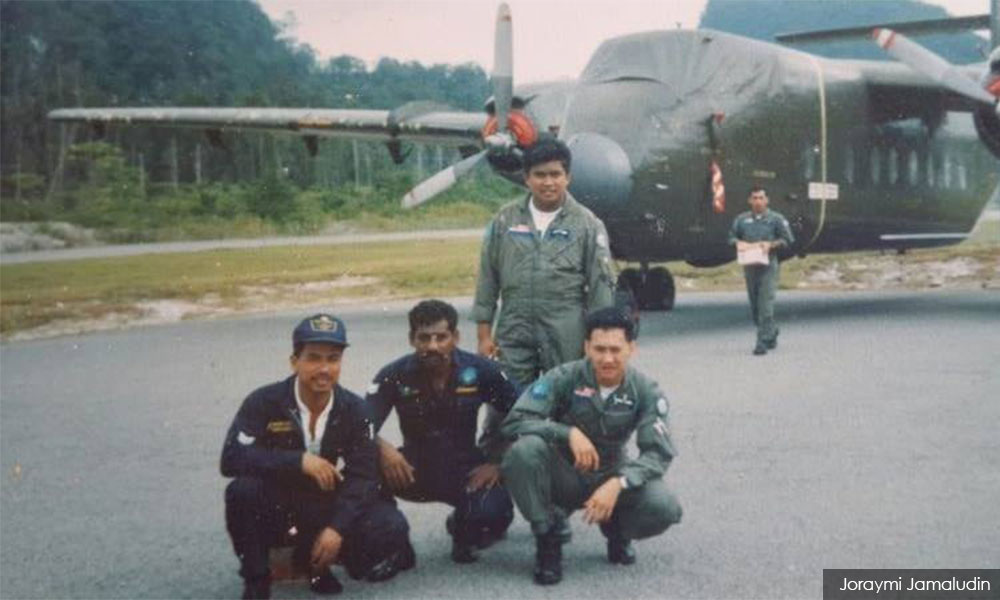 He was court-martialed for going absent without official leave (AWOL), jeopardising the service, dishonouring the RMAF, and several other disciplinary issues.
"I was heartbroken when I heard the judge read out the charges because I loved my carer," he told Malaysiakini in a recent interview.
Because he was dismissed with disgrace, Joraymi is not officially recognised as an armed forces veteran and thus ineligible for benefits.
"I have tried to go to the Defence Ministry to try and save whatever rights I could, but it's clear there are none left.
"My life is totally upside down," he said.
Currently living in a squatter settlement in Gombak, Selangor, Joraymi said this black mark continues to haunt him wherever he goes.
No benefits
Besides not getting any veteran benefits, his dismissal with disgrace also left him without the paperwork to show he had served in the armed forces.
"Every veteran, when they end their service, will be given a passport book to prove they served in the armed forces.
"But because of how I was terminated, I don't have that. This makes it really hard to get a job as employers want to see that passport book," he said.
He added that those who access the Defence Ministry's database can find out how he was fired, making them reluctant to give him a chance.
But it's not just employers shying away from Joraymi. His family and friends have turned their backs on him too.
"To them, I am a very evil person. Everyone distanced themselves from me. My family and relatives sidelined me, and my wife asked for a divorce. I was treated like a criminal.
"Sometimes I wonder, after all I have done for my country, is this how my life will end?" he asked.
Health issues
To make matters worse, Joraymi has health issues. He suffers from heart and kidney disease and requires dialysis treatments.
Healthcare, unfortunately, is not something he can afford and he is not eligible for treatment at a military hospital like other officially recognised veterans.
"I eat just enough to stem my hunger, I can't afford to go to the hospital for treatment... there are weeks where I have to skip dialysis," he said.
He said there are members of the public who take pity on him and donate to him, but the kindness doesn't always last.
"Some people, when they find out I have been dismissed with disgrace, ask for their money back, as though I am a scammer. But that's ok. I returned all their money," he said.
One donor, however, was kind enough to donate a peritoneal dialysis machine.
Not waiting for handouts
He is also a zakat recipient, but like many others, it is not enough to make ends meet.
But Joraymi said he is not a lame-duck just waiting for handouts.
Instead, he said he harvests recyclable trash which he said can earn him around RM200 a month. He also takes up odd jobs such as cleaning, washing cars, and working at fruit stalls.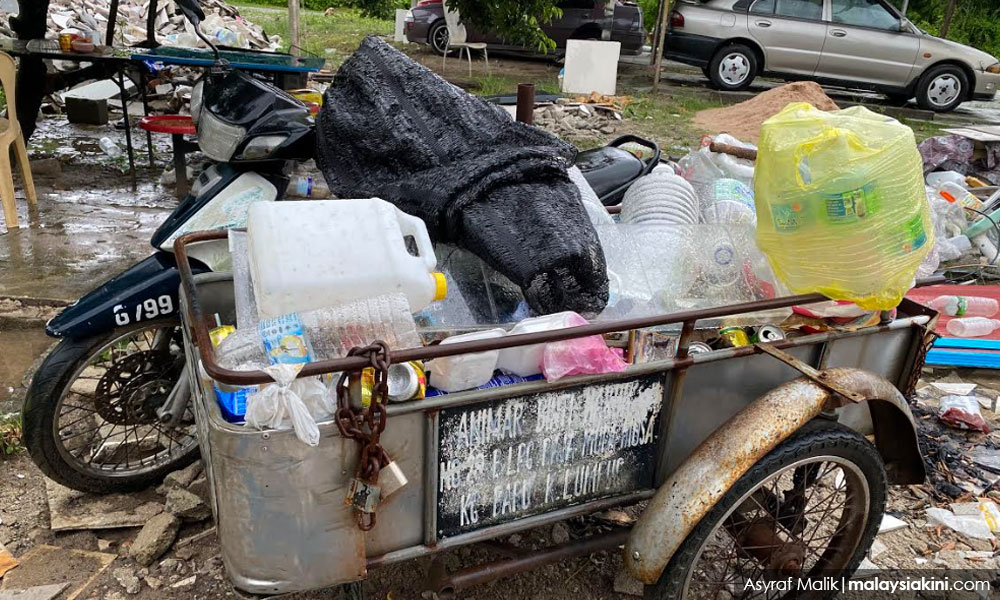 Joraymi also hopes there will be a light at the end of the tunnel.
The disgraced captain is hoping that the Rise Veterans demonstration in Kuala Lumpur on June 6 - the Yang di-Pertuan Agong's birthday - will have an impact.
Demand for pardon's board
One of the rally's demands is for there to be a pardons board specifically to bring military court cases to the King's attention.
"I really need a royal pardon from His Majesty so that I qualify as a veteran and can get benefits.
"24 years have passed (since my dismissal) and I am still being punished. My wrongs are not so grave, such as selling national assets, being corrupt, or abusing my subordinates," he said.
The rally's organiser, Major (R) Mior Rosli Mior Rosdi said the Federal Constitution allows the Agong to pardon or lighten sentences meted out by military courts.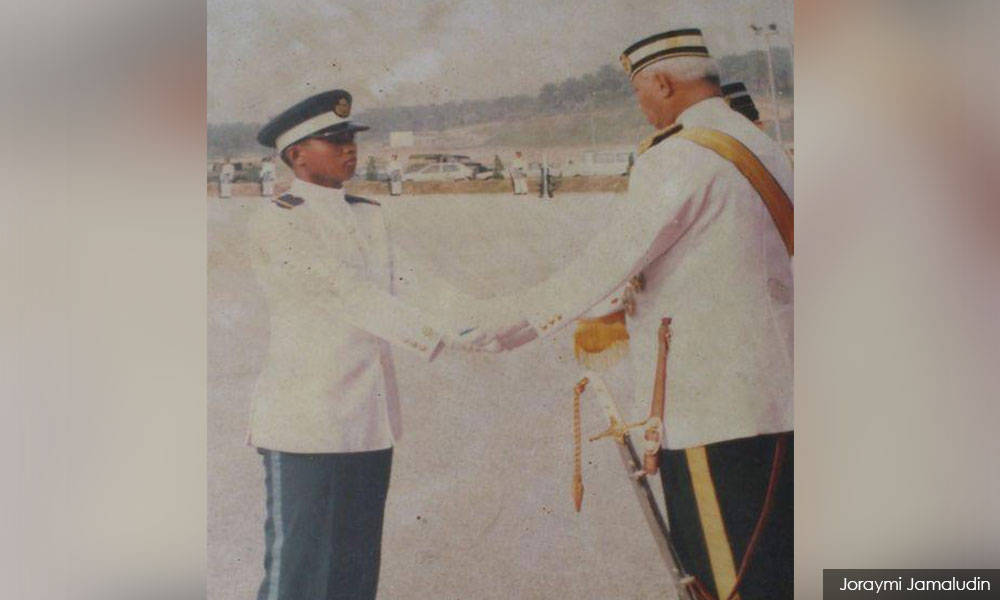 However, since 1974, there have been no pardons issued to court-martialed service officers.
"Even former communists who betrayed the country get a second chance to live comfortably in our motherland," Mior Rosli said.
He also cited how the Yang di-Pertuan Agong Sultan Abdullah Sultan Ahmad Shah and Prime Minister Ismail Sabri Yaakob both pleaded with Singapore to save Nagaenthran Dharmalingam from the gallows. - Mkini