The Ipoh High Court today dismissed the leave application for contempt of court filed by M Indira Gandhi.
Speaking to the media after the ruling, Indira expressed her disappointment with the outcome of the leave application.
"It was a bit disappointing, but we already expected this is what the judge would be giving us.
"Everyone knows the case has been dragging on without any solution which is very disappointing.
"We will definitely be taking this case to the Court of Appeal," said Indira.
The Indira Gandhi Action Team (Ingat) chairperson Arun Doraisamy echoed Indira's statements, saying that this case did not have to go this far.
"We've been in and out of court for 13 years and this case did not have to go that far.
"We are totally convinced that the police have not done what they are supposed to be doing, and their effort to relocate and repatriate Prasana Diksa with her mother is not done to the best of the mother's interest," said Arun.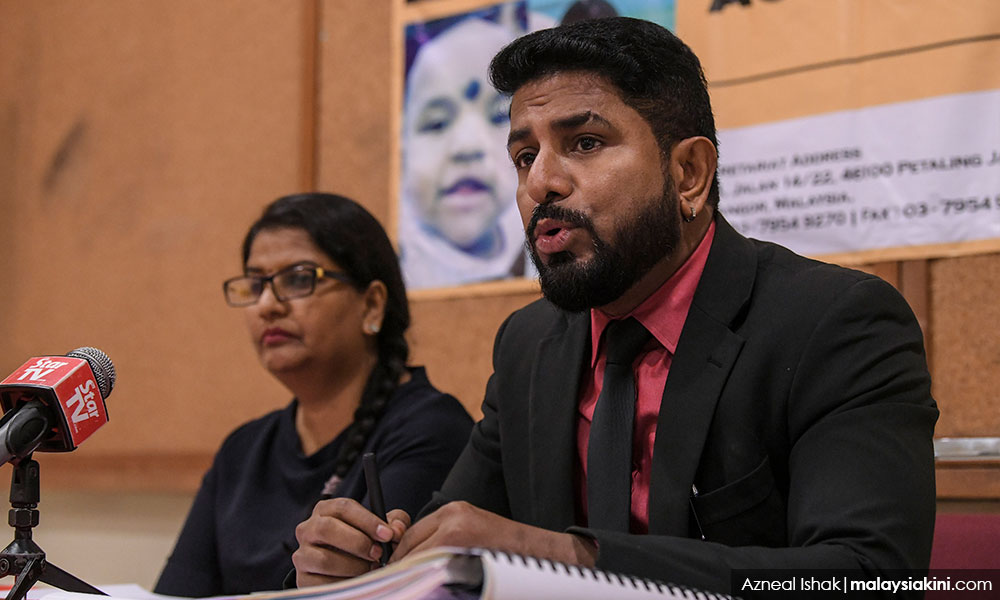 On Oct 28 last year, Indira filed a suit over the police's alleged failure to track down and arrest her former husband Muhammad Riduan Abdullah and recover Prasana from him.
The inspector-general of police, the Royal Malaysia Police, the Home Ministry and the government were named as defendants in the suit.
Custody battle
Prasana was an infant when her father Riduan, previously named K Pathmanathan, reportedly took her away in 2009 after converting to Islam.
Riduan and Indira were later engaged in a tightly watched interfaith custody battle after he unilaterally converted Prasana and their two other children to Islam.
In 2014, the Ipoh High Court ordered the police to retrieve Prasana from her father. In 2016, the Federal Court ordered the IGP to arrest Riduan.
In 2018, the Federal Court unanimously ruled that unilateral conversions of children were unlawful as such decisions need permission from both parents. The apex court also issued an arrest warrant for Riduan.
According to Indira's lawsuit, the IGP allegedly failed to abide by two orders of the Ipoh High Court issued on May 30, 2014.
The first order was a committal order for Riduan to be jailed for failing to return Prasana to Indira. The second one was a recovery order for the Royal Malaysia Police and the court bailiff to retrieve Prasana from Riduan and return her to Indira.
Indira claimed that the IGP has committed a tort of nonfeasance in public office by failing to arrest Riduan and recover Prasana.
The plaintiff is seeking declarations that the IGP has committed a tort of nonfeasance in public office and that the other three defendants are vicariously liable for the first defendant's (IGP's) tort of nonfeasance.
Indira is also seeking general, aggravated, and exemplary damages, interest, costs and any other order deemed fit by the court.
Additionally, Indira and her lawyers have already appealed against the dismissal of the leave application.
"We have just sent in a manual application for an appeal today," Arun informed Malaysiakini. - Mkini