In the continuation of the Federal Court's hearing of Najib Abdul Razak's main appeal in the RM42 million SRC International corruption case, the prosecution is expected to present further oral arguments against the former prime minister.
With deputy public prosecutor V Sithambaram resuming his submissions where he left off yesterday, uncertainty hangs over whether Najib is able to mount credible counter-arguments for an acquittal over the seven criminal charges.
This is after the five-person bench chaired by Chief Justice Tengku Maimun Tuan Mat yesterday denied defence lawyer Hisyam Teh Poh Teik's bid to discharge his team from acting for Najib, who is also a former finance minister.
During a media briefing yesterday afternoon, Najib claimed his situation is akin to having no actual legal representation as the new legal team was not allowed to postpone the main hearing so that they could prepare a credible defence.
Malaysiakini is providing live reports on the court proceedings today.
---
KEY HIGHLIGHTS:
Najib discharges lawyers from Zaid's firm
Najib discharges lawyers from Zaid's firm
9.38am: Lawyer Hisyam Teh Poh Teik informs the apex court that Najib Abdul Razak has discharged members of the new legal team.
The lawyers discharged are from Zaid Ibrahim Suflan TH Liew & Partners.
However, Hisyam remains Najib's counsel.
Chief Justice Tengku Maimun Tuan Mat directs for proceedings to proceed.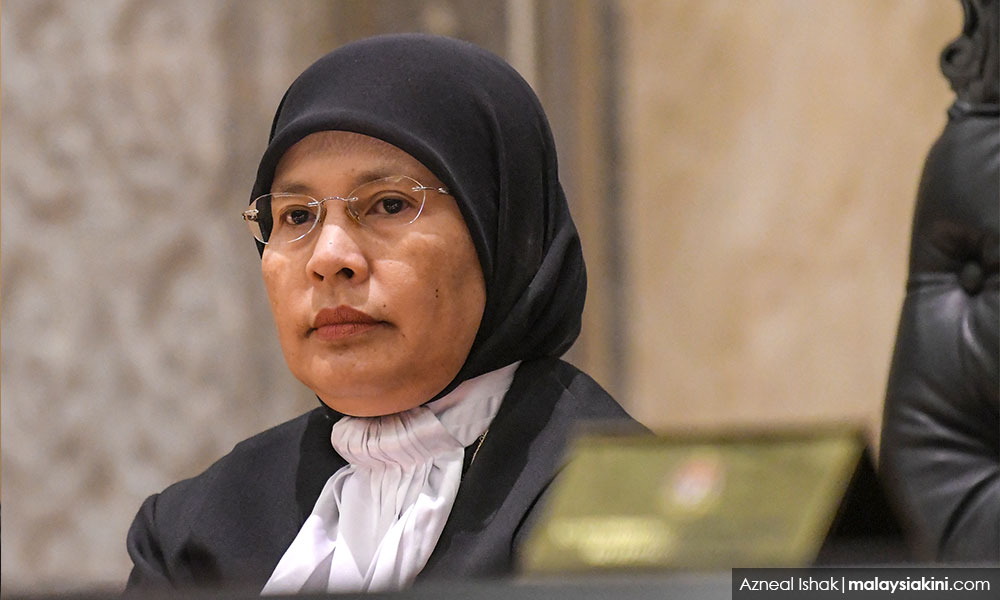 Deputy public prosecutor V Sithambaram then resumes his oral submissions against Najib's appeal.
---
Proceedings resume
9.36am: The apex court convenes as Najib Abdul Razak is seen in the dock.
The first and second days of hearing on Monday and Tuesday this week only saw the apex court hear and dismiss Najib's two applications - one to adduce fresh evidence in the SRC case and the other to postpone the main appeal hearing for between three to four months. The court took a break on Wednesday.
It was only on the third day, yesterday, that the bench was able to focus on presiding over Najib's main appeal to set aside his conviction on one count of abuse of power, three counts of criminal breach of trust (CBT) and three money laundering charges, as well as quash his 12-year jail term and RM210 million fine.
The other Federal Court bench members are Chief Judge of Sabah and Sarawak Abang Iskandar Abang Hashim and senior judges P Nallini, Mary Lim Thiam Suan and Mohamad Zabidin Mohd Diah.
On July 28, 2020, the High Court in Kuala Lumpur found Najib guilty of all seven criminal charges and meted out the sentence accordingly.
However, the High Court trial judge, Mohd Nazlan Mohd Ghazali, allowed the defence's bid to stay the execution of the sentence pending the disposal of Najib's appeal. Nazlan has since been elevated to the Court of Appeal.
On Dec 8 last year, the Court of Appeal upheld the lower court's ruling and dismissed Najib's bid to overturn his conviction and sentence.
Najib also used to be SRC's adviser emeritus and chairperson of the board of advisers of Malaysian sovereign wealth fund 1MDB.
Both entities are fully owned by the Minister of Finance Incorporated (MOF Inc). Initially a subsidiary of 1MDB, SRC was later wholly-transferred to MOF Inc. - Mkini