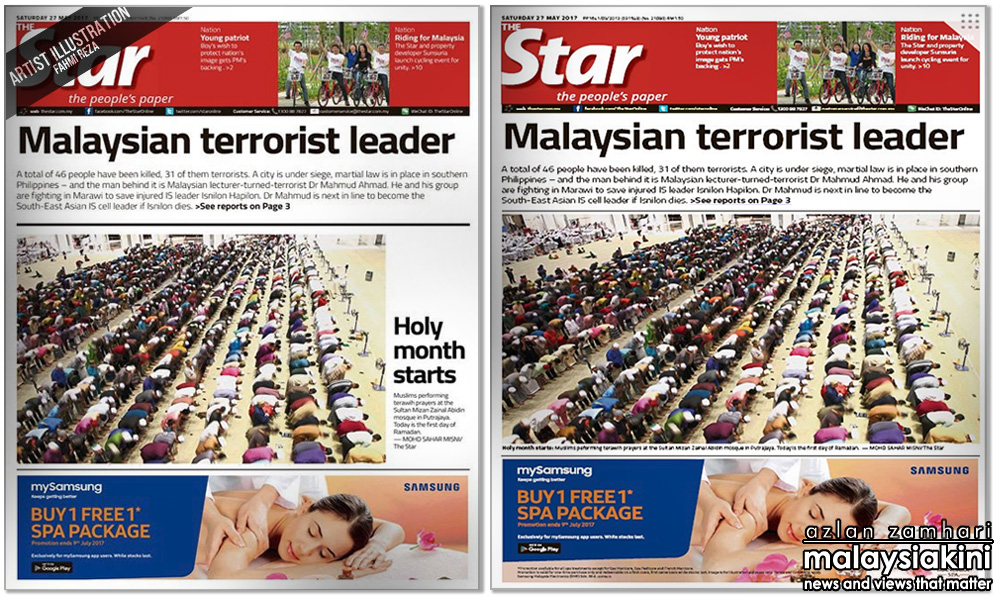 Graphic designer Fahmi Reza has offered up an alternative layout for
The Star
's front page, which on Saturday sparked
controversy
.
The Star's May 27 front page, featuring a picture of Muslims praying under an unrelated article with the headline "Malaysian terrorist leader", public outcry for allegedly painting Muslims in negative light.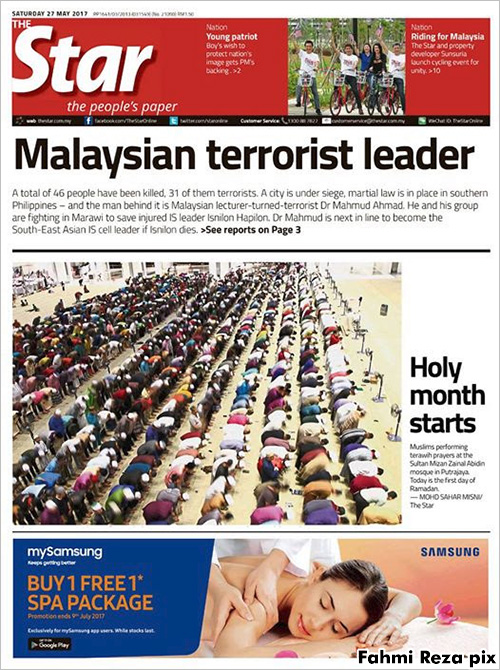 Using the same content, Fahmi made a layout with a bolder line separating the top story and the unrelated picture.
The picture was also given a separate headline, with the caption made more prominent on the right of the picture.
This was in contrast to the original layout, in which the lead story and headline were separated from the unrelated lead picture by a thinner line.
In the original layout, the caption for the lead picture is smaller and placed more obscurely below the picture.
"With the headline about terrorist and photo of terawih prayers distanced and separated by a line that is clearer, and a bigger photo caption, would there still be angry people asking the Home Ministry to take action?" Fahmi asked on Facebook.
The response to Fahmi's design appears to be largely positive
One Facebook user commented on how this comparable to the front pages of Utusan Malaysia and the New Straits Times (NST), both of which had similar content to The Star.
"Exactly my point about the difference between The Star and NST and Utusan layouts. There is horizontal eye movement on top of vertical that leads the eye movement away," former Centre of Independent Journalism programme director Siew Eng Chuah commented.
Utusan had on Saturday published a picture of terawih prayers on the left, and a separate article on two Malaysian militants killed in Marawi on the right.
The NST's front page that day had the terawih prayers picture on the top part of the newspaper, overlaid with the caption "Among the faithful", while its article on Malaysian militants was on the bottom half of the page and supplemented by a picture of a soldier.
Police today questioned five editors and one photographer from The Star under the Sedition Act 1948 and Section 298A of the Penal Code, which criminalises causing disharmony, or hatred on religious grounds.
Besides the police probe, the Home Ministry on May 29 issued a show-cause letter instructing the daily to explain why it should not have its publication license suspended, according to provisions under the Printing Presses and Publications Act. It has to reply by June 5.
The ministry also expressed grave disappointment over the front page.
The English daily has apologised over the matter, explaining that it is normal practice for the newspaper to print a picture of the first terawih prayers for the year, on the first day of Ramadan.
It said it was coincidental that the first day of Ramadan on Saturday was also the same day it ran the article on terrorism.
The daily also suspended its editor-in-chief Leanne Goh and executive editor Dorairaj Nadason pending an internal investigation.- Mkini