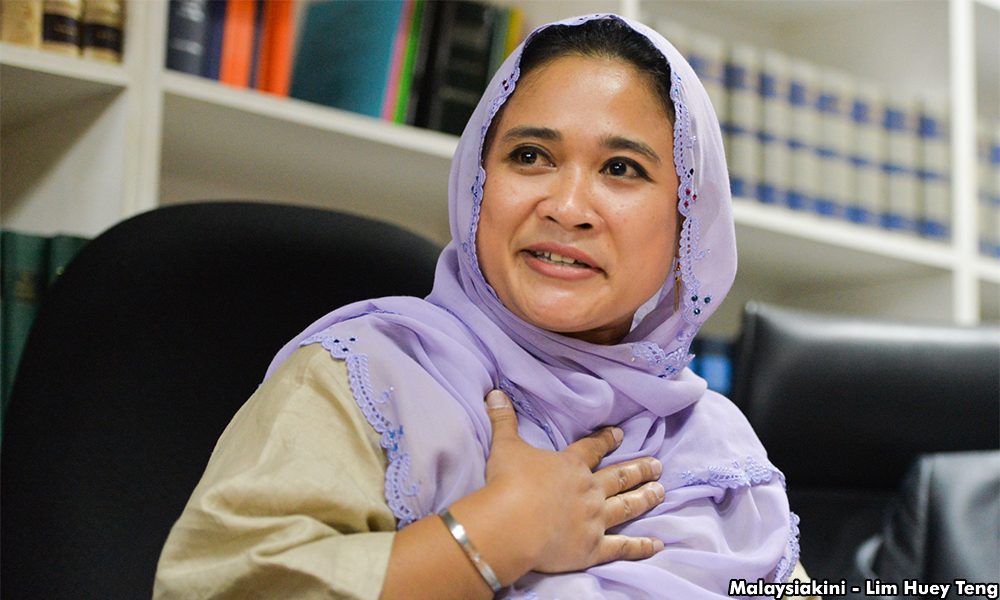 A Parti Pribumi Bersatu Malaysia (Bersatu) leader has urged Malaysians not to circulate false photographs of the pink diamond necklace mentioned in the United States Department of Justice (DOJ) civil forfeiture suit last week.
Bersatu supreme council member Anina Saadudin, said images of the diamond jewellery have been going viral on social media.
"After repeated checks, I found the DOJ did not include any images regarding the jewellery in its suit.
"I asked my officer to check where the images (being circulated) were sourced from because the principle of 'berani kerana benar' (courage when the truth is on one's side) must be based on facts.
"It is saddening to discover that the images were inaccurate and were taken from several websites," she said.
Based on the "berani kerana benar" principle, Anina urged all quarters to stop circulating these images in order to preserve the struggle based on "fakta bukan auta" (facts not falsehoods).
"Let us not tarnish the month of Ramadan and the struggle with slander.
"Let us leave the burden of proof to the DOJ. It is not proper for us to take the lead by spreading such images," she added in a media statement.
In the 251-page suit, the DOJ had mentioned how businessman Jho Low had acquired a
pink diamond
necklace valued at US$27.3 million and 27 other jewellery items for a woman dubbed as the wife of Malaysian Official 1 (MO1).
The DOJ is not seeking to seize these 28 items but aims to reclaim the 18 pieces of jewellery Joh Low purportedly purchased for his mother and Australian model Miranda Kerr.
Following the DOJ's first 1MDB-related filing last year, Minister in the Prime Minister's Department Abdul Rahman Dahlan confirmed that MO1 is Prime Minister Najib Abdul Razak.
However, he argued that since Najib was not named in the suit, the latter was not a subject of the investigations.
Over the weekend, the law firm representing Najib's wife Rosmah Mansor warned of action against those who made unfounded allegations against its client on social media.
Najib has repeatedly denied abusing public funds for personal gain, and blamed such allegations on those he claimed are conspiring to topple him from power.
The AG has also cleared the prime minister of any wrongdoing.- Mkini