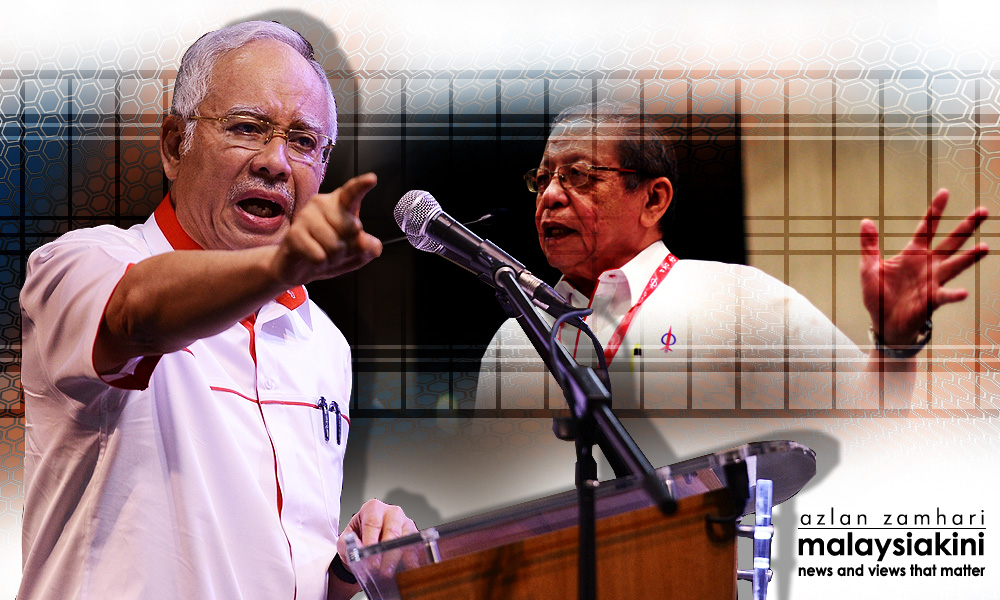 DAP supremo Lim Kit Siang has urged the cabinet to establish whether Prime Minister Najib Abdul Razak's statement that he will
no longer
issue statements in relation to the US Department of Justice's (DOJ) civil forfeiture suits against 1MDB-linked assets was an admission of wrongdoing.
He said the cabinet should also take the necessary action to clear "Malaysia's infamy and ignominy of being regarded worldwide as a global kleptocracy".
"The cabinet, at its first meeting tomorrow after the updated and expanded DOJ kleptocratic actions against 1MDB-linked assets, must establish whether Najib's 'no more statements on DOJ' is a 'mea culpa' admission of the multi-billion dollar 1MDB kleptocratic money-laundering scandal," said Lim in a statement today.
Commenting further, he wondered whether Najib was distancing or even repudiating what his cousin, Defence Minister Hishammuddin Hussein said in the latter's second statement on the DOJ's latest filing.
Hishammuddin had
challenged
the DOJ to press criminal charges if it had proof of wrongdoing in the 1MDB affair.
Lim however noted that Hishammuddin was not the only minister to have given an "inane response" in the matter.
He cited Minister in the Prime Minister's Department Abdul Rahman Dahlan who had demanded the DOJ to
reveal
the individuals who had lodged complaints with the DOJ and Communications and Multimedia Minister Salleh Said Keruak who said that the DOJ was
interfering
with Malaysia's sovereignty.
"All these three ministers have tertiary education and university degrees, but from their statements, they clearly belong to the cohort of 'half-past six ministers' in the cabinet.
"In fact, if the DOJ allegations of the kleptocratic money-laundering crimes running into billions of US dollars and defrauding the Malaysian people were true, the country should be honouring those who complained to the DOJ and treating them as exemplary national heroes.
"And is Salleh suggesting that national sovereignty includes the sovereign right to commit the crimes of international money-laundering?" asked Lim.
The DOJ on Thursday filed a third set of civil forfeiture suits involving 1MDB, aiming to seize an additional US$540 million in allegedly ill-gotten assets, which brings the total amount sought to US$1.7 billion.
The new lawsuits revealed startling information, including how US$620 million which Malaysian Official 1 purportedly returned to his "Arab donor" was later used to purchase diamonds for the figure's wife.- Mkini