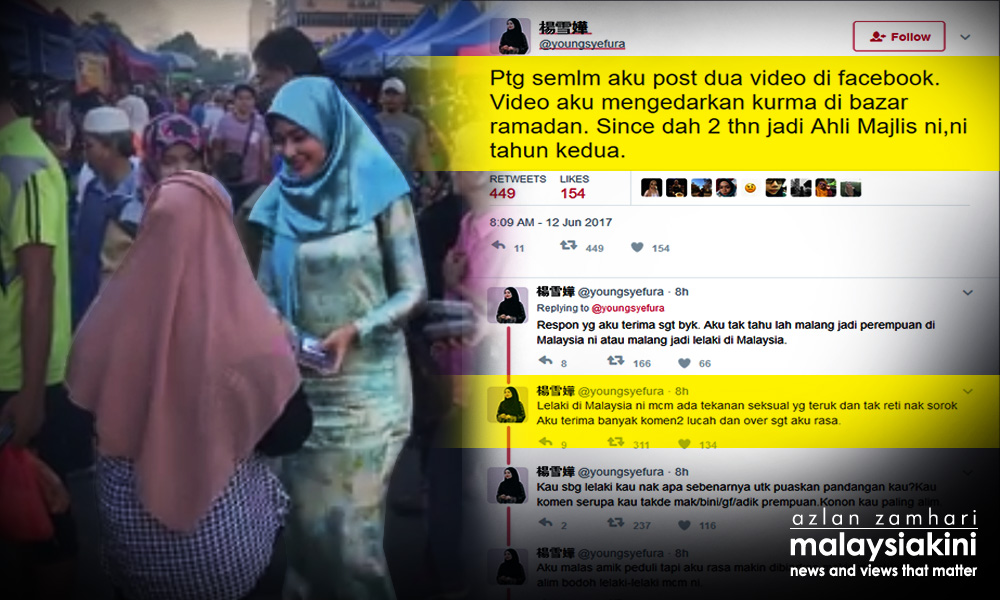 Selangor DAP committee member Young Syefura Othman has criticised netizens who hurled derogatory remarks at her.
This is after the Kajang municipal councillor, better known as Rara, posted two video clips of her visit to a Ramadan bazaar in Cheras on Facebook.
She told Malaysiakini that she posted the video to show how the local community in Cheras treated her with respect during her visit on Sunday, as compared to DAP's Kluang MP Liew Chin Tong.
However, Syefura said, some netizens chose to respond with lewd remarks, while there were also those who accused her of betraying the Malay race by joining DAP.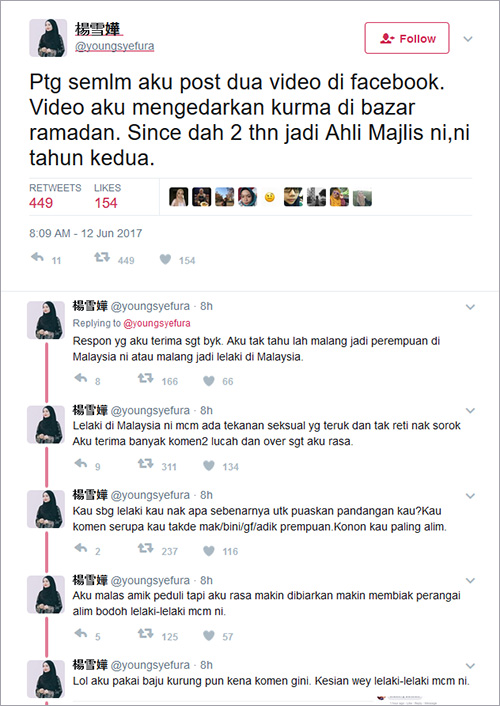 She posted two such comments on Twitter, with one calling her a "Malay whore" and another likening her to the "devil".
"I wore a baju kurung (that day) and received such comments. How pitiful such men can be," Syefura tweeted.
The 28-year-old politician said she was accustomed to receiving lewd and negative comments from netizens, but thought that it would not happen during the holy month of Ramadan.
"The sexual harassment comments against me should not be taken lightly by the community, especially by women.
"It is unfortunate that female politicians often receive sexual harassment and rape threats," Syefura said.
She urged Malaysian women to be vocal on the issue as this would deter similar incidents from happening as well as help other sexual harassment victims.
However, Syefura has not decided on whether to lodge a police report.
Last Saturday, Liew was
chased out
of the clothes section of the Bandar Kluang Ramadan bazaar while distributing dates to the marketgoers.
This was the second time Liew was chased out from the same bazaar, with the previous
confrontation
having taken place in 2014.- Mkini