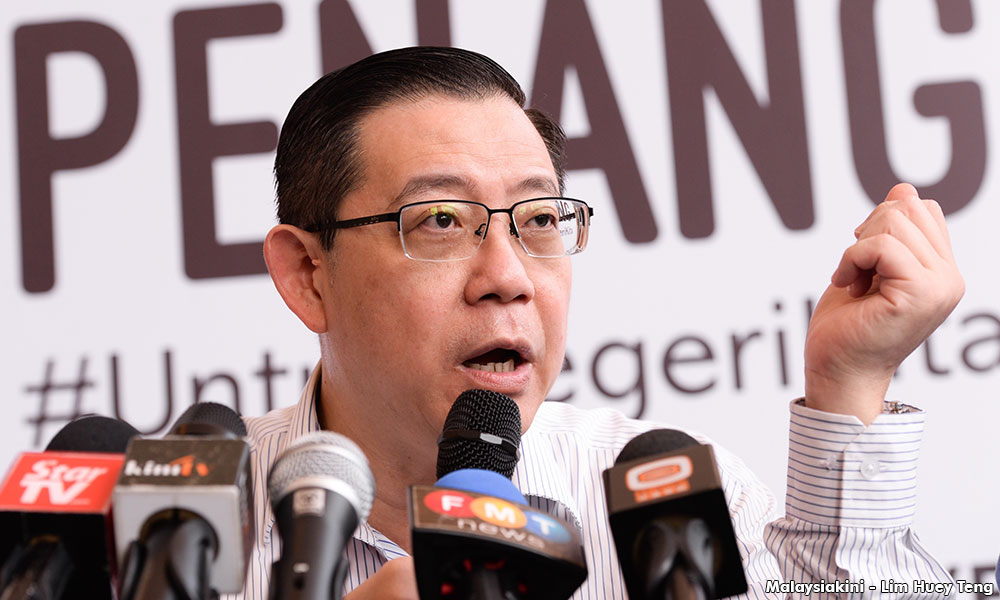 An independent commission chaired by an international repertoire should be formed immediately to investigate the latest revelations involving the 1MDB scandal by the United States Department of Justice (DOJ), said Penang Chief Minister Lim Guan Eng.
Describing the revelations as "fascinating", he said the government must respond "with facts" to the DOJ's latest round of civil forfeiture suits seeking to seize US$540 million in assets purchased with funds allegedly misappropriated from the state fund, a brainchild of Prime Minister Najib Abdul Razak.
"The DOJ has filed the suits, saying it has evidence. I find the revelations fascinating, especially those related to diamonds for the MO1's (Malaysian Official 1) wife," Lim said at a press conference in Penang today.
"The government must immediately respond by filing a suit in the US to refute the DOJ's accusations, if they are not true," added Lim, who is DAP secretary-general.
"These are not allegations by Sarawak Report, they are made by the DOJ. Are you going to arrest the DOJ?" Lim asked, referring to the whistle-blower website run by British journalist Claire Rewcastle-Brown, who has been exposing the 1MDB scandal.
Lim said DOJ's revelations were serious, and if not refuted, will result in Malaysians, and the international community, losing confidence in the federal government's accountability.
He added that many questions are left unanswered by the 1MDB scandal, including the Saudi donor who had donated RM2.6 billion into Najib's private bank accounts.
Lim was referring to the
Saudi account
which was allegedly used to transfer funds misappropriated from 1MDB funds to MO1 - a high-ranking Malaysian government official said to be Najib, who currently heads the Finance Ministry portfolio as well.
With these allegations, he said, the DOJ had declared that Malaysians have been "defrauded" by the scandal on an enormous scale.
The DOJ first publicised the 1MDB scandal on Jul 21 last year, saying more than US$3 billion was allegedly misappropriated from the sovereign fund.
The DOJ then said it sought to seize around US$1 billion in ill-gotten assets.
Last night, the DOJ set the alleged misappropriated amount at US$4.5 billion, saying it is seeking to seize US$1.7 billion in assets purportedly acquired using funds stolen from 1MDB.
DOJ has named Penang-born business tycoon Low Taek Jho (better known as Jho Low) and Riza Aziz, Rosmah Mansor's son, as having acquired the alleged ill-gotten assets, which included diamonds, luxurious apartments in London and New York, and expensive paintings.
Najib has strongly denied any wrongdoing, while attorney-general Mohamed Apandi Ali had expressed frustration with the DOJ for not contacting his chambers about the latest suit.
Inspector-general of police Khalid Abu Bakar said the police will not interfere with the case as it was a civil suit, while 1MDB
dismissed
the DOJ's allegations, saying they were not backed by any proof. - Mkini