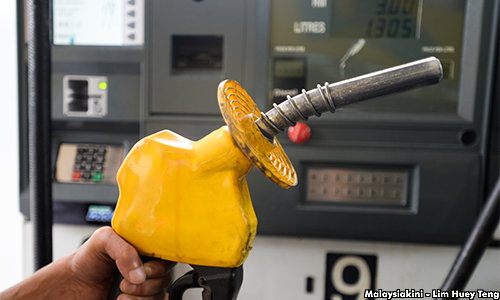 Fuel prices across the board are down for a third consecutive week as global crude oil prices continue on a downward trend.
According to the Domestic Trade, Co-operatives and Consumerism Ministry (KPDNKK), RON95 and RON97 will are down 7 sen per litre respectively, bringing the new retail prices to RM1.98 and RM2.24 respectively.
As for diesel, the retail price will go 7 sen as well, to RM1.88 per litre.
This represents the lowest price for RON95, RON97 and diesel since the implementation of the
weekly pricing system
which came into effect on March 30.
The retail price of fuel is determined based on the Mean of Platts Singapore (Mops) and currency strength average of the previous week.
Yesterday, the World Bank reported that fuel prices were among the key factors that led to Malaysia registering the
highest inflation rate
since November 2008 in the first quarter of 2017.
-Mkini