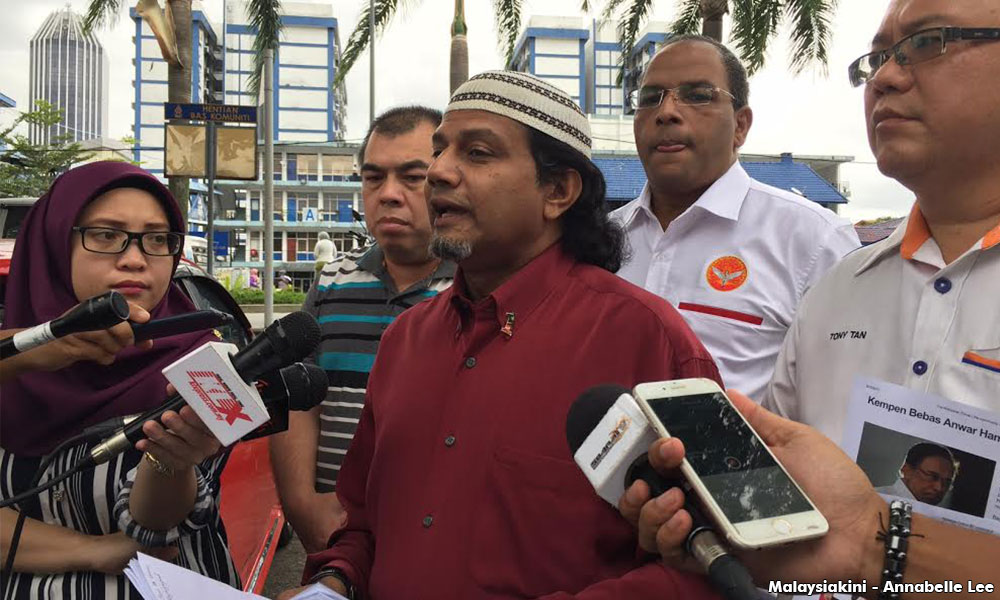 An NGO today has offered to host a "liwat forum" (sodomy forum) as a platform for opposition leaders to defend jailed PKR de facto leader Anwar Ibrahim's innocence.
According to Pertubuhan Minda dan Sosial Prihatin Malaysia (PMSP) special task officer Shafik Abdullah, his organisation will invite Parti Pribumi Bersatu Malaysia (Bersatu) chairperson Dr Mahathir Mohamad and PKR president Dr Wan Azizah Wan Ismail as panellists after Hari Raya.
"Wan Azizah always says the government's jailing of her husband for sodomy is slander.
"If there was no sodomy, I call upon Mahathir and Wan Azizah for the liwat (sodomy) forum," Shafik said outside the Petaling Jaya district police station this morning.
He said invitations to Mahathir and Wan Azizah would be sent by registered mail soon. He added the forum would be a closed-door affair, in which only the media could attend.
"No need for supporters of BN or the opposition (to be there)," he said.
Shafik, along with PMSP president Ramesh Rao, were speaking to reporters on the police report they lodged against PKR vice-president and Pandan MP Rafizi Ramli and Sarawak Report founder Clare Rewcastle-Brown for allegedly working together to lobby for the secession of East Malaysia.
Asked for proof of his claim, Shafik alluded to how Rafizi had "dispersed information to the public" after
Sarawak Report
published an article alleging that Prime Minister Najib Abdul Razak paid
RM9.5 million
to senior lawyer Muhammad Shafee Abdullah, who was the prosecutor in the higher courts in Anwar Ibrahim's Sodomy II case.
Malaysiakini is unable to independently verify the allegations made in Sarawak Report. Previous attempts to contact Najib and Muhammad Shafee's office for comments have been unsuccessful. - Mkini