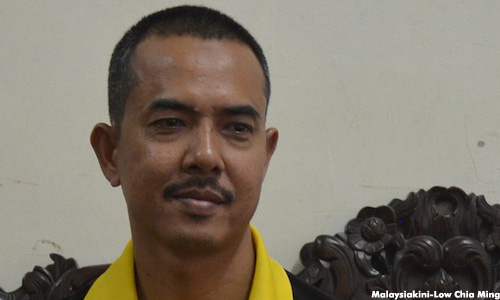 Retired RMAF officer Zaidi Ahmad urged every concerned Malaysians to lodge reports with the police and Malaysian Anti-Corruption Commission (MACC) on the latest civil suit linked to 1MDB in the United States.
He made the call despite the MACC saying they will not be investigating the claim and has
passed on the responsibility
to the police to avoid an overlap of duties.
Urging Malaysians to be persistent in this mission, Zaidi said he has started the ball rolling by lodging the report at the MACC in Penang yesterday.
He urged the MACC to probe the latest US Department of Justice (DOJ) civil forfeiture - the third filing announced on June 15 - to seize an additional US$540 million in assets acquired with funds allegedly misappropriated from the state investment fund.
"Let it be a proof to our grandchildren that we have done something to save this country from being ruled by an alleged thief and kleptocrat," Zaidi said.
"Let me know when you lodge the report so I can keep a record of it," added the aide to Chief Minister Lim Guan Eng.
Meanwhile, the police have said they will not interfere with civil cases such as the one brought on by the DOJ.
Prime Minister Najib Razak has refused to issue any statements regarding the DOJ claims, while his supporters decry foreign interference in wanting to topple a legitimate government.
Zaidi said he has read the Parliament Public Accounts Committee's (PAC) report on 1MDB which was published on April 7 last year and felt compelled to inform the authorities about what he found in them.
"Based on the report, which I have handed over to the MACC, I am convinced that the money was stolen, robbed and misappropriated from 1MDB," Zaidi said.
He also urged that action must be taken against Najib, who is responsible for 1MDB.
Najib, who is also the finance minister and 1MDB's advisor, has denied stealing the funds for personal gain.
Zaidi said Najib cannot give excuses that he is unaware of the scandal as it involves a huge sum of money.
"If certain quarters have cheated 1MDB, Najib should have lodged police reports about the matter."
Zaidi said he was completely responsible for his action, and that he was not coerced into doing so by any quarters.
He added the authorities should carry out their duties properly, transparently and in a trustworthy manner as "you will be questioned in the afterlife".
As a civil servant, Zaidi reminded the authorities that their salaries were paid by the people.
"Do not be afraid of anyone who wants to uphold the truth and justice as anything that happens to us, is determined by Allah, not by humans," Zaidi said.- Mkini