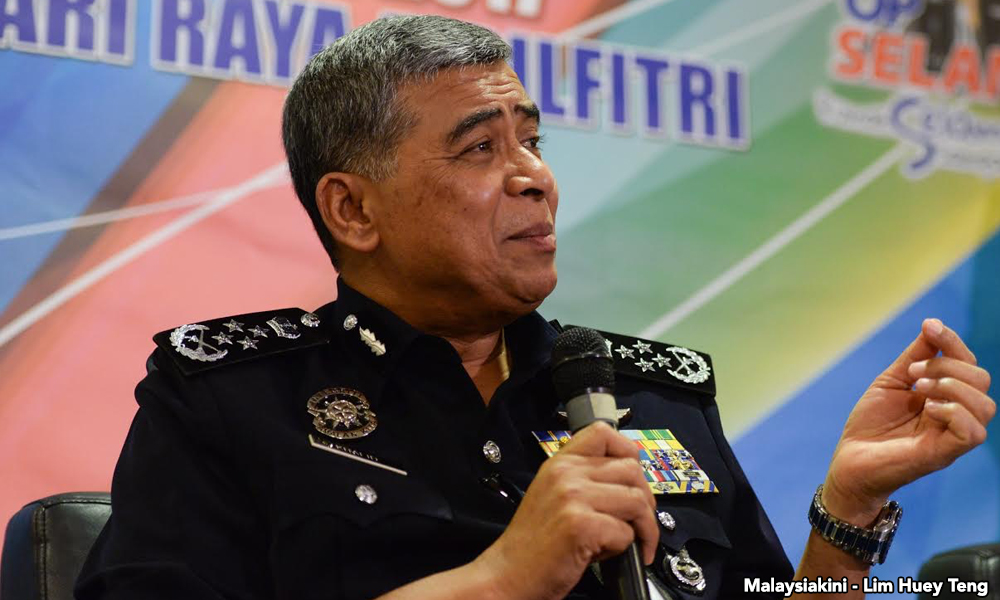 YOURSAY
| 'He should have known better than to be associated with people of dubious character.'
Slumdog:
Try as hard as you like, Mr IGP, but you cannot deflect or try and wriggle out of the fact that you and other police officers are alleged to be in cahoots with K Gopinathan (the main suspect detained in connection with a police protection racket in Malacca).
The fact that Gopi has direct access to you is damning in itself. Just because MyWatch chairperson R Sri Sanjeevan, who is outspoken against the police and you, was an acquaintance, cannot justify your association with Gopi.
Are you trying to say that if it is okay to be friends with Sanjeevan, then it is okay to be friends with Gopi?
It should be standard practice that someone in your position has nothing to do with unsavoury characters so that you can distance yourself from accusations of conflict of interest.
Victor Johan:
Inspector-general of police (IGP) Khalid Abu Bakar, you were asked a direct question and you were expected to answer it specifically.
We know from his arrest that Gopinathan is on a police protection racket, and you are the police chief. We also know that you as IGP had directed the police to intimidate Sanjeevan.
The Kajang Magistrate Court had already acquitted him, and we all know that Sanjeevan had already pleaded not guilty to other various criminal defamation charges brought on by your department.
So Khalid, step aside gracefully so the investigations by the authorities can be done with none of your personal interventions. When are you taking leave?
Wira: From the flow of events, many Malaysians understand that after Sanjeevan drew the irritation of some big shots, he was investigated (harassed?) and charged.
Compare this so-called "crime" to that of suspect Gopinathan, who is an alleged intermediary of a police protection racket.
Suspicion may not be tantamount to guilt but we see the linking of Sanjeevan to Gopi as a feeble attempt to stretch the limit of our imagination.
Anonymous 2436471476414726:
Khalid should have known better than to be associated with people of dubious character. Not unless, of course, it is a case of birds of a feather flock together.
IGP, surely you are aware that when you hold important position in society, a position of trust, you must not only be clean but must be seen to be clean. If you have any honour, you would relinquish your post immediately.
Unusually:
I am surprised that our honourable IGP so easily exchange hand phone numbers with someone he just met at a dinner function. He must be awfully busy having to answer so many calls from all sorts of people.
Just wondering, will he also give me his mobile phone number so that I can call him from time to time, too?
Truth1:
Yes, a truly lame answer from the IGP. Nobody asked him about Sanjeevan. The question mark lies in his links with Gopinathan.
Two different, totally separate, issues. Enough with the pathetic, amateurish tai chi.
Kim Quek:
Khalid, aren't you over-indulging yourself with such childish and irresponsible talk on such a grave national issue? Dismissing the allegation as baseless simply because
Sarawak Report
editor Claire Rewcastle-Brown can't be here to present the evidence?
What about the meticulous details she has already furnished on her website, and the fact (as pointed out by Rewcastle-Brown) that you already have a copy of the investigation report as a member of the Special Task Force, from which she extracted and published the details?
The claim that PM Najib Razak secretly paying lawyer cum prosecutor Muhammad Shafee Abdullah RM9.5 million purportedly to prosecute opposition leader Anwar Ibrahim is a serious allegation that could alter the political landscape of the country, if proven true, and you just can't brush away the entire issue with a wave of your hand.
Khalid, with the precise details of payment already published by Rewcastle-Brown, it should be just a matter of minutes to get a confirmation from the bank, if you do not already possess the information.
Now you owe the nation an honest answer. Did Najib pay Shafee RM9.5 million as alleged?
Vijay47:
This is totally unbelievable but I suppose par for the course in sunny Malaysia - the IGP of the nation is threatening a possible witness to massive crimes that if she dares to come to Malaysia, of all things to assist the police, he would not be responsible for what could happen to her.
This is the kind of warning we could expect of Zimbabwe and Khalid's 'favourite' state, North Korea. One would think that he would be immediately sacked by the prime minister.
Anonymous 1719401496919916:
"However, Khalid said, Rewcastle-Brown would not be guaranteed a safe passage upon her arrival in Malaysia and return to London, England."
What is that supposed to mean? Please explain. That this coming from the PDRM's head honcho is totally unacceptable and unbecoming of an officer.
Telestai!:
The IGP's invitation to Rewcastle-Brown to come to Malaysia to help out with the investigation reminds me of a story where the house cat invites the mouse to dinner. The cat then assures the mouse that he is vegetarian.
FairMind:
A very witty and sarcastic reply to the IGP. It's like the IGP slapping himself several times over - the intentional hiding of the information, the alleged collusion of the attorney-general, doesn't know how to do his job, and subtle nuance that he admittedly knew Gopi and his tacit involvement over the protection money.
The IGP thought that he was smart to threaten Rewcastle-Brown but got an "all-in-one" slap instead.
Anonymous_1419577444:
Naturally, it will be shameful for a chief of police to be taught like a school kid by a reporter how to do his job.
But I am pretty sure in this case, Rewcastle-Brown is being rude and presumptuous because Khalid has already much earlier thought of all the "tips" that Rewcastle-Brown had tried to offer, and he's also at least a few steps ahead…- Mkini