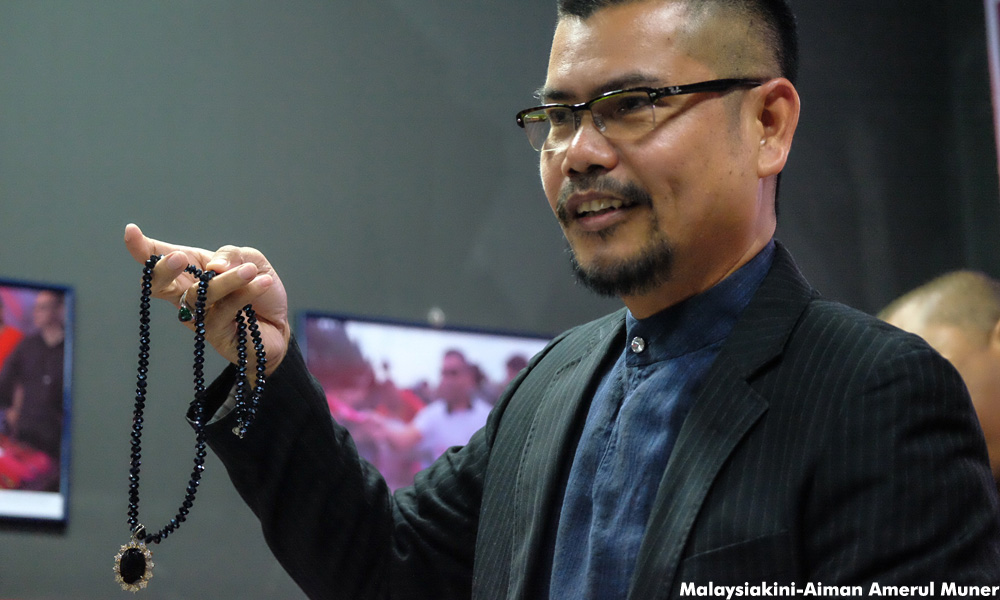 In an attempt to take a potshot at the United States' Department of Justice (DOJ), Sungai Besar Umno chief Jamal Md Yunos brought several jewellery items to a media conference in Ampang this morning.
Dangling the items before those present, Jamal claimed these were the same jewellery mentioned in the DOJ's latest 1MDB civil forfeiture suit that included a 22-carat diamond necklace.
However, there was a little snag.
While the DOJ claimed that the 22-carat diamond was pink, Jamal, however, brought a "black diamond" necklace instead.
Jamal claimed the jewellery he brought, including the "black diamond", a "diamond ring" and necklaces, were worth hundreds of millions of ringgit.
"It's worth RM120 million and this is the 'diamond ring'... I have acquired what was mentioned by the DOJ through my sources - here it is.
"God-willing, I will hold a public auction in the near future. Who would dare bid for them?" he asked.
It is unclear if the jewellery items Jamal brought were genuine.
The DOJ claimed that the wife of Malaysian Official 1 had received a US$27.3 million 22-carat pink diamond necklace which was allegedly acquired using stolen 1MDB funds.
It also detailed that the wife of Malaysian Official 1 received another 27 pieces of jewellery valued at a total of US$4.9 million, also allegedly from misappropriated funds.
However, the DOJ is not seeking to seize these jewellery items in its third civil forfeiture suit.
For now, the DOJ is targeting the US$10.82 million in jewellery that Penang-born billionaire Jho Low purportedly acquired using 1MDB funds and gifted them to Australian model Miranda Kerr and his mother.
The listed jewellery was only a fraction of those Jho Low and his associates allegedly acquired using misappropriated funds.
In total, the DOJ claimed that more than US$200 million in jewellery were acquired using1MDB money.
Also present at the press conference today was Umno Youth exco Armand Azha Abu Hanifah.- Mkini