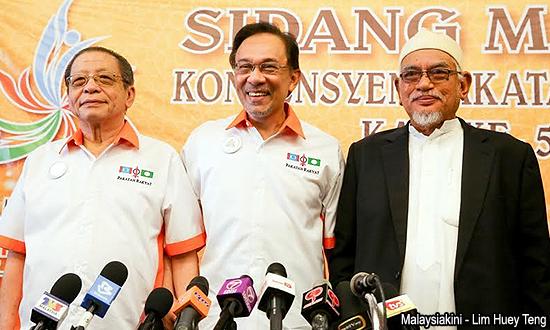 Lim Kit Siang wants to know who PAS president Abdul Hadi Awang's choice is for prime minister after the 14th general election.
On the same note, Lim said: "I think this is a question which does not require much mental effort to answer."
The DAP veteran was responding to Hadi's comments regarding his
meeting
with the then United States ambassador to Malaysia prior to the last general election.
During the meeting, the PAS president, when asked who PAS would support if the opposition bloc won GE13, responded, "Who is the candidate agreed to by the US?"
Lim claimed that Hadi's recollection of this meeting was intriguing, both in content and timing.
The DAP leader claimed it confirmed that although Anwar Ibrahim was the Pakatan Rakyat prime minister-designate, and introduced openly as such during election rallies, Hadi and his lieutenants had other ideas.
Pakatan Rakyat, which then comprised PKR, DAP and PAS, has since been replaced by Pakatan Harapan.
The new coalition was formed following a fallout between PAS and DAP, and now includes PAS splinter party Parti Amanah Negara (Amanah) as well as Parti Pribumi Bersatu Malaysia (Bersatu), besides DAP and PKR.
Meanwhile, Lim noted that while Anwar is Harapan's candidate for the top government post should the opposition bloc win GE14, Anwar could only be the eighth prime minister, not the seventh.
"As Anwar is in jail and will suffer the five-year disenfranchisement from holding public office on his release from imprisonment next year, unless he is pardoned, so Anwar can only be the eighth prime minister and not the seventh prime minister of Malaysia," he said in a statement.
Lim said Harapan parties would decide on who would be the seventh prime minister, based on consensus, should the coalition win the next general election.
"The focus of all Harapan parties at present should be, single-mindedly, how to ensure that the Umno-BN coalition can be defeated and replaced in the next general election," he added.
The issue of who would be named as the coalition's prime minister candidate was given a fresh twist when Bersatu chairperson Dr Mahathir Mohamad agreed to consider helming the nation again.
Mahathir, 92, was prime minister from 1981 to 2003. - Mkini