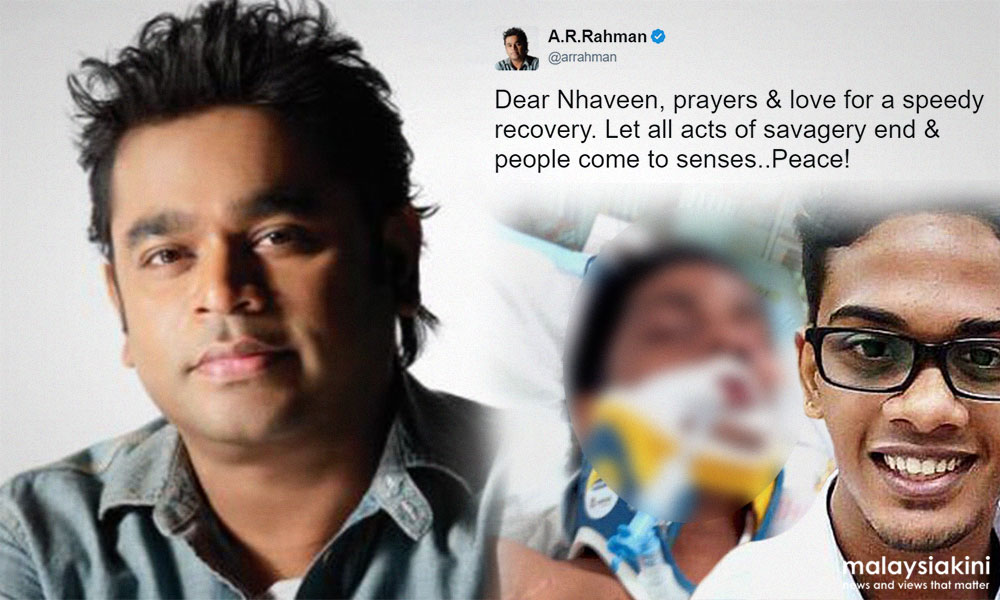 T Nhaveen, who was beaten up brutally by a group of teenagers on Saturday would be cremated at the Batu Gantung Crematorium at 2pm today after family members pay their last respects.
Nhaveen, a teenager who was bashed up using helmets as well as tortured with a sharp object penetrated into his anus, died at the Penang Hospital yesterday, after being in a coma for the past five days. His friend T Previin who was also beaten is being treated at the same hospital for injuries he suffered during the attack.
Nhaveen's mother, D.Shanti was seen fainting several times at the hospital yesterday due to shock and grief, and the single parent was then taken back to her home in Jelutong.
"We urge the police to take immediate action and investigate the case in detail. We want those involved to be arrested and subjected to legal action," said Nhaveen's uncle, R Thiyagarajan, when met at the Penang Hospital's forensic department yesterday.
Following the incident, the police arrested five youths including two Form Four and Five students for investigation. The case of the assault and abuse of the teenager is now being investigated as a murder, inspector-general of police Khalid Abu Bakar said last night.
Family denies seeking donations
Meanwhile, The family of the dead boy has refuted claims that they have been seeking donations from the public through a WhatsApp message which went viral right after the teenager succumbed to his injuries.
Nhaveen's uncle, Thiyagarajan, 50, said the family was informed about the WhatsApp message by the media who accompanied them in waiting for the completion of the post-mortem on Nhaveen's body yesterday.
"We never sought public donations. The message is a hoax. What we want is justice for my nephew," he said.
The WhatsApp message allegedly seeking public donations also contained a CIMB account number under the name of M. Shanmugam.
Thiyagarajan also said the family had appointed lawyer Baljit Singh to represent them in Nhaveen's case. He said they also hoped that the police would carry out thorough investigations and take appropriate action to bring the culprits to justice.
International attention and tributes
News of the passing of Nhaveen received not only local but also international attention on the social media. Hours before the teenager breathed his last, India's iconic music composer AR Rahman, who was Nhaveen's idol, posted a poignant message on his Twitter wishing the teenager a speedy recovery.
A Chennai-based online news portal in India also tweeted about Nhaveen, with the headline "This #Malaysian 'brain dead' teen wanted to be like #ARRahman."
Apart from that, a petition was started on www.change.org by R Mukhesh entitled "Justice For T Nhaveen And For All Bullied Victims" which has so far gained 4,782 supporters.
A leading Tamil music director-cum-actor from India, Vijay Antony shared on his Facebook page a petition with the status "RIP (Rest In Peace)".
Malaysian actress Ida Nerina posted on her Facebook page: "My heart just got wrenched for the poor mothers of Nhaveen and Zul (Zulfarhan Osman Zulkarnain). Wrenched and twisted."
Prime Minister Najib Razak also posted on his Twitter yesterday that justice and stern action would be taken over Nhaveen's death. Najib expressed his condolences to the teenager's family.
Meanwhile, netizens such as Luqman Abdul Samad who goes by the Twitter handle @LuqmanSamad said "Late T Nhaveen and allahyarham Farhan (Zulfarhan Osman Zulkarnain) could (have) become a great musician and a great soldier one day if they lived longer...RIP."
Another Twitter user, Sherlina or @sherlinakr said: "Rest in power, Nhaveen and Zulfarhan. May all of us look out for one another."
- Bernama