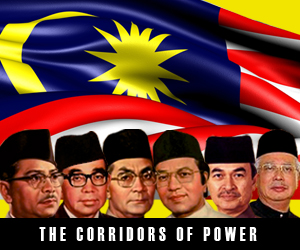 Pakatan Harapan is not standing on solid ground as Barisan Nasional is. On the surface everything appears calm but below the surface there is turbulence and turmoil. And Suara Tian Chua today revealed the truth regarding Pakatan Harapan. Opposition parties all over the world have shadow cabinets. Pakatan Harapan does not. In fact, they cannot even decide on their Prime Minister-in-waiting. This is what happens when too many egos collide.
THE CORRIDORS OF POWER
Raja Petra Kamarudin
"CONFIRMED – IT'S SELFISH ANWAR MANIPULATING 'FROM BEHIND': PAKATAN INABILITY TO NAME DR M AS PM, REGISTER WITH ROS DUE TO ANWAR'S OBJECTION DESPITE AGREEMENT BY DAP, AMANAH & BERSATU," screamed today's headlines of
Suara Tian Chua
a.k.a.
Malaysia Chronicle
(
READ HERE
).
"IF DR MAHATHIR LEADS PAKATAN, THE MALAYS WOULD FEEL MORE CONFIDENT: THE MALAY TSUNAMI ANWAR COULD NEVER TRIGGER," said the second headlines from
Suara Tian Chua
(
READ HERE
).
Tian Chua wants Mahathir and not Anwar as Pakatan Harapan's Prime Minister
Suara Tian Chua
a.k.a.
Malaysia Chronicle
's normal
modus operandi
is to lift articles and news
reports from others — such as
Sarawak Report, Malaysiakini, The Malaysian Insight
, and so on (basically pro-Pakatan Harapan websites, blogs and news portals) — and just change the headings to something more sensational (and in BOLD).
Now, why did a news portal such as Suara Tian Chua a.k.a. Malaysia Chronicle — which normally apes pro-Pakatan Harapan websites, blogs and news portals such as Sarawak Report, Malaysiakini, The Malaysian Insight, etc. — come out with two 'anti-Anwar-pro-Mahathir' news items in the same day?
Maybe the Dapsters and Pakatuns can answer that question.
On the surface the waters are calm but below the surface there is turbulence and turmoil
This is the reason why Pakatan Harapan is very scared that Umno and PAS appear to have buried the hatchet and are seeking some sort of common ground where they can meet in the middle. No way will Umno agree to an Islamic State (which will be suicide for Barisan Nasional) and no way will PAS agree to Malay Nationalism (which PAS considers Assabiyah and hence forbidden in Islam). But there is no stopping Umno and PAS from meeting somewhere in the middle and try to satisfy both agendas — like the Nikāḥ al-mutʿah where you can have sex and not get arrested for Zināʾ.
Yes, leave it to the Muslims. They will always be able to find a way out of a sticky situation and find a legal loophole to what would have become an immoral act. This is not so much about adopting the doctrine of the end justifying the means, or choosing the lesser of the two evils, but more about setting your priorities right. When you have many agendas then you have to work on the higher agenda.
Take the collaboration between the Allies and Russia during WWII as an example. Russia was still considered the enemy of the West but then there was an even bigger enemy, Nazi Germany. So they united to take care of Germany and after Germany was defeated the West and Russia continued fighting: which was what happened in what is known as the 'Cold War'.
The Allies knew they needed Russia (and vice versa) to defeat Germany. In a three-corner fight Germany would win. In a straight fight (with Germany fighting on two fronts) Germany's resources would be stretched thin and they would lose. And that was why the Allies needed to work with the enemy, Russia, to defeat an even bigger enemy, Germany.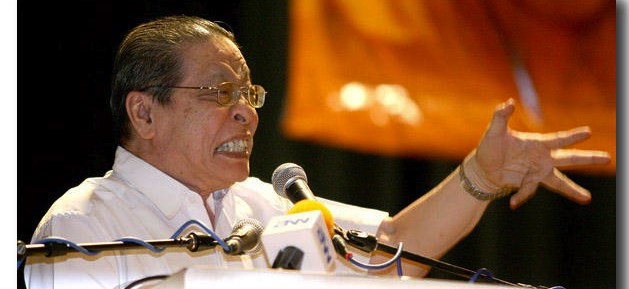 Chinese play hate-politics and they try to get you to vote for them mainly because you have been indoctrinated to hate the other side
That is called mature politics and pragmatism. In fact, this is what Pakatan Harapan is also trying to do (and I emphasise the word 'trying'). Do you think DAP, PKR and PAN love Tun Dr Mahathir Mohamad (the Stalin of Malaysia)? Do you think DAP, PKR and PAN do not know that most of the problems (economic, racial and religious) that Malaysia is facing is because of Mahathir? Do you think DAP, PKR and PAN do not know that Mahathir's 22 years rule as Prime Minister damaged Malaysia so badly that some of this damage is beyond repair (race relations being just one of them)?
Asking Mahathir to lead Pakatan Harapan is like the Jews asking Adolf Hitler to lead Israel. That may sound ridiculous but asking Mahathir to lead the fight for change and reforms and for the restoration of democracy and good governance is just as ridiculous.
Malays are better at politics than the non-Malays and they know when to fight and when to collaborate
Pakatan Harapan, however, is not as good as Barisan Nasional in playing this game. And that is why Pakatan Harapan is in a shambles whereas Umno and PAS are moving forward. Initially even MCA, MIC, Gerakan, PPP, and all those other component members of Barisan Nasional, could not understand what Umno and PAS were up to (the non-Malays are always slower to catch up when it comes to politics). But now they see and many are keeping their mouths shut.
The objective is simple. Barisan Nasional must win at least 112 parliament seats if it wants to stay in power and 148 seats if it wants to control two-thirds of parliament. East Malaysia has 57 of those seats. Around 55 of those seats are Chinese-majority. About 100 or so are Malay-majority. You do not need to be a political animal to figure out what needs to done if you want to form the next government, or control two-thirds of parliament.
Umno's objective is to ensure that the Malays retain political power. However, Umno knows it cannot do that alone and that it needs to collaborate with the non-Malays for it to happen. So there has to be some sort of power-sharing concept where Umno leads the pack.
PAS's objective is to ensure that Islam is not compromised. And PAS also knows it cannot come to power at federal level on its own and needs some sort of alliance or collaboration with others who would allow PAS to pursue its Islam agenda (short of turning Malaysia into a theological state with absolute Islamic laws).
So there you are. How does Umno and PAS merge these two agendas to make sure both objectives are met (without upsetting the rest of the members of Barisan Nasional)? That is where Prime Minister Najib Tun Razak and PAS President Abdul Hadi Awang come in. They are working behind the scenes to make sure that one plus one equals three. This is not a zero-sum game the way Pakatan Harapan is treating it. And that is why Barisan Nasional and not Pakatan Harapan is going to win the next general election.
And this video more or less explains the whole thing: