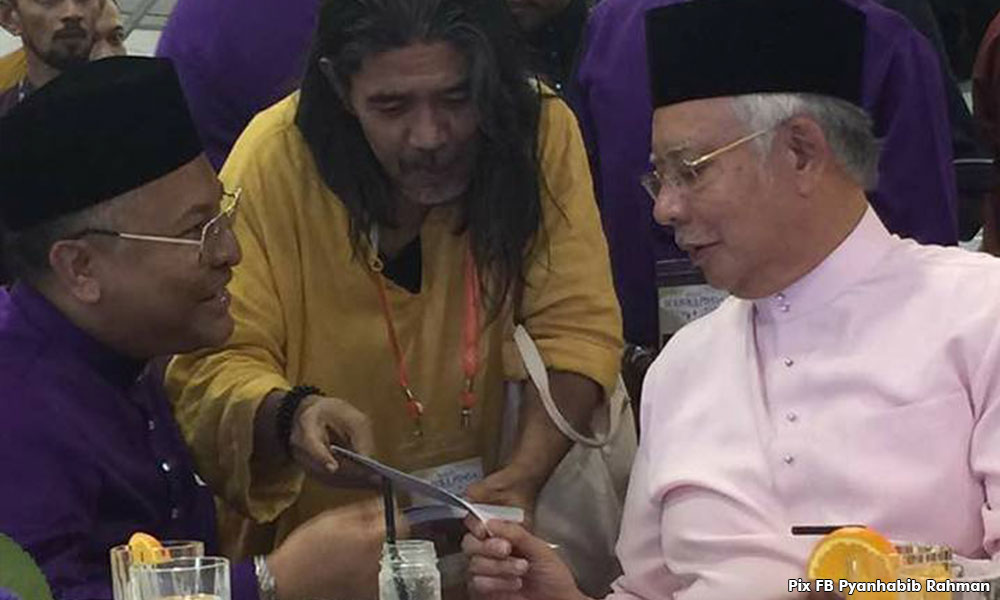 Poet and actor Pyanhabib, who is seen to be close to the opposition, has rebutted claims that he had "repented" after attending a breaking fast event with Prime Minister Najib Abdul Razak at his official resident Seri Perdana yesterday.
The claim was made by Prime Minister's Office special division principal assistant director Rizal Mansor, who published on his Facebook account a picture of Pyanhabib handing over something to Najib.
"When an artist realises his mistake and returns to the fold. He was once with the opposition but he has finally returned to the right path," Rizal, who is also PM's wife Rosmah Mansor's aide, wrote on Facebook.
However, when contacted, Pyanhabib said he attended the event at Seri Perdana in his capacity as Persatuan Penulis Nasional (Pena) member.
"When I was there, I bumped into Najib and so handed over an invitation card to my daughter's wedding," he said.
He also sold to the PM a copy of his book "Melukis Puisi - Sebuah Penceritaan Puisi-puisi Pyanhabib" published by Institut Terjemahan dan Buku Malaysia.
He said his attendance or his brief meeting with Najib has no bearing on his political beliefs, nor has he "repented".
In fact, he said, he felt uncomfortable at the event because the term "artist" (seniman) was used lightly.
"In their heads seniman are those involved in the entertainment industry. At Seri Perdana yesterday, entertainers were a dime a hundred but writers, literati and cultural practitioners seemed to be hiding," he said.- Mkini