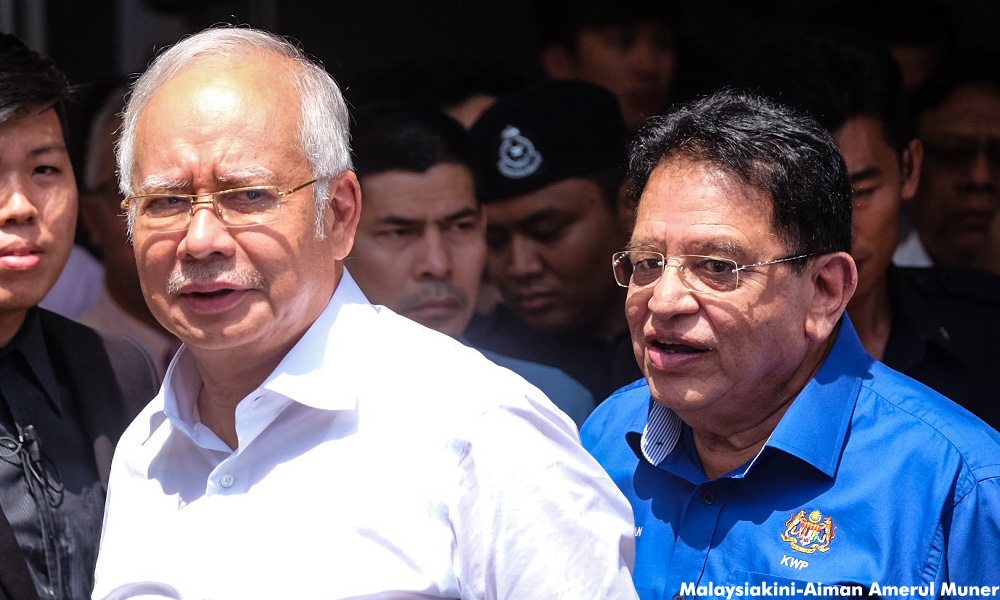 The following comment was sent by a reader. I tought it was worth reproducing.

Anonymous said...

DOJ berani dedah 100% dgn hitam putih, tarikh, nama dan tandatangan dengan begitu terperinci.

Siap dgn tarikh , jumlah wang dan barang apa yg dibeli dan kepada siapa diberi, siap ada tanda tangan pada 15/6/17.

Kalau apandi, najib dan rosmah kata ia adalah fitnah, senang ja, ambil surat setebal 251 halaman ini dakwa balik di mahkamah, tunjukkan dan buktikan kamu ni difitnah.

Tetapi kamu hanya menafi dgn mulut. Ini tak boleh diterima pakai.

Jikalau ada pihak berjaya tunjuk bukti, maknanya dituduh harus buktikan dgn hitam putih bahawa ia adalah palsu.

Jadi keluarkan kenyataan dan bandingkan dgn tarikh urusan dalam laporan DOJ,

Kalau ia tiada dalam penyata bank jolo dan najib dan 1mdb. Maka ia adalah tuduhan palsu, najib pula boleh saman DOJ dgn berbilion bilion kerana tanggung malu, cemar reputasi.

Tetapi semua agensi kerajaan semua hanya kata ini semua tak benar, dan kata DOJ ada agenda nak jatuhkan najib.

Rakyat malaysia cukup berterima kasih kepada DOJ kerana berjaya bongkarkan rahsia perbuatan terkutuk najib dan rosmah yg selama ini menipu dan mencuri duit rakyat malaysia.

Tidak pernah terjadi kepada mana mana PM malaysia peristiwa yg amat memalukan ini.

Proses mahkamah harus dijalankan kepada najib dan rosmah atas dakwaan ini,

Inilah peluang kepada najib dan rosmah tunjuk dan buktikan bahawa mereka benar benar difitnah.

Ini apa punya undang undang , menafi dgn mulut dan tutup kes. Buat senyap, buat bodoh.

Adakah rakyat malaysia bodoh sampai tahap macam tu, percaya bahawa najib difitnah ?

Rukun negara malaysia ada tulis, perkara ke 4, KEDAULATAN UNDANG UNDANG.

Kenapa DOJ boleh siap senaraikan tarikh tarikh dan beratus ratus urusan dan jumlah dgn tepat.

Ini bukan satu kerja yg mudah.
Kalau kat satu dua urusan mungkin boleh direka.
Ini laporan begitu lengkap, mustahil ia satu fitnah.

Jika fitnah, peguam peguam najib lagi suka, terutamanya shafee, butiran begitu lengkap siap dgn nama , tarikh dan tandatangan, senang untuk dakwa DOJ.

Kalau najib, apandi masih berdiam diri, secara logik akal, sah 100 % najib subahat dgn sekutunya rompak duit 1mdb, duit rakyat.


My comments : Someone sent me this (tq) also :




Thank you Adrian Lim.

Down at the street level, business is really bad.

The GST is killing the economy. Book shop sales are down, down, down. Bookshops are not only not paying their suppliers but to avoid hutang they are sending back to the suppliers any unsold books. So stock levels are decreasing.

At the Bazaar Ramadans this year, business is really bad. Even with more than one week of puasa left, many stalls at the Bazaar Ramadans have closed shop. Not enough business.

In the meantime, the GLC banks that are controlled by the kleptocrat class are beginning to get hit by all the corruption in the country.

One bank (directly owned by the gomen) gave an RM450 loan to Pink Diamond's friend to set up a broadcasting network. The money is gone. The loan has turned bad. The gomen bank must now recognise RM450 million loss.




Another two GLC owned banks gave RM1.7 Billion loan to a "marine" company, again owned by the kleptocrats. The loan has gone bad. RM1.7 billion has to be recorded as losses.




That is RM2.15 BILLION LOSSES just among THREE banks.




These losses will be borne by the taxpayers - you and me.



PJ: Customs cancelled an Order to impose (GST) on 60 food items

Customs DG Subromaniam Tholasy said decision after consulting Treasury

60 additional items, seafood, vegetables, fruits, tea, coffee, spices GST July 1

Customs referred to Finance and decided this Order should be cancelled
Here is Malaysiakini : http://m.malaysiakini.com/news/386087

Forex trader jailed and fined over FB posting against Najib

41-year-old to serve day's jail and fined RM4,000 or two months jail

making Facebook posting demeaning on Najib Razak

Mohd Nasaruddin Saron, 2nd generation Felda settler from Kota Tinggi, Johor

posting on Samsung Galaxy Tab on Oct 26, last year

"viewed and caused anger in a member of a public, the next day."

Nasaruddin blamed country's leader for rising prices and (GST)...