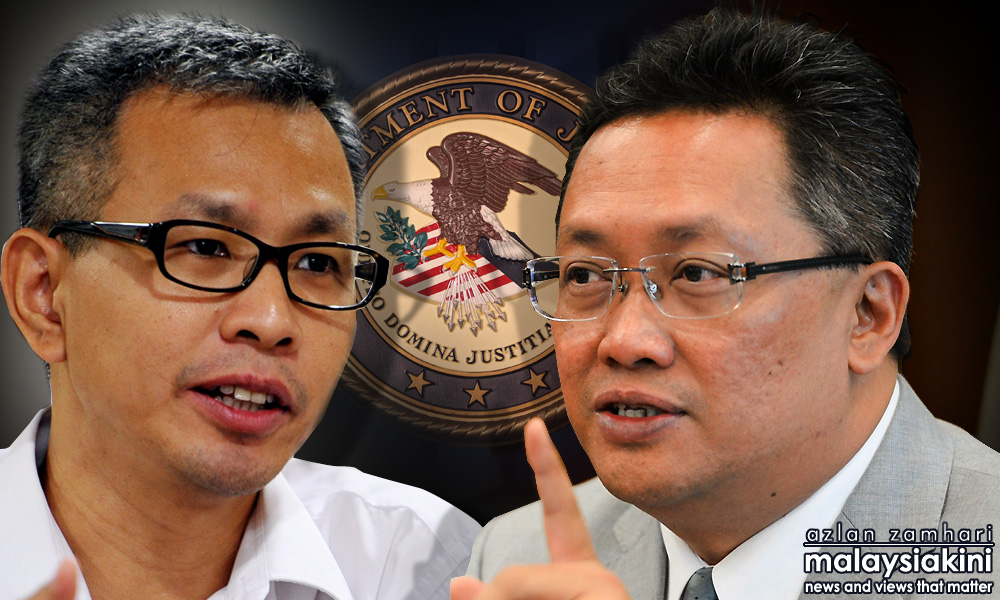 An opposition lawmaker has challenged Minister in the Prime Minister's Department Abdul Rahman Dahlan to prove that the US Department of Justice's (DOJ) claim on a pink diamond necklace gifted to the wife of Malaysian Official 1 (MO1) is false.
Petaling Jaya Utara MP Tony Pua said this with regard to the details provided by the DOJ on how the diamond was acquired.
This includes whether the wife of MO1 had met with jeweller Lorraine Schwartz on a yacht off the coast of Monaco on July 2013, and again at a New York hotel on Sept 28, 2013.
Pua also wanted Abdul Rahman to disprove the DOJ's claim that the finished necklace was handed to a friend of MO1's wife in Hong Kong on March 7.
"If Abdul Rahman can provide evidence, on behalf of MO1's wife that the above allegation is brazenly untrue, then let me assure the minister and everyone else in cabinet that I will be the first from the opposition bench to sit with him at a press conference to publicly denounce the DOJ allegations," he said in a statement today.
However, if the allegation is true, the DAP lawmaker said the Umno minister must lodge a report with the police and Malaysian Anti-Corruption Commission (MACC)
Last Thursday, the DOJ claimed that the US$620 million MO1 had allegedly returned to a donor, was instead transferred to Penang-born tycoon Jho Low.
The DOJ alleged that Jho Low then used a portion of the fund - allegedly misappropriated from 1MDB - to purchase a US$23.7 million pink diamond necklace for MO1's wife.
While neither MO1 nor his wife was named by the DOJ, Abdul Rahman said the
lawsuit
had implicated Prime Minister Najib Abdul Razak's wife Rosmah Mansor.
Abdul Rahman had last year also confirmed that MO1 was Najib.
However, he said the fact that Najib was not named showed the prime minister was not a subject of investigations.
Meanwhile, PKR communications director Fahmi Fadzil proposed that Youth and Sports Minister Khairy Jamaluddin hold a national public dialogue to discuss 1MDB and the DOJ's lawsuits.
"However I believe that Khairy won't dare do this, or he will stall with all sorts of political excuses," he said in a separate statement.
He also accused Khairy of being silent on the matter, whereas his cabinet colleagues have been vocal in rebuking the DOJ's claims.- Mkini