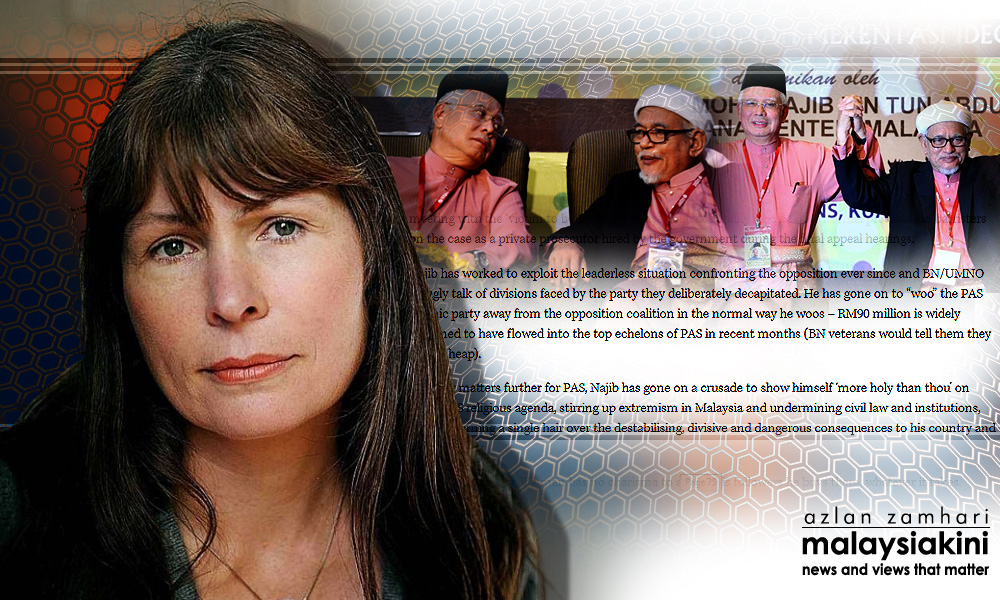 Whistleblower website Sarawak Report has raised over GB£30,000 (RM160,000) for its legal fund to fend itself from a suit by PAS president Abdul Hadi Awang.
The amount was raised in just three days through crowdfunding platform Crowd Justice. At the time of writing, GB£30,452 has been raised through 615 contributors.
In April, Abdul Hadi
filed
a defamation suit against
Sarawak Report
editor Clare Rewcatle-Brown at the High Court in London.
Abdul Hadi sued the writer over a Sarawak Report article which suggested that Prime Minister Najib Abdul Razak had channelled RM90 million to PAS, an allegation which the party denies.
Sarawak Report said it faces expensive legal fees in filing its defence against Abdul Hadi's suit.
"We believe this is a politically motivated attack and the people involved are hoping we will settle the action rather than place a defence.
"They will then use the outcome, backed by BN's powerful propaganda machine to seek to discredit us.
"Please help us fight this case in order to counter this (and) the latest of so many attempts to discredit our work," Sarawak Report said in its appeal for funds.
Meanwhile, Blogger Raja Petra Kamaruddin, through his platform Malaysia Today, also called for donations to fund Abdul Hadi's legal action against Sarawak Report.
"As one can imagine, the cost to institute a legal action in the UK is not cheap and would involve a lot of funds, which understandably, PAS does not have.
"As such, PAS is appealing to all its supporters and members to donate to it, to help fund this legal action in the UK to clear its name," it said.
The article had urged supporters to deposit money to the party's bank account, therefore there the response cannot be measured.
Last month, PAS deputy president Tuan Ibrahim Tuan Man said it had directed its members to contribute RM5 each while those in the leadership were to contribute RM100 each to fund the legal action.- Mkini