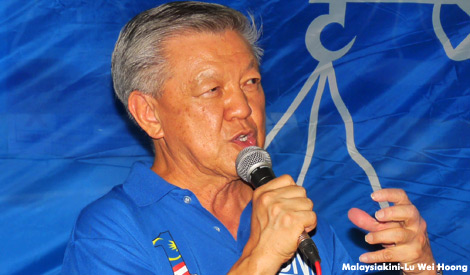 Former MCA president Dr Chua Soi Lek has criticised DAP for spinning and twisting the allegation that Selangor MCA received RM10 million from Prime Minister Najib Abdul Razak.
He claimed that DAP, after having won big in two consecutive general elections, is taking the people's support for granted.
"DAP always tries to live politically and continues to spin. What is there... don't try to link the two (the allegation and his interview), it is not fair," Chua told Malaysiakini today.
Chua was responding to DAP's Kuala Kubu Baru assemblyperson Lee Kee Hiong, who cited a 2015 media interview with the former MCA president.
In the interview, Chua said Najib had
helped source funds
for BN component parties ahead of the last general election.
Calling for bank accounts to be made public, Lee argued that Chua's remark
could invalidate
Selangor MCA's denial that it received the RM10 million, which
Sarawak Report
claimed was linked to 1MDB.
Chua went on to ask whether DAP had not received funding from any quarters for the general elections.
"I had admitted that Najib was the first prime minister who cared for BN component parties. At least, I had the integrity to say MCA received funds from the BN chairperson," he said.
Chua claimed that Malaysians have grown tired of DAP, which he accused of failing to do anything significant, despite winning big in two general elections.
"The Chinese voters are strategic voters. They can see through you," he argued.
Moon no longer represents
DAP's
heart?
The former MCA president noted how DAP had condemned former prime minister Dr Mahathir Mohamad during the two decades the latter was in office.
"I went through that period. We always had to counter DAP's claim that Malaysia would go bankrupt under Mahathir. Now they are saying Mahathir is possibly the best interim prime minister candidate.
"DAP has not changed. It continues to behave like small boys. Before this, DAP claimed PAS is better than Umno, and it also sang songs that PAS' moon (logo) represented the Chinese heart. Even (DAP leaders) Lim Kit Siang and Lim Guan Eng sang this song," he added.
Chua said while Chinese voters have grown tired of BN and sought an alternative in the past, they have now grown weary of the alternative as well.
"So my advice to DAP is to put its house in order, and not try to link what cannot be linked," he added.- Mkini