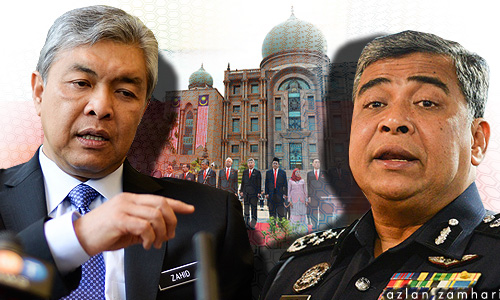 Deputy Prime Minister Ahmad Zahid Hamidi said today there was nothing criminal in the relationship between inspector-general of police Khalid Abu Bakar and one Gopinathan Krishnan, the suspected go-between in the protection money racket in Malacca.
Zahid said it is normal for a police officer to know many people.
" ... in this matter, do not link Khalid to the case," he said after opening a workshop on the reformation of Islamic education, organised by the Advisory Board on Islamic Education Coordination (Lepai), in Putrajaya.
Zahid, who is also home minister, said this when asked to comment on Khalid's admission that he knew Gopinathan.
Khalid had said yesterday that he and his family knew Gopinathan, who is also referred to as Gopi.
This followed a report by the news portal Sarawak Report on Monday, which claimed that Gopinathan had close links with Khalid and his family.
Khalid had also said that he would not collude in any illegal activity and would cooperate fully if the allegations of his family's involvement in unlawful activities were investigated.
- Bernama