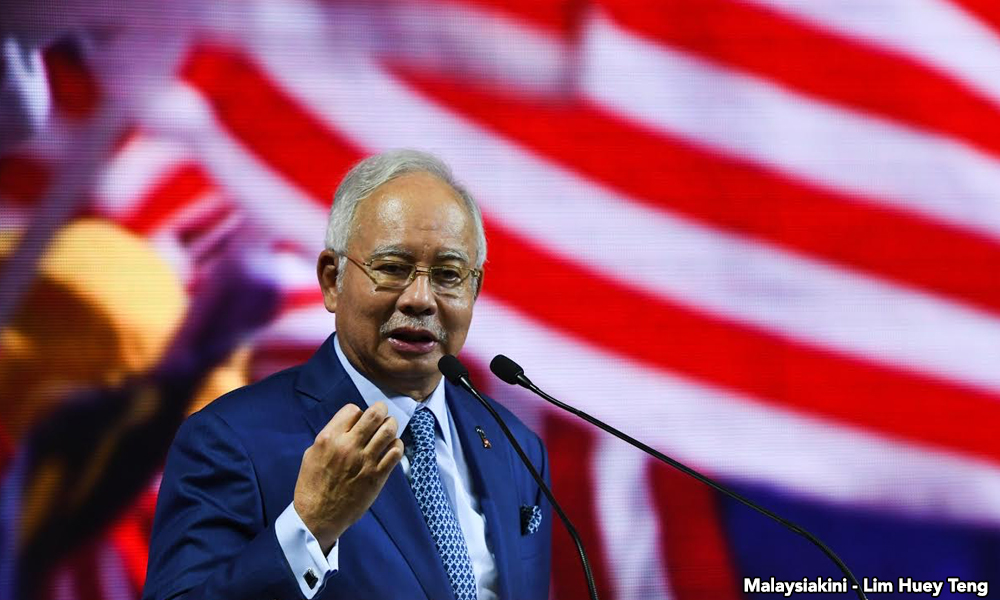 Leaders in Western democracies would have been doomed, but Prime Minister Najib Abdul Razak has managed to survive a series of unprecedented scandals, according to The Diplomat.
This, said the current affairs magazine, is because, in Malaysia, politicians dance to a different tune.
In an article titled "The Unsinkable Najib Razak", The Diplomat said is also expected to retain his grip on power after the next general election.
It attributed this to Anwar Ibrahim's incarceration, which analysts told The Diplomat would affect the opposition's electoral chances.
"Umno is certain to win the coming election as no combination of the fragmented opposition can realistically break through its gerrymandered constituency defences," Gavin Greenwood, a risk analyst with Hong Kong-based Allan & Associates, was quoted as saying.
Gerrymandering, claimed the magazine, would prove pivotal for Umno's survival in view of the 1MDB issue.
The latest blow came in the form of the United States' Department of Justice (DOJ) third civil forfeiture filing, which also claimed that the wife of Malaysian Official 1 (MO1) that businessman Jho Low had acquired a pink diamond necklace valued at US$27.3 million for the wife of Malaysian Official 1 (MO1).
Previously, Minister in the Prime Minister's Department Abdul Rahman Dahlan had confirmed that MO1 was Najib.
Najib's wife Rosmah Mansor has instructed her lawyers to issue a warning that those who hurled allegations against her on social media could be hauled to court.
The prime minister has denied abusing public funds for personal gain and blamed such allegations on those conspiring to topple him. Malaysian attorney-general Mohamed Apandi Ali has also cleared Najib of any wrongdoing.
'Hero and
protector
of the Malay masses'
Meanwhile, The Diplomat claimed that the 1MDB investigations – in various countries – have strained Malaysia's ties with the West, and pushed it closer to Beijing.
Greenwood told the magazine that Najib faced a difficult balancing act in pleasing his Muslim constituency at the expense of Chinese voters while attempting to secure funding for a 1MDB rescue plan from Beijing.
"Najib has also made it clear that he will raise the spectre of the 'Chinese threat'… while relying heavily on investment from Beijing to bail out 1MDB-linked companies and deliver massive infrastructure projects," he said.
Keith Loveard, a security analyst with Jakarta-based Concord Consulting, claimed that Najib remained the "protector and hero" of the Malay masses and it was still unclear to what extent the 1MDB scandal had impacted upon the Umno faithful.
"In any election, it all depends on who is standing against the incumbent. At the moment there seems to be no alternative leader with wide-ranging support.
"While the external world may consider Najib to be tainted, he continues to represent the peak of the machine that has coddled the majority (Malays) – and as such it is hardly likely that the electorate will turn against him," he argued.
However, Greenwood pointed out that support from the Malay base has been affected by government cuts to subsidies, increased consumption taxes, and Najib's growing commitment to conservative Islam.
He said this mix "of often diametrically opposed policies and prejudices would ensure the coming election campaign resonates with often alarming rhetoric."
"To date Najib has personalised the 1MDB scandal and China's contentious and growing economic role in the country, serving as a scapegoat for any popular resentment.
"When this role is deemed no longer necessary Najib's position will become untenable and he will be replaced.
"The outcome of the election, in its function as a gauge of popular opinion, is therefore likely to determine how much time he has left as Malaysia's prime minister," he added.
In the 2013 general election, Najib failed to better his predecessor Abdullah Ahmad Badawi and the ruling coalition also lost the popular vote apart from failing to reclaim its two-third parliament majority.- Mkini