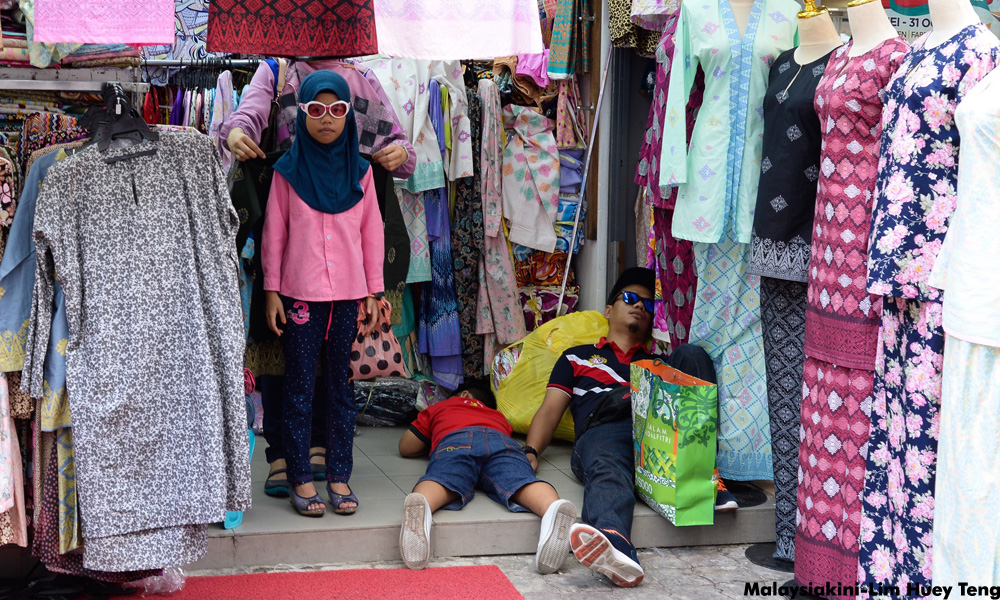 For many in the Malay community, the last weekend before Hari Raya Aidilfitri is spent in a shopping frenzy.
It is customary to put on new clothes for the first day of the festivities, so with days to go, many flock to bazaars to find the perfect outfit for the special day.
Jalan Tuanku Abdul Rahman's bazaar is the go-to place for Kuala Lumpur dwellers seeking a bargain.
Dozens upon dozens of stalls lay side by side offering an array of songkok, sampin, baju melayu, baju kurung and baju kebaya to meet all tastes.
And as dusk presides over the city, the thousands who throng the one kilometre shopping haven stroll to Dataran Merdeka just around the corner, to enjoy the buka puasa spread and cultural show on offer.
Malaysiakini visits the area located in the older part of Kuala Lumpur to soak up the atmosphere on June 18 - the last Sunday of this year's Ramadan.
---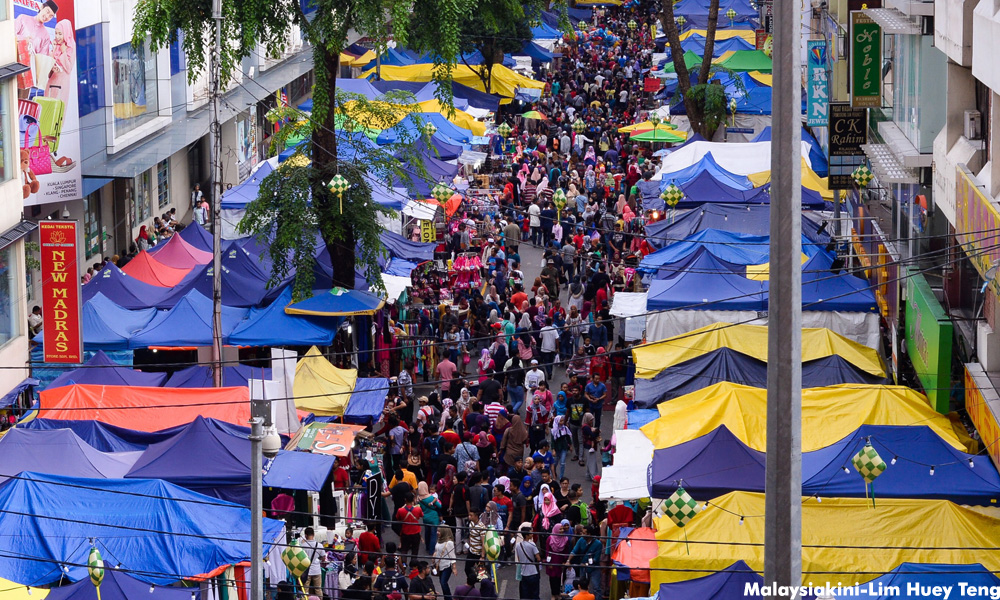 Thousands of shoppers flood the Jalan Tuanku Abdul Rahman, affectionately known as Jalan TAR, on the last Sunday of Ramadan this year.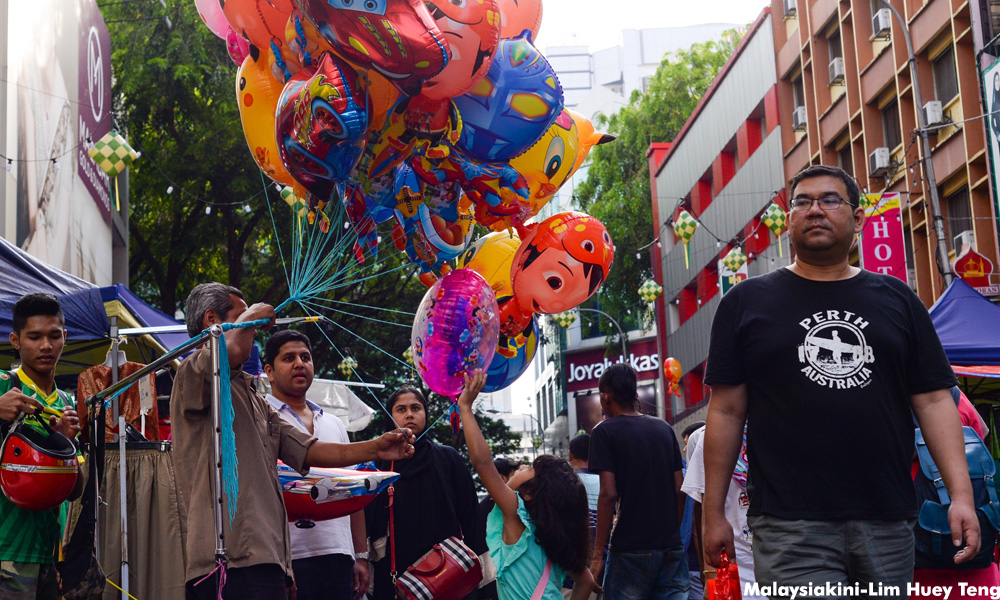 Families are a common sight at the Jalan TAR bazaar on weekends, with parents scrambling to get the last minute shopping for their brood done in time.
Many Malay families enjoy dressing in the same colour for Hari Raya, so buying new clothes to keep with the theme is a must.
Here, a little girl picks out a helium balloon when shopping with her family.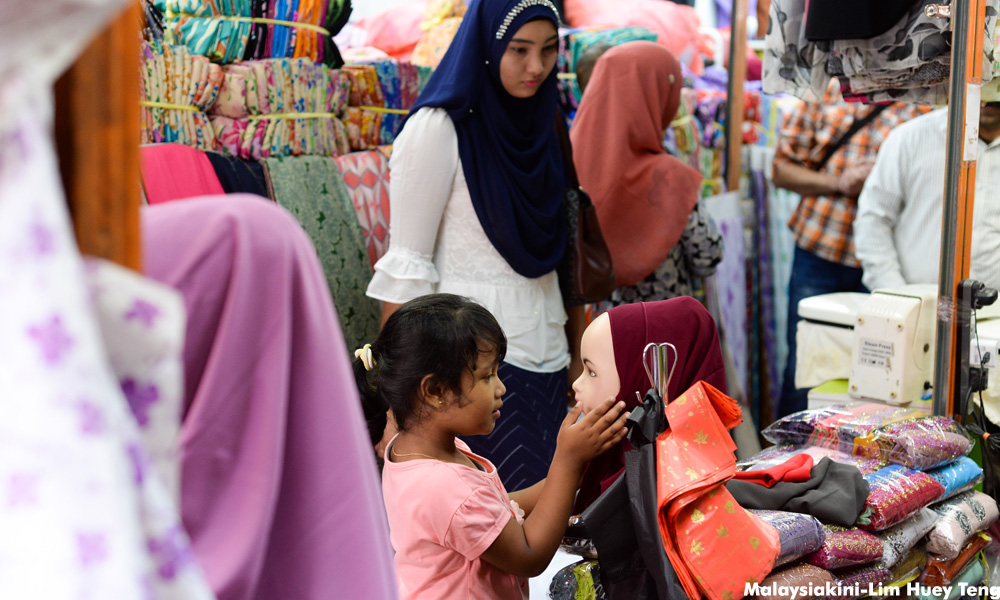 This little girl has found something she loves - she is enamoured with a mannequin used to display a head scarf, one of the hundreds on sale at Jalan TAR.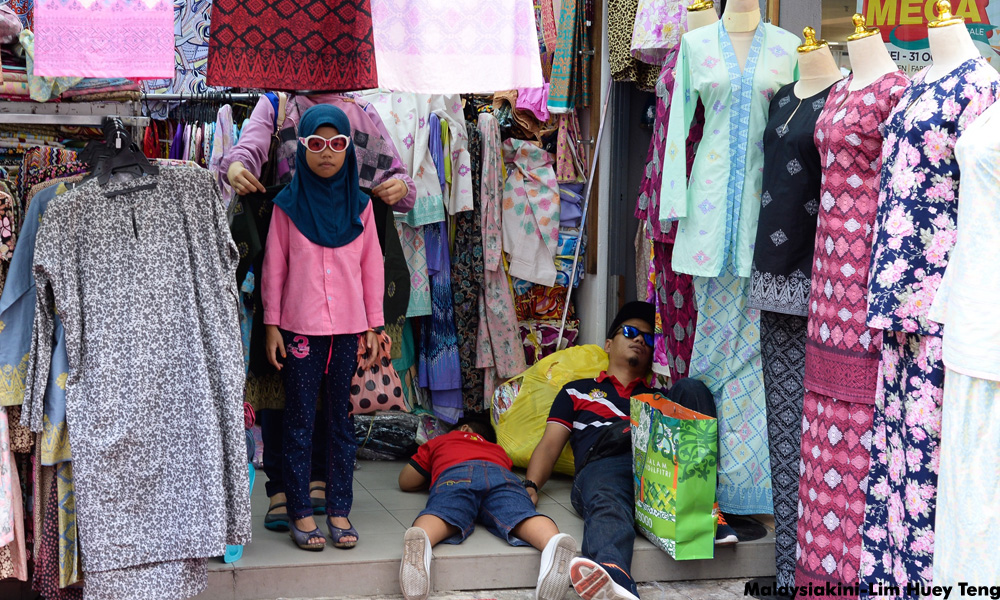 The crowds, the heat and not to forget, the fasting, could make Hari Raya shopping at Jalan TAR quite a challenge.
Here, a father and son try to get some rest, while mum measures a blouse against on her daughter.
Most of the stalls do not have fitting rooms, so it is up to shoppers to estimate if the clothes will fit.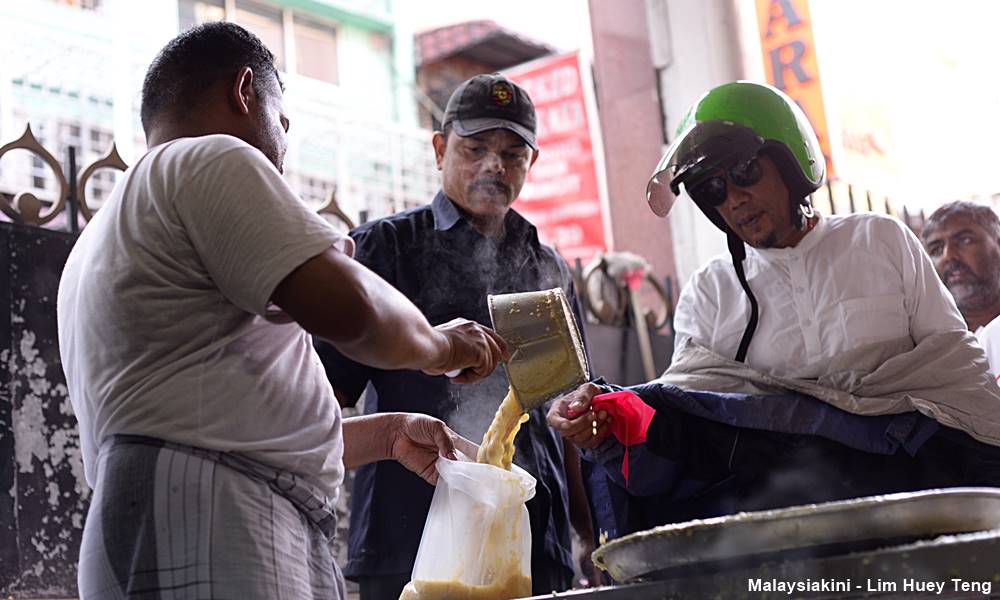 Visitors can also take home fresh "bubur lambuk" - a Ramadan only specialty porridge - served for free by Masjid India, a mosque on Jalan TAR serving the Tamil-speaking Muslim community.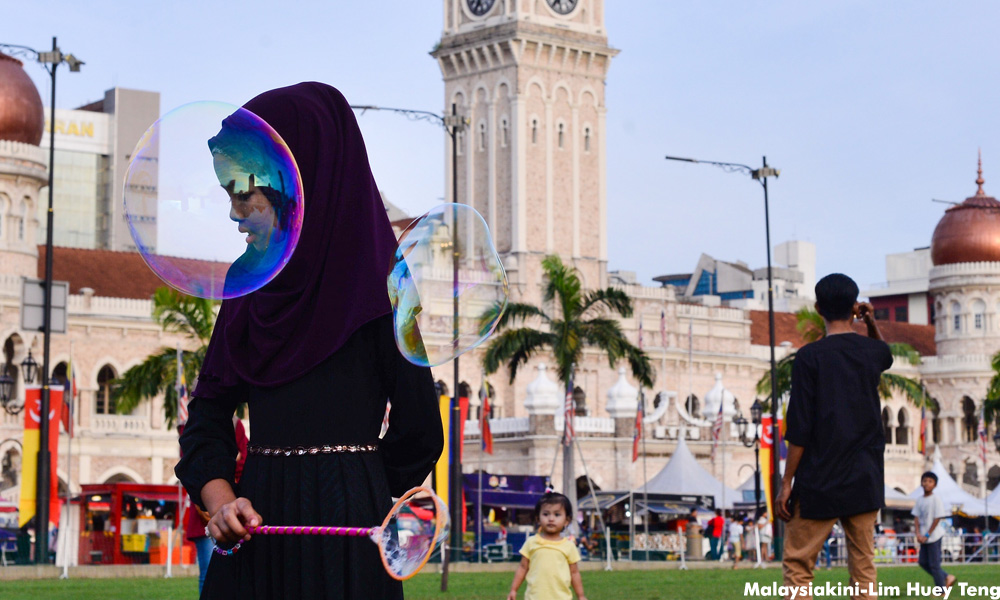 Adjacent to Jalan TAR is Jalan Raja, where Dataran Merdeka and the majestic Sultan Abdul Samad building is located.
Food stalls and food trucks are set up here in anticipation of the dusk meal.
A girl takes advantage of the wide open space to play with bubbles before the fast is broken for the day.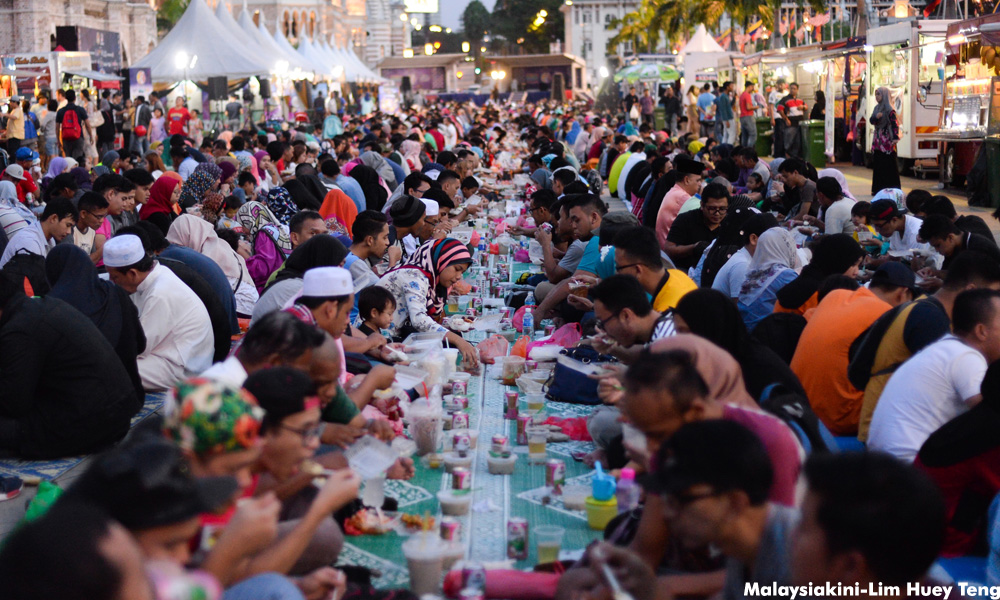 Every weekend here, thousands of people sit cross-legged and break fast together at dusk as part of the Iftar @ Kuala Lumpur programme organised by the Tourism Ministry.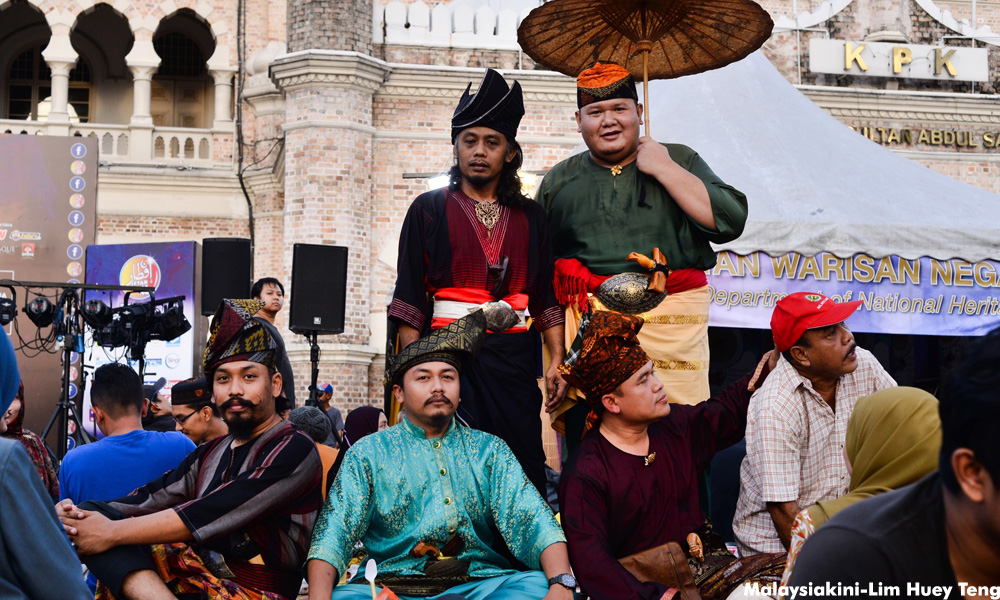 The ministry also organises cultural shows to entertain those who join the event.
Here, the dance and theatre troupe dressed in traditional Malay costume pose for a picture.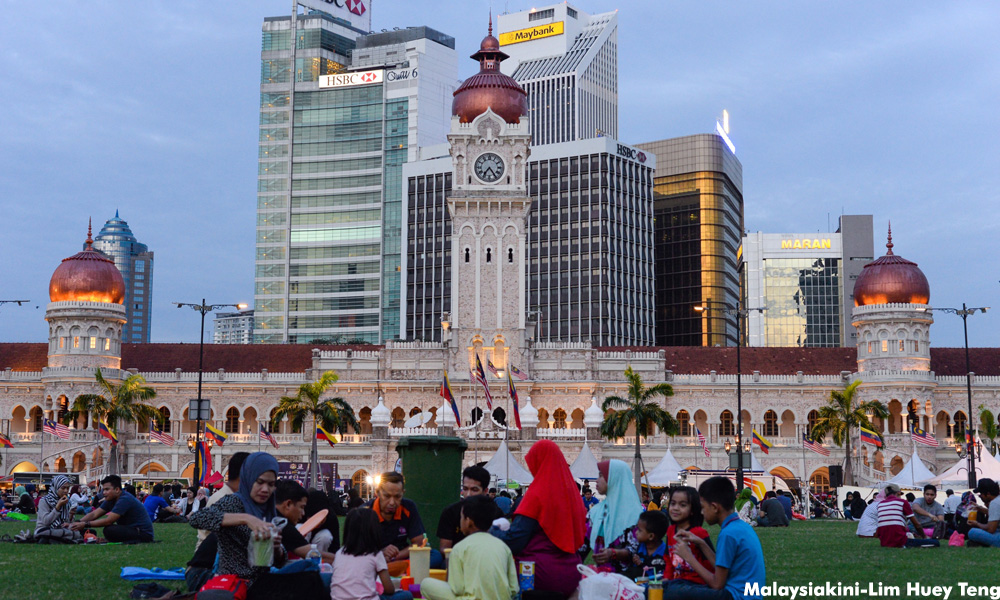 Families have picnics on the Dataran Merdeka greens, as darkness descends and Sultan Abdul Samad building starts to light up.
This is one of the few times of the year that such picnics are seen on Dataran Merdeka.- Mkini