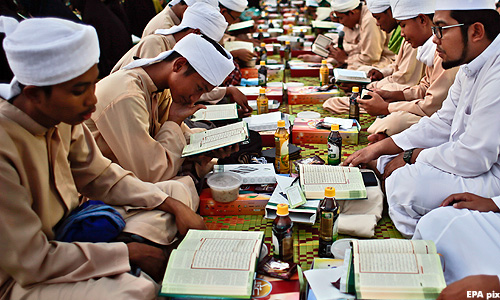 After the tragic bombings in Manchester and Baghdad that took place within the past weeks, the Ramadan festivities came interlaced with the utmost of irony. It makes the fasting month the most opportune time to step back and reflect.
Besides, isn't that what Ramadan is all about?
For someone who has observed local and international current events, albeit quietly and from afar, I see an apparent pattern that follows every tragedy. Are these the doings of Muslim extremists? If not, were the pepetrators just mentally disturbed? And if they were, there is always an automatic conclusion that the action of one Muslim represents all of us.
With that said, this year's Ramadan season should be taken as an opportunity to somewhat redeem our reputation as followers of Islam. Extremist groups, like the Islamic State (IS), should not be equated with the whole Muslim population, just like how many Christians refuse to acknowledge the actions of the Ku Klux Klan.
Throughout my life, especially during Ramadan, I witnessed many religious groups and departments, around this region, condemning others in the name of God.
I have heard instances where food stalls were trashed by religious groups during the fasting month in my hometown of Jakarta and in the rural parts of Malaysia as well.
It's saddening to see that people who are looking for an honest way to make a living are shunned because they didn't follow the beliefs of the majority. This resulted in my absolute distrust towards religious organisations and official departments.
Be that as it may, people like Youth and Sports Minister Khairy Jamaluddin and Perak Islamic Department director Mohd Yusop Husin have given refreshing insights.
They were a sight for sore eyes when they urged that we take this time to spend less time trying to shame other Muslims for not fasting and concentrate on self-sacrifice, forgiveness, piety, and introspection instead.
Dedicate time for betterment of others
Rather than focussing on what kinds of sins others are committing, truly good Muslims should only focus on their own selfless deeds and dedicate their time for the betterment of others.
It doesn't help that there are still syariah laws, like the Syariah Criminal Offences (Federal Territories) Act 1997, that will reprimand those who are caught openly eating, drinking and smoking during Ramadan.
There is a fine line between urging people to respect people who are fasting, as opposed to jailing or fining them simply because they are eating or drinking in public.
Other people's ways of practising, or abstaining from practising their faith, should not be anybody's concern. The time that is spent conducting a witch hunt for those not fasting can be spent on other useful activities that can improve one's spirituality.
This should apply to our tolerance for non-Muslims as well. Do not repeat instances, such as the 'Allah' debacle that happened a couple of years ago. And definitely do not set the recent conflict that resulted in the indictment of my hometown's first non-Muslim governor for blasphemy as an example.
Basuki Tjahaja Purnama, widely known as Ahok (
photo
), is one of many among those who tried to improve the capital city by eradicating corruption and increasing the living quality for the poor.
But his efforts, which brought positive results to the city, were halted only because he bravely encouraged the masses to not vote based on religion. His words were then spun and twisted to fit the narrative of the extreme, and those without an open mind quickly swarmed the capital city to protest, demanding that he be sent to prison.
Yet, some people still think a two-year imprisonment is not enough for Ahok. It's unbelievable, and quite amusing, how they somehow mistook rage and hatred for passion and true devotion.
This is perhaps the biggest irony of them all; isn't organising riots and engaging in violent activities in the name of God one of biggest acts of blasphemy one can partake in?
Frankly, I am truly embarrassed by the current state of humanity. Seventeen years into the new millennia and we're slowly going backwards and regressing, proving once again that history indeed repeats itself.
Instead of extinguishing the fire of hatred, more and more people keep fuelling their pathetic hostility, using race, class and religion as an excuse.
Whatever the case may be, in this holy month of Ramadan, let us try to follow the words of Jamaluddin and Husin.
Take this time to fight back the impression that was imprinted by the extremists. Prove that, amidst the prejudice against Muslims, we can still uphold our tolerance towards everyone, regardless of their religious backgrounds.
I may not be the most pious, hence my initial hesitation in believing that I'm not a suitable candidate to voice out these woes.
However, whether I lack spiritual enlightenment or not, I am sure of one thing: with the rest of the world spewing hatred against Muslims, there is absolutely no space for us to do the same towards our own brothers and sisters based on how they practise their beliefs.
---
FEBRIANA RAMADHANYA currently works as an editorial content writer for iPrice Group. She enjoys reading, binge-watching Netflix shows, travelling, bar-hopping and the occasional viral memes. You can find out more about her at her
blog
.- Mkini