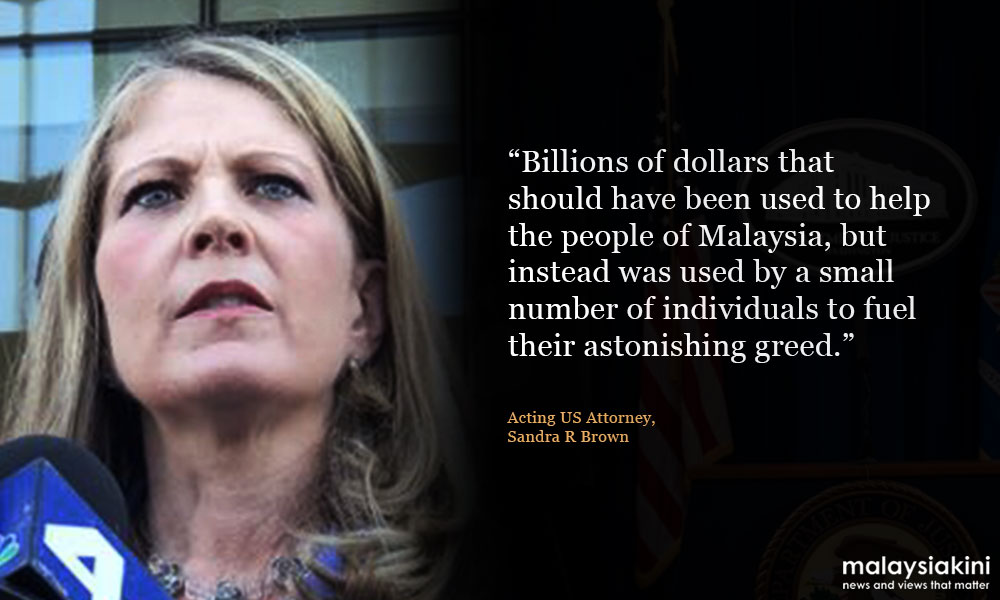 It claimed that the sum represents a portion of the over US$4.5 billion (RM19.3 billion) that were allegedly misappropriated from 1MDB, and then routed through the US financial system.
While Malaysians are still reeling from the shock of the DOJ bombshell, this instalment of KiniGuide will take a step back and see what the US law enforcement agency has in store in its third batch of 1MDB-related civil forfeiture suits.
There were 17 separate filings in total, with each seeking the civil forfeiture of a different asset. Each document - about 136 pages long - is nearly identical to one another, but is aimed at seizing a different asset.
In total, the aim was to seize about 20 assets including funds held in banks, shares, intellectual property, and a private jet, with a combined value of over US$1 billion.
This time, the document is 144 pages long, but little had changed compared to the documents filed last year.
In an apparent move to correct a mix-up that led DOJ to identify the wrong painting for seizure, the new filing also named a different painting by the artist Claude Monet for seizure, and only the proceeds of the painting's sale rather than the painting itself.
This is in addition to the three phases that DOJ has already described in previous filings.
The civil forfeiture suits are part of the DOJ's Kleptocracy Asset Recovery Initiative (Kari), and the sheer size of the 1MDB-related lawsuits represent the largest action under the initiative.
Through various public statements, the DOJ claimed that the initiative seeks to combat foreign official corruption by seizing the alleged proceeds of such misconduct and return it to its supposed victim.
It also seeks to deter the use of the US financial system for money laundering activities by seizing the suspected proceeds of foreign corruption.
As the investigation is on-going, expect the DOJ to release further information as and when it has found additional evidence of wrongdoing.
"We also note that there has been no evidence from any investigation conducted by any law enforcement agency in various jurisdictions that show that money has been misappropriated from 1MDB; and that there have been no criminal charges against any individual for misappropriation of funds from 1MDB," he added.
"This suggests a motivation that goes beyond the objective of seizing assets," he said, adding that the US did not seek any cooperation from the Malaysian government or 1MDB for investigation.
This is in response to insinuations that Najib is the Malaysian Official 1 mentioned in the DOJ documents. Najib and Rosmah had consistently denied wrongdoing.