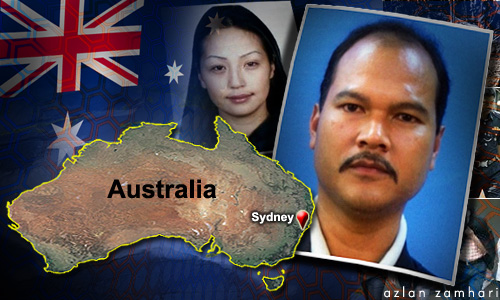 Putrajaya has yet to formulate a plan to extradite fugitive police personnel Sirul Azhar Umar, who was sentenced to death in Malaysia for the murder of Mongolian national Altantuya Shaariibuu.
In a Parliamentary written reply, Home Minister Ahmad Zahid Hamidi said Putrajaya does not have any room to negotiate with the Australian authorities, who currently have Sirul in custody.
He said that Malaysia was unable to extradite Sirul because Australian laws prevent extraditions for the purpose of serving a death sentence.
"In view of this, the government is still looking into the best ways to resolve this issue," he said.
One possible solution, said the minister, was to commute Sirul's execution to a life sentence.
"(That is) if the government wishes to apply for extradition from any country which does not support the death sentence, including Australia," he said.
Zahid said this in response to Bukit Gelugor MP Ramkarpal Singh, who had requested for the grounds for backtracking on an earlier
proposal
to seek Sirul's extradition.
In 2015, Zahid had promised that attempts to extradite Sirul would be initiated, in order for him to face justice.
In 2009, Sirul and fellow police personnel Azilah Hadri - both part of then deputy prime minister Najib Abdul Razak's security detail - were jointly convicted of Altantuya's murder. The Court of Appeal acquitted the duo in 2013.
Following this, the Federal Court overturned the acquittal in January 2015. By then, Sirul had already
fled the country
.
Later that year, Sirul spoke to
Malaysiakini
on several occasions from the Villawood Immigration Detention Centre, Sydney where he alleged that he had
acted under orders
and those with a motive to kill Altantuya were still free.- Mkini