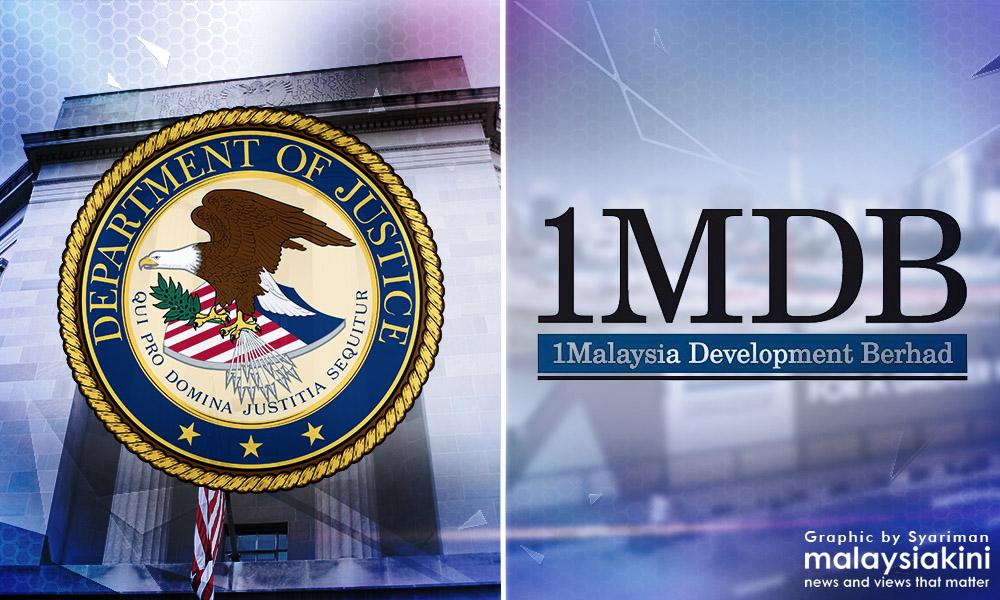 The United States Department of Justice (DOJ) has applied to stay its civil forfeiture suits on assets allegedly purchased using misappropriated 1MDB funds to facilitate ongoing criminal investigations by the US government.
These involve 13 of the 14 civil forfeiture suits the DOJ filed in July last year.
According to US court filings sighted by Malaysiakini, the DOJ said the proceedings would likely have an "adverse effect on the government's ability to conduct the related criminal investigation."
This includes investigations in foreign jurisdictions.
A declaration by a Federal Bureau of Investigation (FBI) agent said the government had been conducting the criminal probe prior to the commencement of DOJ's action, and that investigation was still ongoing.
FBI special agent Jill Enyart said the disclosure of any facts beyond what the DOJ has already detailed could reveal "potential targets and subjects of the investigation and the investigative techniques that have been and will be used in the investigation".
"Such disclosures could result in the destruction of evidence, the flight of potential subjects and targets, or the identification and intimidation of potential witnesses," she added.
Enyart also said that some potential witnesses may live in jurisdictions where their safety and security could be jeopardised if their identities were made known.
She said the proceedings could prejudice "plans" by foreign jurisdictions, as well as "jeopardise the safety of certain foreign law enforcement personnel and threaten their willingness or ability to cooperate with the government in its criminal investigation, thereby closing off sources of evidence of the criminal and other conduct set forth in the first amended complaint (FAC)".
The investigations, Enyart said, were global in nature, and would take time to pursue as most evidence and witnesses were in foreign jurisdictions.
The DOJ, in the filing, said it would need to update the courts every 180 days on the status of the criminal investigation.
Of the 14 suits it filed in the first round in 2016, the DOJ is still seeking a default judgement in its case to seize artwork by Vincent Van Gogh and Claude Monet.
The DOJ had in total filed three civil forfeiture suits to seize over US$1.7 billion in assets it claims were purchased using funds allegedly misappropriated from 1MDB.
In the suits, the DOJ alleged that Malaysian-born businessperson Jho Low had used 1MDB funds to purchase luxury properties, a
yacht
and a jet.
It also alleged that Low had purchased jewellery for the wife of an unnamed Malaysian Official 1 (MO1), including a pink diamond necklace worth US$27.3 million.
Minister in the Prime Minister's Department Abdul Rahman Dahlan last year confirmed that MO1 was Prime Minister Najib Abdul Razak.
However, he stressed the fact Najib was not named in the DOJ filing showed that the prime minister was not a subject of investigation.
Najib has denied misappropriating 1MDB funds, and attorney-general Mohamed Apandi Ali has also cleared him of any wrongdoing. - Mkini