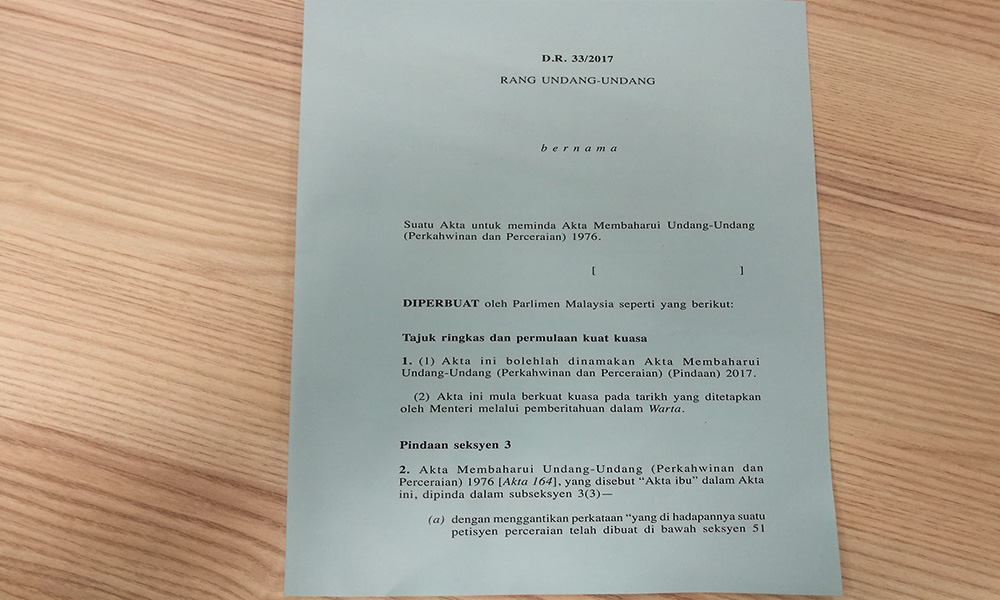 PARLIAMENT
| Putrajaya appears set on passing the revised Law Reform (Marriage and Divorce) Act (amendment) Bill (LRA), which excludes provisions banning conversion of children's religion unilaterally by a parent, by this week.
Minister in the Prime Minister's Department Azalina Othman Said tabled the revised Bill in the Dewan Rakyat today and said the second and third readings will be done in this current session.
The current Dewan Rakyat session ends this Thursday.
Azalina in a statement later said the bill was revised to prevent anyone from challenging its constitutionality under Article 4 Clause 1.
The government had withdrawn the original LRA amendment Bill yesterday to remove Section 88A which would have prohibited the unilateral conversion of children.
The proposed Section 88A is as follows:
"Section 88A. (1) Where a party to a marriage has converted to Islam, the religion of any child of the marriage shall remain as the religion of the parties to the marriage prior to the conversion, except where both parties to the marriage agree to a conversion of the child to Islam, subject always to the wishes of the child where he or she has attained the age of eighteen years."
"(2) Where the parties to the marriage professed different religions prior to the conversion of one spouse to Islam, a child of the marriage shall be at liberty to remain in the religion of either one of the prior religions of the parties before the conversion to Islam."
The Bill, however, still maintains provisions that compel a non-Muslim couple who divorce due to one spouse converting to Islam, to go through divorce proceedings in the civil courts.
The government today, for the first time in this session, moved a motion to extend the day's sitting past 5.30pm, to 8.30pm.
This is usually done when the government wants more time to be able to get as much of its bills passed.
However, it is still possible for the LRA bill to only be debated in the next parliament session if there is not enough time by Thursday. - Mkini