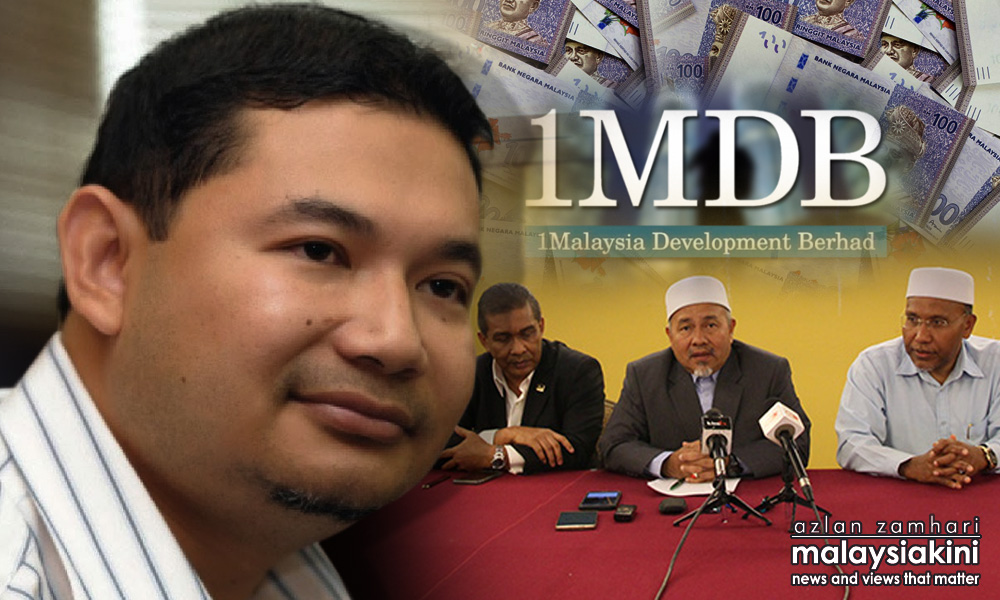 PAS was too easily satisfied by 1MDB CEO Arul Kanda Kandasamy's brief and do not appear to grasp the impact of the company's "rationalisation" exercise, said PKR vice-president Rafizi Ramli.
Rafizi said, in essence, the "rationalisation" exercise meant making 1MDB's debts, which is subject to money laundering probe by several jurisdictions, a public debt.
Another component of the exercise, said Rafizi, was the selling of what was once public assets to help finance 1MDB's debts.
"It is for these reasons that I want to ask PAS: When they are 'satisfied' with the progress of the rationalisation exercise, are they agreeing to the transfer of 1MDB's debts to the public?
"What about stealing from the public and then selling public assets to cover up the debt hole after the debt was transferred to the government?
"(What about) the government having to collect GST and increase other taxes, to the point where even the
deceased are not spared,
and public services are facing budget cuts?" asked Rafizi.
PAS legitimising 1MDB for BN?
In view of this, Rafizi said he was unsure whether PAS leaders truly understood the "rationalisation" exercise, which was explained to them by Arul Kanda during a
closed-door roundtable discussion
yesterday.
According to PAS deputy president Tuan Ibrahim Tuan Man, participants at the meeting were "
satisfied
" with Arul Kanda's explanation, but hoped that all GLCs will be subjected to Parliament's scrutiny.
Rafizi said that it was likely that Umno and BN would use Tuan Ibrahim's statement to back their claim that all was well with 1MDB.
He added that the rightful thing Tuan Ibrahim should have done was convince Arul Kanda and 1MDB's management to face MPs in Parliament where they can be grilled.
"I would like to advise PAS leaders to be more careful, and not fall into the trap and propaganda games of Umno and BN who are only out to use them as a tool to allay public criticisms on mismanagements of 1MDB," he said.
Tell us why you're satisfied
Meanwhile, Parti Amanah Negara vice-president Husam Musa has urged Tuan Ibrahim to elaborate on why he and his party were "satisfied" with the "rationalisation" exercise.
"Among others, Tuan Ibrahim should let us know where will 1MDB source the RM2.5 billion needed to pay (Abu Dhabi's) International Petroleum Investment Company, after defaulting on July 31?
"(Also,) why was the payment to Aabar made to the bank account of the wrong company?" asked Husam, a former high-ranking PAS leader himself.
Husam said that PAS leaders should reveal if such contentious questions were posed to Arul Kanda.
"If the questions were asked, then the answer should be shared with the public. Only then will we know why PAS is satisfied," said Husam in a statement last night. - Mkini