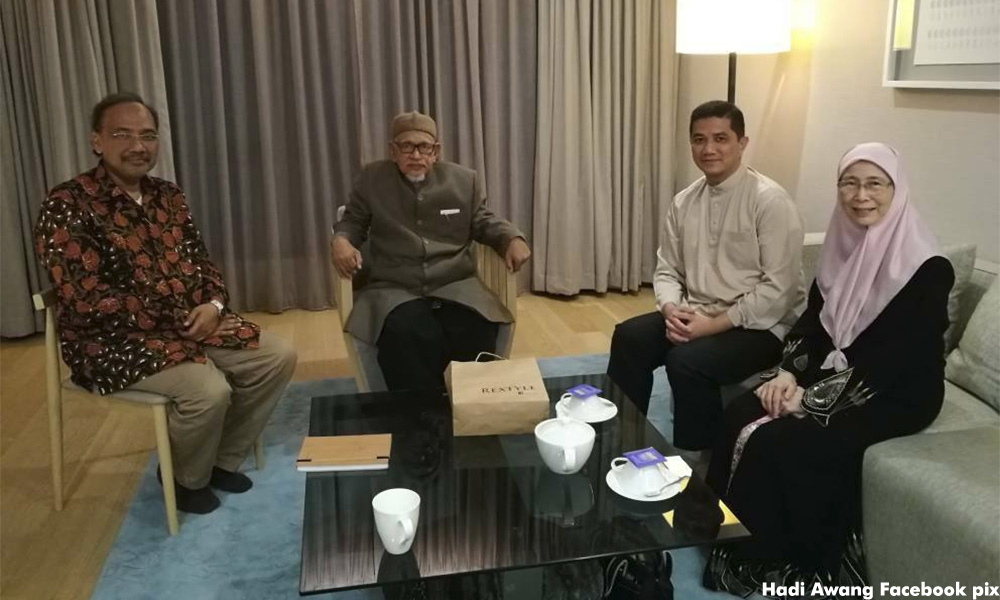 The visit by PKR leaders to PAS president Abdul Hadi Awang last night was merely a social visit, said PKR deputy president Mohd Azmin Ali.
He said this followed Hadi's recovery from surgery several months ago.
"Early on, we were advised not to disturb Hadi because he needed rest.
"After two months, I and (PKR president Dr Wan Azizah Wan Ismail) felt we should visit him and pray for his speedy recovery.
"Praise be to God that based on last night's discussion, it seems that Hadi is recovering and feeling better.
"Nevertheless, the doctor has advised that he continues to rest for the time being, before resuming normal activities," he told reporters when met at Batu Caves this morning.
Hadi underwent a three-hour heart surgery at the National Heart Institute on May 16 to repair a leaking heart valve.
Azmin was responding to questions on what transpired at the meeting last night, after both Hadi and Azmin shared a photo of the meeting on their respective Facebook accounts.
Also present at the meeting was PKR vice-president Shaharuddin Badaruddin.
Rizal Mansor, an aide to the prime minister's wife Rosmah Mansor, suggested the meeting showed a lack of confidence by PKR in its coalition partners.
"It is enough to show to Amanah and Parti Pribumi Bersatu Malaysia (Bersatu) that PKR is still banking on PAS for the coming general election.
"In other words, PKR does not have confidence in Amanah and Bersatu," he said in a statement.
Azmin rebuts Najib's on free education
Meanwhile, Azmin also responded to Prime Minister Najib Abdul Razak's admonishment that the Selangor government had failed to provide free education as part of their national manifesto.
Azmin reminded that matters of education is under the purview of the federal government.
He said it is the federal government's responsibility, not the state government, to utilise its tax revenue to provide access to high-quality education, including free education.

"But this does not happen. Thus once again, the state government takes the initiative, despite our constraints, to help our children, and not just at University of Selangor (Unisel) and Selangor Islamic University College (Kuis).
The Selangor government runs eight different scholarships and interest-free education loans aimed at Selangor residents who have resided in the state for at least five years, or those whose parents were born in Selangor.
The programs are run by the Selangor State Scholarship Fund (TKWBNS).
"Starting this year, we are expanding the program to four other universities in Selangor, namely the International Islamic University (UIA), Universiti Kebangsaan Malaysia (UKM), Universiti Putra Malaysia (UPM), and Universiti Teknologi Mara (UiTM).
"So in reality, this is not a state responsibility, but we have taken the initiative within the constraints present at the state level," added Azmin.

He also denied that the fees at Kuis are expensive, saying that the state strives to provide the best education at a reasonable price.
For those who still couldn't afford it, Azmin said they may be eligible for scholarships and other assistance provided by the state.
Last week, Najib
criticised
the opposition for promising free education should it wrest control of the federal government, but failed to lead by example in Selangor where it has control over the state government.
"I was told that the fee for Al-Quran and Al-Sunnah studies at Kolej Universiti Islam Selangor is RM48,000.
"That's why we need to tell (the people) that the opposition is full of lies," he had said. - Mkini