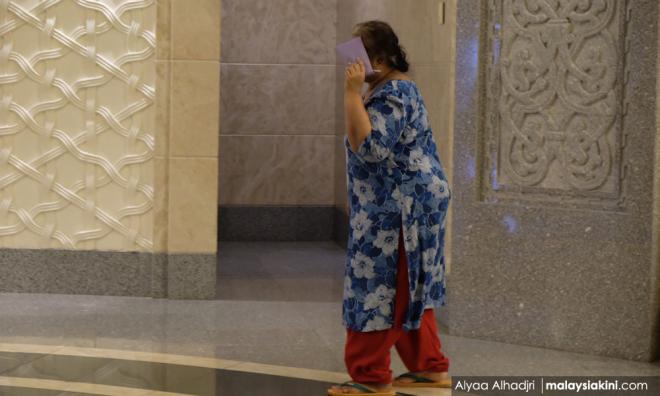 The Court of Appeal has set March 4 for Ambika MA Shan, who was previously acquitted on a charge of murdering her Indonesian domestic helper Adelina Sau to reappear in court with an appointed lawyer.
Lawyer Lim Wei Qi, who is on a watching brief behalf of the Indonesian consulate general in Penang, said the decision was made during case management before deputy registrar Darmafikri Abu Adam this morning.
"She is currently unrepresented. But because the case carries a mandatory death penalty sentence, she must be represented by a lawyer.
"Her daughter requested two months for them to appoint a lawyer and the deputy registrar set March 4 as the next case management date," said Lim.
"With or without a lawyer, she (Ambika) must be present in court on March 4," said Lim.
Earlier today, Ambika appeared weak as she walked into the courtroom. She was later seen being accompanied by her daughter and left the Palace of Justice complex in a wheelchair.
On April 18 last year, the Penang High Court freed Ambika, 61, of murdering Adelina after the prosecution asked for a discharge not amounting to an acquittal.
Lawyer Anbananthan Yathiraju, who at the time represented Ambika, had reportedly asked the court to consider acquitting her due to her age and health condition.
It was previously reported that the first mention date for the
appeal
on last Nov 7 failed to proceed after the Attorney-General's Chambers had failed to serve Ambika with a notice to appear in court.
The appeal today was initially set to be heard in open court before a three-member bench, but it proceeded for case management following Ambika's presence.
Esther Rajagukguk, a representative from the Indonesian consulate general in Penang, said they were informed that the AGC was only recently able to track Ambika down and the re-mention date was set for today.
"We have been quite happy with efforts shown by Malaysian authorities to find Ambika and keep us updated on the progress of the appeal.
"We're satisfied and confident that the appeal will go on," she told reporters.
Tenaganita project manager Fajar Santoadi, who was also present, said the migrant rights group would continue to monitor the proceedings in hope to uphold justice for Adelina and her family.
The case first became public in mid-2018 when then 21-year-old Adelina, originally from East Nusa Tenggara, was rescued from her employers after the staff of Bukit Mertajam MP Steven Sim had acted on a tip-off and alerted the police of alleged abuses against her. - Mkini