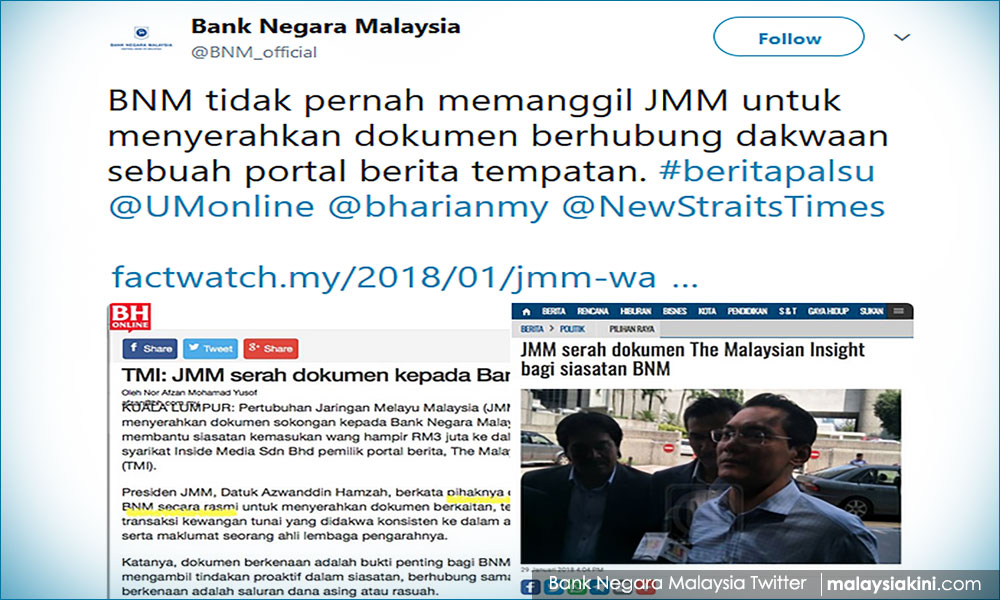 Bank Negara Malaysia (BNM) has denied asking Jaringan Melayu Malaysia (JMM) to submit documents related to news portal The Malaysian Insight's funding.
In a Twitter posting, Bank Negara said: "BNM did not call JMM to submit documents in connection with allegations (related to) a local news portal."
The posting, which included the hashtag "#beritapalsu (fake news)", tagged the twitter accounts of Umno Online, Berita Harian and the New Straits Times, which reported the matter.
Berita Harian had quoted JMM president Azwanddin Hamzah as stating that BNM had asked him to submit the documents in an official manner.
He said the documents are crucial evidence for BNM to determine if the funds for the portal originated from a foreign source or if there are elements of corruption.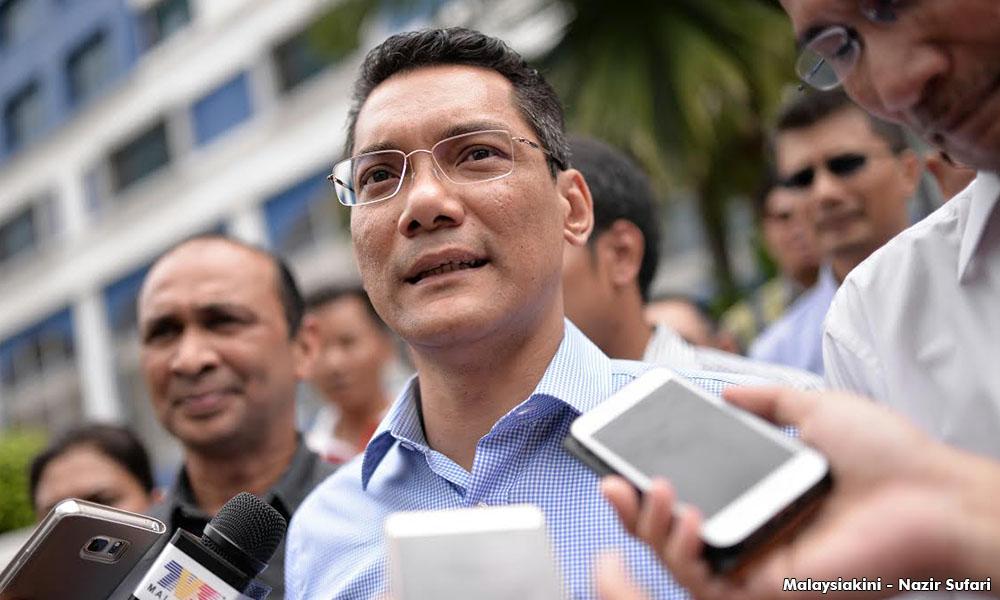 Azwanddin (photo) said JMM expected a response from BNM within seven days to its 12-page report, which included financial transactions.
Contacted by Malaysiakini, the JMM president declined to comment on BNM's denial.
TMI landed in the spotlight during last month's Umno general assembly, when a delegate
urged
the authorities to probe the news portal.
Tasek Gelugor Umno Youth chief Mohd Nashrol Hisham Abdullah said this was following the portal's attacks on Prime Minister and Umno president Najib Abdul Razak.
He also disclosed that a search with the Companies Commision of Malaysia (CCM) revealed that the portal is owned by one Faridah Begum.
Faridah is the sister of TMI editor-in-chief Jahabar Saddiq and wife of attorney-general Mohamed Apandi Ali.
The Malaysian Communication and Multimedia Commission (MCMC) later summoned Jahabar and other TMI executives for questioning.
Following this, Jahabar
lodged
a police report claiming that his statement to the MCMC had been leaked.
This came after he discovered that his statement was reported in the Malaysian Gazette, quoting Azwanddin.
Jahabar claimed that Azwanddin had leaked and twisted several facts he made in his statement to MCMC.
Last March, The Edge Media Group publisher Ho Kay Tat also
urged
Jahabar to reveal the source of funding for the portal, which had yet to be launched then.
The Edge had published TMI's predecessor The Malaysian Insider.
"(Jahabar) has said that his financial sources are private equity, businessmen, and loans.
"For transparency and in the public interest, Jahabar should provide their names and not let the matter be shrouded in mystery," Ho was quoted as saying by the Singapore's The Straits Times.- Mkini