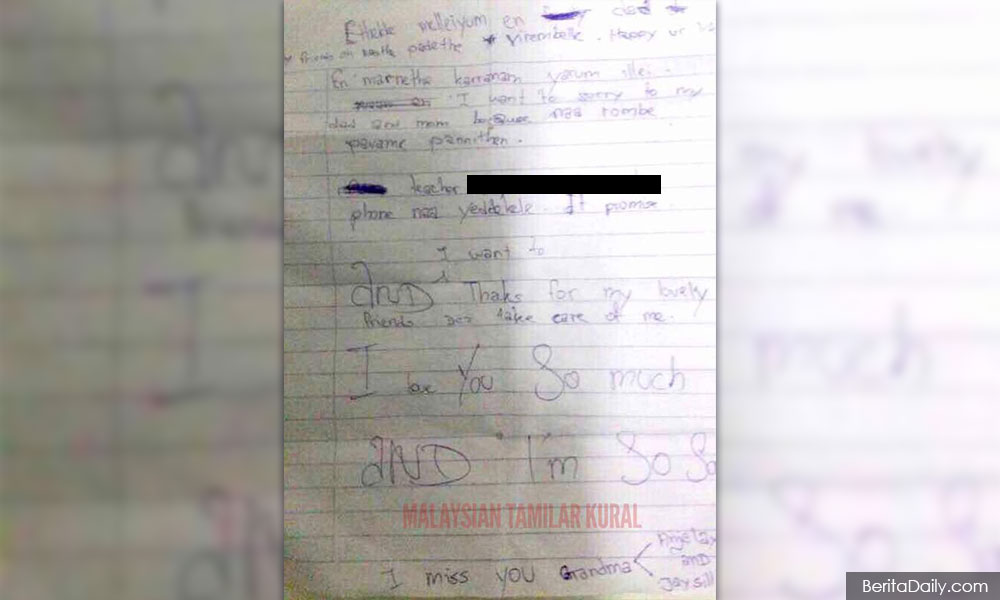 A 13-year-old student from Nibong Tebal, Penang recently tried to
hang herself
after being accused of stealing her teacher's mobile phone. The girl is now in the Intensive Care Unit at the Seberang Jaya Hospital.
Like many Malaysians, I am deeply saddened by this case.
However, as a parent who has spent 13 years walking up and down the school stairs leading to the principal's office, I know there are many other cases which have gone under the radar, in which students have been mentally harassed, verbally abused, punished and bullied by teachers.
Unlike the poor girl who is still fighting for her life, there are many other students who choose to endure their teachers' bullying. Sadly, their plights usually vanish into thin air.
While many netizens continuously bash the girl's teacher for her actions, we do not seem too bothered about other students who are also bullied by their teachers.
Why?
I guess people assume there is no sense of urgency when a child does not resort to harming his or her own self.
Different responses
I know of a boy named Devan (not his real name) who was just nine years old when his teacher stripped him naked in front of the school assembly, witnessed by both male and female pupils, in the presence of other teachers.
His wrongdoing? Making noise in class, not finishing his homework, and other forms of naughty behaviour that most of us have been guilty of when we were growing up.
And following the incident, other teachers too began using the same form of punishment towards Devan – once for not completing his homework and another time for being "naughty".
I remember Devan screaming and tearing up as the teacher removed his clothes piece by piece until he stood completely naked in front of everyone.
"Cikgu, tolong cikgu. Saya janji takkan buat lagi. Cikgu, jangan cikgu." (Teacher, please, teacher. I promise not to do it again. Teacher, don't, teacher.)
The teacher did not stop.
None of the other teachers did anything.
And Devan had to endure humiliation every single day for the rest of his schooling years.
The story of Devan is not fictional. It is as real as the story of the girl from Nibong Tebal.
For what it's worth, I am glad Devan took it all in and did not resort to taking his own life. God knows how the incident has affected him psychologically.
Different people from different backgrounds and different upbringing respond differently to mistreatment in school. But a case of bullying is a case of bullying, no matter the action taken by the victim.
Tip of the iceberg
Devan's case is just the tip of the iceberg. I would not be exaggerating if I assume that nationwide, there are thousands of children put through other forms of mistreatment by their teachers but end up bottling it up inside themselves, having no one else to turn to.
How many more cases of bullying do we need to endure before we as a society finally come to our senses and say enough is enough?
As a society, we should stand up for every Devan in our country, just like we are doing for the recent victims of bullying. We should send a clear message that bullying is not condoned, be it by other students or teachers themselves.
For many years, with more bullying cases popping up and more victims of bullying losing their lives, we continue highlighting issues related to bullying. We keep saying that there needs to be more action.
Each time, all we do is make a lot of noise, saying that we should do this and that.
But in the end, do we do anything meaningful? Do we accomplish anything worthwhile?
With seven billion people on Earth, has it come to the point that one more suffering doesn't matter?
---
FA ABDUL is a passionate storyteller, a growing media trainer, an aspiring playwright, a regular director, a struggling producer, a self-acclaimed photographer, an expert Facebooker, a lazy blogger, a part-time queen and a full-time vainpot.- Mkini