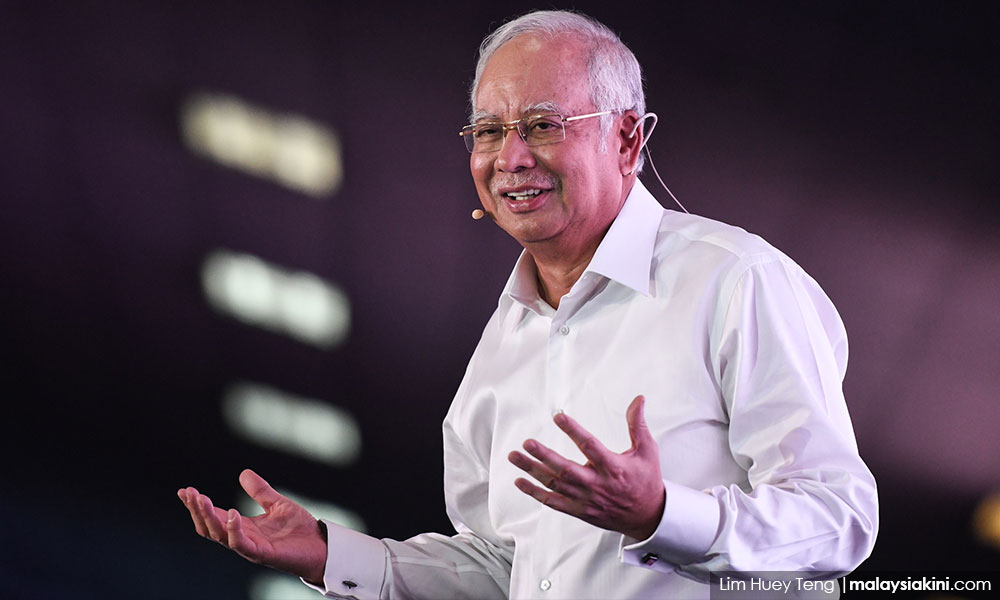 Malaysian companies should capitalise on the nation's position as one of the world's top 25 exporting nations by becoming relentless in seeking new markets, diversifying their products and creating new jobs for young people, Prime Minister Najib Abdul Razak said.
Hence, he called on all chambers of commerce in the country to work together as one strong, cohesive force to make the most of the tremendous possibilities a hand.
"So, as the world's economic epicentre moves east, and it becomes clear to everyone that in the 21st century, Asia's time has truly come, we must make the most of this moment.
"We cannot afford to sit still," he said at the "Future Begins Tonight" dinner organised by the Malaysian Malay Chamber of Commerce (DPMM) at Seri Perdana in Putrajaya today.
Present were the Prime Minister's wife Rosmah Mansor, International Trade and Industry Ministry secretary-general J Jayasiri, DPMM president Rizal Faris Mohideen Abdul Kadir, National Chamber of Commerce and Industry Malaysia (NCCIM) president Ter Leong Yap, and Human Resource Development Fund (HRDF) chief executive CM Viknaesvaran Jeyandran.
Najib said Malaysian companies must certainly take advantage of China's Belt and Road Initiative (BRI) which has the potential to create the world's largest platform for economic cooperation.
He said the BRI, aimed at connecting cities in 68 countries across Europe, Asia and Africa, represented a market of about 4.4 billion people or 63 percent of the world's population and 30 percent of global gross domestic product (GDP).
"Those are the markets that Malaysia will be able to tap into, even more once connectivity is enhanced," he said.
Najib said the BRI was already happening, for instance, the participation of founder and executive chairperson of Alibaba Group Jack Ma in the creation of Malaysia's Digital Free-Trade Zone (DFTZ), an e-Commerce platform that complemented the BRI goals of unimpeded trade.
With more than 1,900 small and medium enterprises (SMEs) pledging to participate in the DFTZ, he said it was expected that US$65 billion worth of goods would be moving through it, creating 60,000 direct and indirect jobs by 2025.
Najib, who is also finance minister, said business captains must continue to innovate, embrace new technologies and new ways of thinking.
"We must always be thinking of how we can make our skills more cutting edge and our people more qualified for the new economy of this century," he said.
On behalf of the government, the Prime Minister also gave his assurance that the government would do its part to stimulate innovation in the public sector to complement the significant efforts of the private sector and non-governmental organisations that the chambers of commerce represented.
At the event, Najib also received an exotic Persian cat named Sugar, presented by Malaysian Cat Lovers Club president Dr Thomas Jong in conjunction with the establishment of Bustana Kucing in Perlis.
The cat theme park, which will be launched on Feb 24, was established to tap into the lucrative global feline industry.
DPPM: It is now time for action
Meanwhile, DPPM outlined 16 programmes under four categories - smart partnerships, capacity-building, public outreach and Dewan Global - that it would roll out within the next six months.
Rizal Faris, in a statement, said under the smart partnership, DPMM would be working with the HRDF to address capacity building, up-skilling and re-skilling the current workforce.
"This is to prepare the workforce for new challenges, as well as prepare the future workforce for jobs that have yet to be created as a result of disruptive technologies," he said.
He added that the HRDF's National Workforce Human Capital Blueprint (2018-2025) highlighted the success in building the country's workforce by outlining recommendations for future-proofing Malaysian talent.
"It is now time for action. We must seize the opportunities before us. We live in a region where 88 percent of new entrants into the global middle class, who are expected to spend US$23 trillion more (US$1=RM3.87) per year by 2030, live here" he said.
For capacity building, the programmes lined up include 1AM Usahawan, IR 4.0 training, ASTI young entrepreneur, the LOKA Fashion Week and Bustana Kucing that would capture growth opportunities offered by the pet feline industry.
Rizal Faris said the "Future Begins Tonight" event kick-started programmes in the public outreach category to generate public awareness and create an understanding of the collaborative effort.
While the Dewan Global Strategy aims to facilitate entry into a new and untapped market, especially the global halal market that currently valued at US$500 billion.
These international initiatives involved important collaboration with India, Sri Lanka, China and Indonesia.
In addition, DPMM and NCCIM will collaborate as a unified and cohesive force to address the challenges and capitalise on the opportunities of the fourth industrial revolution (Industry 4.0).
The initiative will consolidate all chambers of commerce and business organisation to resolve threats of the rapidly-changing global economic landscape in the digital economy.
- Bernama