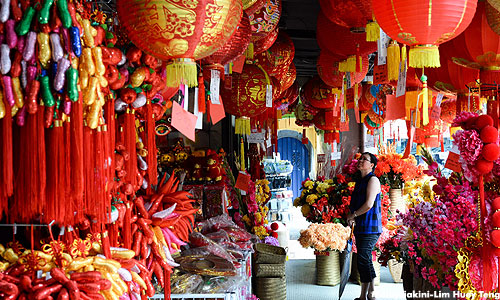 Sibu MP Oscar Ling stood by his statement that instead of going home to be with their families during Chinese New Year, Sarawakians should instead only fly home to vote in the coming 14th general election.
At a press conference last Saturday, Ling said that due to the cost of flight tickets, they could both reunite with their families and vote if they saved their return for GE14.
MCA Youth leaders had slammed the DAP lawmaker's statement, because Ling was apparently implying that the coming polls should take precedence over family ties.
When contacted by Malaysiakini, Ling said he was not stopping Sarawakians from travelling home during Chinese New year, but was merely addressing the cost of flight tickets to Sarawak from Peninsular Malaysia.
He further claimed that MCA does not understand their dilemma faced by Sarawakians living out of state, with domestic flight tickets being more costly than international tickets during the festive season.
"MCA criticised me, but the party did not put itself in the people's shoes.
"Sarawakians have to pay higher airfare (from the peninsula) than when they travel abroad. Many lamented that they would not be coming home (for Chinese New Year).
"Who denied this group (their right) to fly home? It is the incompetent BN government which has failed to lower the airfare," he said, pointing to MCA president and Transport Minister Liow Tiong Lai in particular.
Ling added that the matter has yet to be addressed by the government, despite several BN lawmakers speaking out about the expensive airfare between East and West Malaysia.
After Ling's press conference last week, MCA Youth secretary-general Leong Kim Soon said that it was only the DAP parliamentarian who prioritised the polls over family.
"People can make their own decisions. Please don't involve others in your selfish thoughts. You are sacrificing familial ties for political mileage," he said.
Citing her own experience as someone who lives outside her home state of Kedah, MCA Youth vice-chief Wong Siaw Ting called Ling's statement heartless.
"Chinese New Year is the happiest moment for my parents, whose six children work outstation. They prepare the reunion meal and happily wait for our return, despite all the hard work," she said.
"My parents are getting older each year, and this makes our reunion more precious. Urging others not to go home is a cruel and heartless thing to do.
"They (DAP) can make this merciless call just to get votes, have they ever thought of the feeling of people's parents?" she asked.- Mkini